Kevin Durant's Dad Isn't The Star Of 'Real MVP'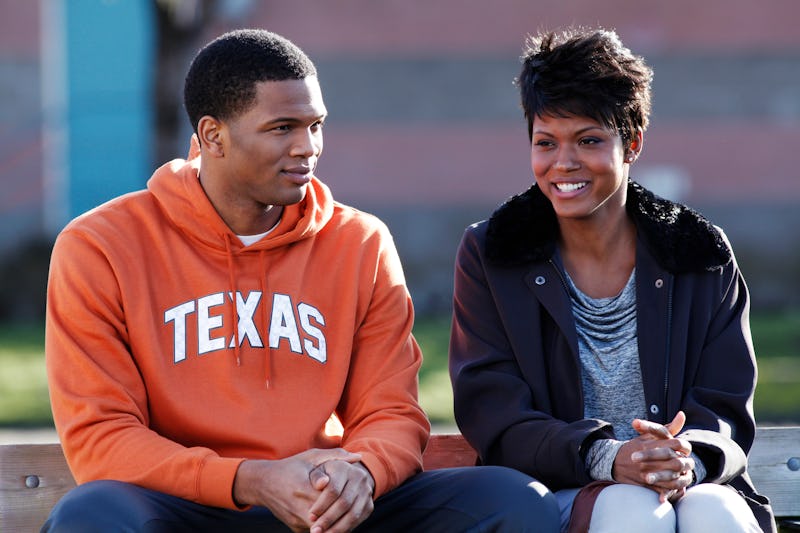 It was a moment that resulted in a lot of tears and even more internet memes. When Oklahoma City Thunder small forward Kevin Durant was voted the NBA's Most Valuable Player in 2014, he used the opportunity not only to shout out his coaches and teammates, but also his mother, Wanda Durant. Acknowledging the tough times they faced as a family, Durant spoke directly to his mom in the audience: "When you didn't eat, you made sure we ate. You went to sleep hungry. You sacrificed for us. You the real MVP." Now, the Durant family's journey, lead by Wanda, is being dramatized by Lifetime in The Real MVP: The Wanda Durant Story, airing on May 7. But where is Kevin Durant's father, Wayne Pratt, today?
As seen in The Real MVP, Kevin Durant's dad did reenter his life after a period of absence, but the road to reconciliation wasn't an easy one. According to a profile in The Washington Post, Pratt left Wanda and their young sons Kevin and Tony when he was just 23 years old. He told the newspaper of that time in his life, "I felt like I was immature, selfish, I was young. I didn't know what I was getting myself into."
Meanwhile, 21-year-old Wanda Durant struggled to support her children, receiving help and support from her mother and best friend, who are also portrayed in the Lifetime movie. "We moved from apartment to apartment by ourselves," Kevin Durant remembered in his MVP acceptance speech. "One of the best memories I have is when we moved into our first apartment. No bed, no furniture, and we just all sat in the living room and just hugged each other. We thought we'd made it."
According to The Washington Post's profile, it was almost 10 years before Pratt forged a relationship with his children and he credited his family with forcing him to recognize what he'd been missing. "My sons helped me realize how important it was to be in their lives by always wanting me to be around," Pratt said. According to ESPN, while Durant was young Wayne worked as a police officer at the Washington Hospital Center in Washington D.C., a role his son admired. "I thought my dad was Superman," Durant said, according to the sports network.
As Durant's star was rising in the world of high school basketball, Pratt hit the road and traveled to games and tournaments with his son. "I just gave them everything I had," he said. "I mean, I emptied the tank. There wasn't a place I wouldn't go; there wasn't nothing I wouldn't do."
As of 2012, Pratt was still working his longtime post as a U.S. Capitol police officer at the Library of Congress; The Washington Post reported that he carries trading cards to hand out to young visitors. His interest in Durant's career also continues. The Oklahoman quoted Pratt in April about his son's shaky performance in a playoff game. ("He will be fine.")
So while The Real MVP will show a difficult time in Pratt's relationship with his children, they did move past it to reach a much better place. Still, don't expect too much of a focus on him in the Lifetime movie; this is a story for and about mothers.
Image: Bettina Strauss and Sergei Bachlakov/Lifetime