Why This Couple Used Ring Pops At Their Wedding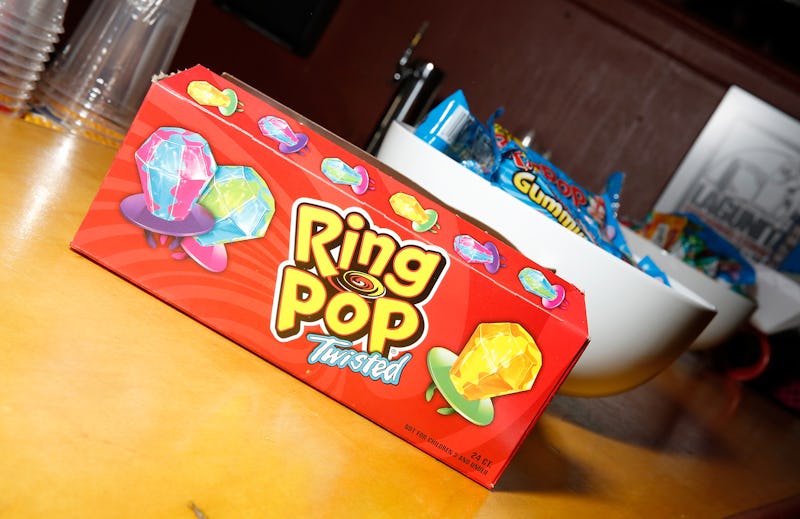 Cindy Ord/Getty Images Entertainment/Getty Images
Most marriage ceremonies are pretty similar: the couple says their vows, exchanges gold rings, and seals their union with a kiss. But a unique bride and groom put their own playful spin on tradition when the couple exchanged ring pops instead of wedding rings at their Missouri ceremony on March 25. Mandy Grogg, 24, and Ryan Williams, 25, were preparing for their wedding which was to take place the following day when they were informed that the FedEx truck carrying Mandy's engagement ring and the couple's traditional wedding bands had been robbed.
While this awful turn of events would distress any couple about to be married, Mandy and Ryan maintained a positive attitude. Mandy told BuzzFeed she had a feeling something like this might happen "I jokingly said that I had kind of planned for all things to go wrong, and that we'd make do without if they didn't make it back in time," she said.
The couple met in 2011 while both enrolled in the Reserve Officers' Training Corps (ROTC) and attending college at Missouri University of Science and Technology. They currently live in Germany, where they are serving together in the U.S. Army. The couple legally married abroad over a year and a half ago in 2015 and have since had a child together. Due to work and family responsibilities they have had to postpone their Kansas City, Missouri ceremony — twice. They had had sent Mandy's engagement ring out for a cleaning and the bands to be resized, but tried to remain undaunted when the precious rings were stolen: "We both shrugged and jokingly agreed that this would be our luck. It all kind of felt surreal and didn't sink in until honestly the next day."
While the jewelry company, Helzberg Diamonds, offered to supply the couple with temporary replacement rings for their special day, the two decided to go a different direction. As Mandy explained to BuzzFeed, "It wasn't about having rings, or everything be perfect, so we chose to laugh it off and do something fun." Mandy came up with the brilliant idea to use everyone's favorite '90s candy as a sweet replacement for the stolen jewelry. "We were sitting in the car and I jokingly said, 'Well, we can go buy Ring Pops'... We may as well try to find some humor in this," Mandy told Today.
After calling around to several stores, the couple found the ring pops just in time for the ceremony in the groom's hometown of Platte City, Missouri. They bought up all the ones that were fully intact so that family and friends could join in the fun.
The candy even seemed to blend in flawlessly with classic wedding tradition. The bride donned her "something blue" in the form of a blue raspberry ring pop (the best flavor of all, duh). Mandy and Ryan were pleased with the results and the fun photos, "The kid in both of us couldn't have been happier with how everything turned out!" Mandy told BuzzFeed.
While the jewelry company managed to recover Mandy's engagement ring, the couple's ring pops were not so lucky. They didn't last through the reception, as someone with a sweet tooth clearly couldn't wait for cake. "Unfortunately, someone that night definitely ate them," Mandy said kindly trying not to point the finger at the candy culprit. "We're not sure who, but they were consumed at some point in the night!"
I guess that's the chance you take when your wedding rings are also edible.
My only question is did the officiant change the vows to say "Do you accept this juicy jewel of flavor! Ring Pop?" To which my answer would always be "yes!"
Images: Cindy Ord/Getty Images Entertainment/Getty Images, xxbabyblueyesxx/YouTube, BuzzFeed/Twitter, Cosmopolitan/Twitter