J. Lo Tackles Feminism In "Ain't Your Mama"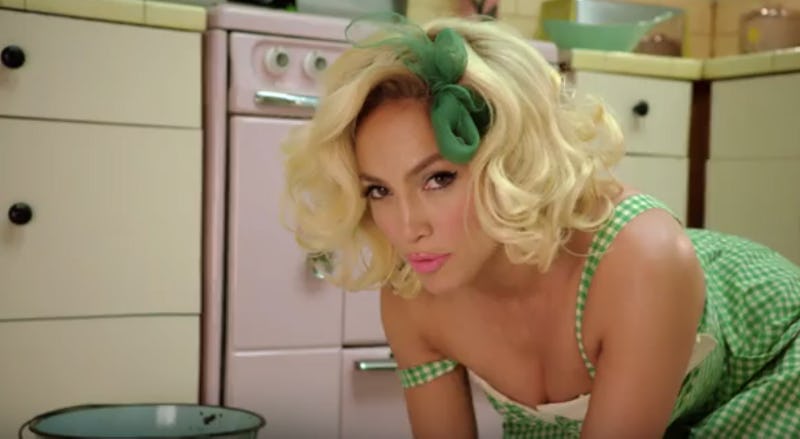 Are you ready to have complicated feelings about a newly-released song and video? If so, you've come to the right place, because I'm currently wrestling with the question — are Jennifer Lopez's "Ain't Your Mama" lyrics feminist? Lopez released the song, which was written by Meghan Trainor, on Apr. 7 and first performed it on American Idol, with the video following on May 6, but unfortunately, that month of time in between hasn't made the question of the song's feminism or lack thereof any easier to answer. So let me tell you what I'm battling with, here. The song and its accompanying video are all about female independence, and encouraging men to take care of themselves instead of getting lazy and relying more and more on a female partner.
In the video, Lopez plays women in various decades starting from the 1950s onward, showing the moment they decide they'd had enough and put their foot down in order to receive more equal treatment from men. One of her characters is dealing with a lecherous boss, another with an ungrateful husband, and a third with a coworker who co-opts her ideas and then shuts her out of the boardroom. In each case, she asserts her own worth and value, and the entire song is about being taken more seriously as both a woman and a person, so in that sense, the song is definitely feminist. Or at least it's intended to be.
The major obstacle, for me, is that the message isn't necessarily all that new. In fact, it's a little old fashioned:
I ain't gon' be cooking all day, I ain't your mamaI ain't gon' do your laundry, I ain't your mamaI ain't your mama, boy, I ain't your mamaWhen you gon' get your act together?I ain't your mamaNo, I ain't your mamaNo, I ain't your mama, no
I'm not sure we still really need to shout from the rooftops that women can't be expected to be a 1950s ideal, but for the stubborn factions still hiding out there, here's hoping this song is the nail in the coffin of all those old fashioned, sexist expectations. If this message still hasn't made it into your brain, and J.Lo has to sing a song about you needing to get your sh*t together, you should probably go ahead and do that already.
But, this is just a pop song, so I think overall, Lopez is doing OK. She's got a video, complete with Hillary Clinton quotes, that celebrates women's independence and champions feminism, and for the most part, we should still be able to enjoy it as such.
Images: Jennifer Lopez/VEVO; Giphy