The 'History Is All You Left Me' Cover Is Here!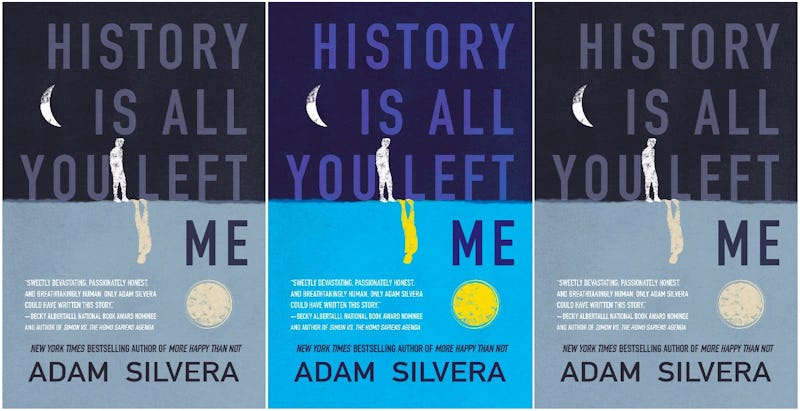 Young adult author Adam Silvera knows a thing or two about writing a story about falling in love for the first time... and falling out of love for the first time. In his debut novel, More Happy Than Not, he tackled sexuality, love, friendship, and happiness with a deft precision that few authors could manage. The novel was equal parts hopeful and heartbreaking, and it left readers and fans wanting more from this talented author.
Good news: the wait is almost over. Adam Silvera's second novel: History Is All You Left Me is due for release on January 17, 2017. The book follows Griffin, a 17 year old with OCD who just lost his best friend and first love, Theo, in an drowning accident. In an attempt to hold on to the past, Griffin begins a complicated relationship with Theo's last boyfriend, Jackson. As the two boys attempt to forge a future without Theo, details emerge that will have readers questioning Griffin's version of the truth. Told in a non-linear format that splits between the present ("TODAY") and the past ("HISTORY"), History Is All You Left Me is an unflinchingly honest and heart-wrenching examination of friendship, loss, and love told through the eyes of a grieving, unreliable narrator.
Bustle has an exclusive first look at the cover of History Is All You Left Me . But first, here's a video from Adam Silvera introducing his new novel:
See the cover below, and read on for an exclusive Q&A between Adam Silvera and Becky Albertalli, the author of Simon vs. The Homo Sapiens Agenda , the winner of the William C. Morris YA Debut Award.
BECKY ALBERTALLI: History Is All You Left Me follows a single narrator, but it alternates between different points of time and two very different emotional realities. What were the challenges and most fun parts of writing Griffin's experience using this structure?
ADAM SILVERA: That non-linear structure actually surprised me. A few chapters into the first draft I'd shown some chapters to my best friend and he was really loving it, but thought it was too depressing. Which makes sense because it's about a boy grieving the love of his life, but I thought the narrative could stand for some relief from Griffin's heartache by showing some of the happier moments in his relationship with Theo McIntyre. So the book evolved with a present-day section, TODAY, where Griffin is seventeen and grieving, and a past-times section, HISTORY, which tracks Griffin's relationship with Theo from two years before all the way until their break up. And TODAY and HISTORY intersect until the very end of the book with tons of surprises along the way.
It was challenging piecing together this puzzle, but everything thankfully fell into place. And it was rewarding to meet Theo while he was still alive instead of absorbing who he was solely from the story Griffin is relaying to the reader. I wouldn't have known these characters as intimately as I do now without those HISTORY sections, which seems really obvious now, but the best approach to writing a story isn't always obvious when you're starting.
BECKY ALBERTALLI: Griffin and Theo are best friends and first loves. Can you speak about the significance of that? Why are we so drawn to first love stories in YA?
ADAM SILVERA: I'm a huge fan of supercharged emotions and resilience, which is a dynamic that plays really well in the arena of YA where we get to explore first love, first heartbreak, first loss, and so on. There's also discoverability in others and ourselves, so I wanted to write a love story where there are these two boys with an existing friendship taking a shot at becoming something a little more, and whether or not that's the right move for them.
BECKY ALBERTALLI: Griffin works through complicated feelings about Jackson, the boy Theo was dating at the time of Theo's death. For much of the book, Griffin's dislike of Jackson is palpable - and yet, as a reader, I fell pretty in love with Jackson. How the hell did you pull that off?
ADAM SILVERA: Thank you! That's really sweet. Perception is a huge part of this novel because Griffin is this unreliable narrator who's a bit of a liar, but it becomes very obvious early on that Jackson is a really good guy and even Griffin can't hide that from the reader with all his bias and judgment. I loved writing Jackson, even when Griffin hated him most. Both Griffin and Jackson are heartbroken and lost, and they find turning to each other is how they can still feel close to Theo. Until it becomes extra complicated between them, which flips everything upside down.
BECKY ALBERTALLI: Griffin grapples with OCD symptoms throughout the book, which pull different reactions from the various people in his life. You walk a careful line between portraying Griffin's obsessions and compulsions as a part of his personality, while acknowledging the ways in which they interfere with his functioning. How do you strike that balance?
ADAM SILVERA: Writing Griffin's compulsions was probably the easiest thing about writing this book because his OCD mimics mine, 100%. I turned in the final version of this book a couple months ago and I was having a conversation with a friend where I suddenly realized I'd been dealing with OCD for ten years. These compulsions are a built-in part of my life and my circle of friends react differently to it. Many respect my needs, especially when I'm having a bad anxiety day, while others mistake them to be cute quirks and actively try to mess with my head for a laugh. I drew from all those experiences for Griffin's story.
BECKY ALBERTALLI: Theo talks a lot about alternate universes. Why are they so fascinating and appealing to him, and what is their significance in the larger narrative?
ADAM SILVERA: It seems pretty safe to assume writers and artists are constantly daydreaming alternate universes to answer their what-if questions, some which become novels, paintings, etc. I projected my own imaginings of alternate realities through Theo — and later through Griffin — because he's very academically brilliant and constantly asking questions about our own universe, so it made sense that he'd envision new worlds to get his points across. And in the case of Griffin, he's constantly blaming himself for things that occurred throughout his relationship with Theo, and afterwards, so the alternate universes he imagines where he's still dating Theo and never did anything to feel guilty over distracts him from his messy reality. And that's the book for you—a messy universe of what-if questions, complicated relationships, harsh truths, and happy truths.