Is A Black Widow Marvel Movie Finally On Its Way?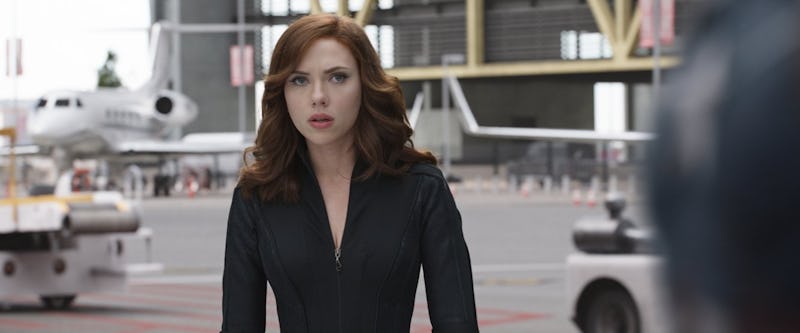 Ever since her appearance in Iron Man 2, Black Widow has been one female superhero fans have wanted to see star in her own backstory film. Be it her badass personality or the superior portrayal of Natasha Romanoff by acclaimed actress Scarlett Johansson, a Black Widow independent film is clearly high on the command list of every diehard Marvel fan. At least, the top of my list. Well, good news comic book admirers: the possibility of a Black Widow films is now more possible than ever. During an interview with Deadline in May, master Marvel producer Kevin Feige revealed that a Widow film is "the one creatively and emotionally that we are most committing to doing."
"We've announced the next nine movies, 10 counting Civil War, through the end of 2019. Where we go beyond that are ongoing discussions that we'll focus on in the next few years because we have a lot to do before then," Feige said. "[Widow is] an amazing character. We think Scarlett Johansson's portrayal of her is amazing. She's a lead Avenger and has amazing stories in her own right to tell that we think would be fun to turn into a stand-alone franchise."
Feige's response is both exciting and refreshing, especially considering the franchise has always been quick to respond that secondary characters like Widow and Hawkeye are better suited for a team film, rather than a self-reliant narrative.
Though Feige hinted at the dedication to have a standalone Romanoff movie and IMBD has listed Feige as the "announced" producer, there is still no confirmation yet on when the film will be released or when filming or even if a script will be devised any time soon. Regardless, just knowing that we may get to see all the salacious details of Widow's life and hopefully further romance come to the big screen is enough hope to last through the laundry list of films set to be released from the Marvel-verse in the next three years.
Currently, Widow can be seen in Captain America: Civil War, which has already grossed $291.2 million overseas, according to MarketWatch.
And I have no doubt in my mind, that Widow had a little something to do with the draw and appeal of this film, too. I mean, how could she not?
Images: Walt Disney Pictures; Giphy