'Law & Order' Is Taking On Reality Dating Shows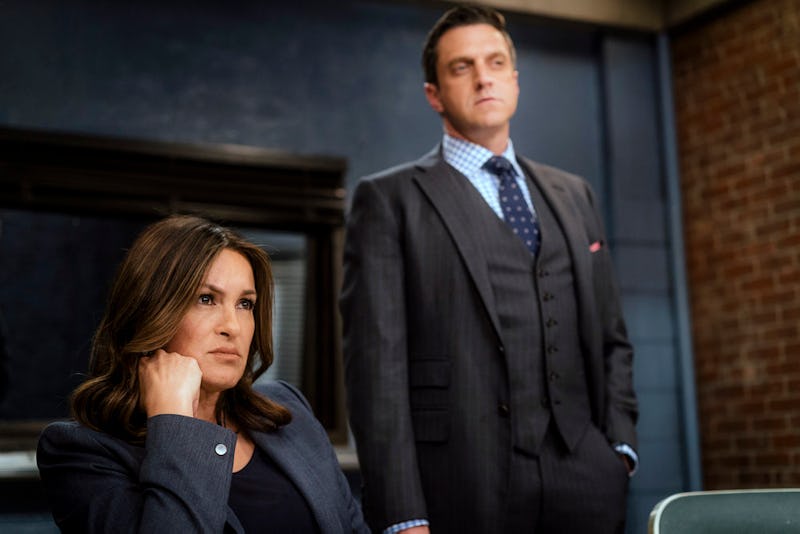 In an episode that many TV fans will find eerily familiar, Law and Order: SVU is taking on reality TV — specifically, a Bachelor-like dating show called Heart's Desire. In the May 11 episode, called "Assaulting Reality," Olivia Benson will investigate a claim of sexual assault on the show-within-a-show, in which a female contestant accuses the male star of the Heart's Desire of raping her.
Although the episode's subject matter will undoubtedly be painful to watch, fans of both SVU and reality TV are going to want to tune in. The episode takes place during a reunion episode of Heart's Desire, when a female contestant from the reality show finds out from the night camera footage of the "Dream Suite" (sound familiar?) that she may have been sexually assaulted by the man whose heart she was competing for. Benson and her partner, Odafin "Fin" Tutuola join the investigation, but the duo have some trouble figuring out what is scripted, what is real action, and what is crime (the accused, Ryan, claims that the alleged assault was "part of the script.")
And while "Assaulting Reality" and Heart's Desire are obviously fictional, the subject matter that the episode is going to tackle is certainly all too real. It'll certainly have an eerie, realistic feel, from the cameras constantly filming the detectives as they investigate the contestant's claims to the alleged rapist defending himself on-camera. The episode is bound to provide an interesting, if scary, look at our culture's dating climate and the importance of consent.
Images: Michael Parmelee/NBC