Sophie Turner Wants Sansa Stark To Die On 'GoT'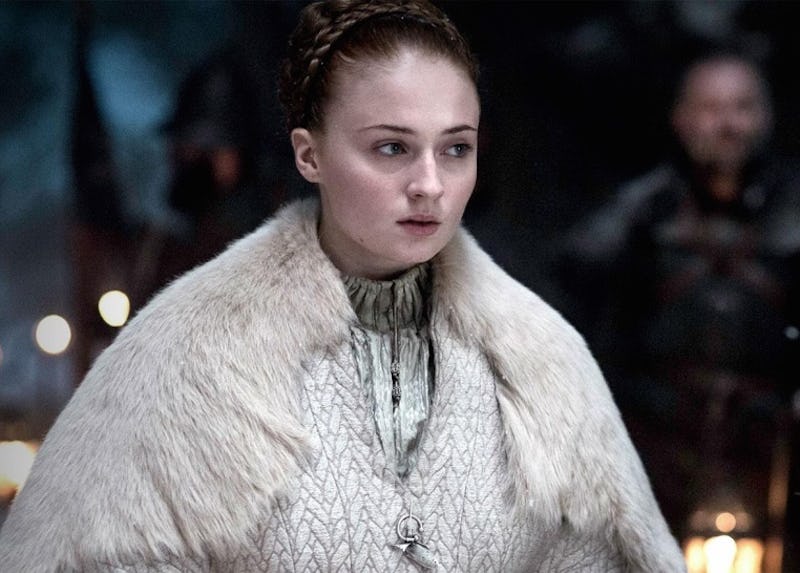 Sophie Turner had an in-depth interview with Just Jared, in which she talked everything from the red hair and pale skin she has to keep up while her character is still alive on Game of Thrones, to her love of the English stationary store, WH Smith to hanging out with Jennifer Lawrence on the set of X-Men: Apocalypse (in which she will be playing a young, '80s-style Jean Grey). Turner said a lot of wonderful things, but the most amazing gem she threw out was definitely her hope that Sansa Stark will die in Game of Thrones . I can't help but to agree.
In the interview, Turner said she wanted Sansa to get serious vengeance against all those who have robbed her of her family (and a normal childhood). Which is totally legitimate. Sansa has dealt with some of the worst psychopaths in the series, so she's a) due some very serious retribution for those dealings and b) picked up some neat torture tricks — Ramsay specifically was a pro.
After Sansa's vengeance spree, Turner said she would prefer a death for her character, "that will last a good episode, like poisoning, you can really drag that one out. Just a long slow death." While this ending might be just so Turner can have some fun with her acting chops, death does seem like a pretty OK ending for S.S. I think the actress put it pretty eloquently,
"I want her to get revenge. I want her to avenge her family's death and everything. But then I kind of want her to die at the end because I want a big death scene. I want her to die and I want Littlefinger to end up on the throne. I don't really care about anyone else."
As much as I wish the Stark children would reunite and all move back in to Winterfell where they can spend their days practicing sword play or embroidery and getting into food fights at feasts, I know that Westeros don't play like that. One or more of the Starks aren't going to make it. Furthermore, how will Sansa's soul feel after she goes on a murder spree? Sansa hasn't murdered anybody, so I'm not sure how she's going to handle it. Maybe her own death will be the only way she can live with herself again. Or maybe she simply won't be very good at it and will end up getting herself killed.
Sansa is very deserving of a great story, a hero's story for all she's been through. In my very professional opinion, I think the best ending for our favorite Lannister-Bolton (née Stark) would be that she goes out with a big bang. We know that Sansa is now headed to meet up at The Wall with her half-brother, and I'm reasonably sure they're going to just miss each other, as Starks do. Instead, I believe Sansa's going to hooked by Littlefinger, and then she and he will take down Ramsay.
I'm not sure how that's going to happen, whether they somehow get an army or go in low key and assassinate Ramsay in the night. I'm hoping that maybe Littlefinger will sacrifice himself for Sansa selflessly at some point, but I'm not confident he cares enough about anyone other than himself. At any rate, I have high hopes she's going to be involved, and that it will be a bloody end for Mr. Bolton. But, of course, maybe he will take her down with him.
Turner has definitely got the right idea about how things should end for her oft-persecuted character, Sansa Stark. So, good luck, Sansa, because it's getting cold and snowy up there in The North, and you are right in the thick of that chill.
Images: Giphy (2), HBO