Sherman Alexie Returns With Children's Book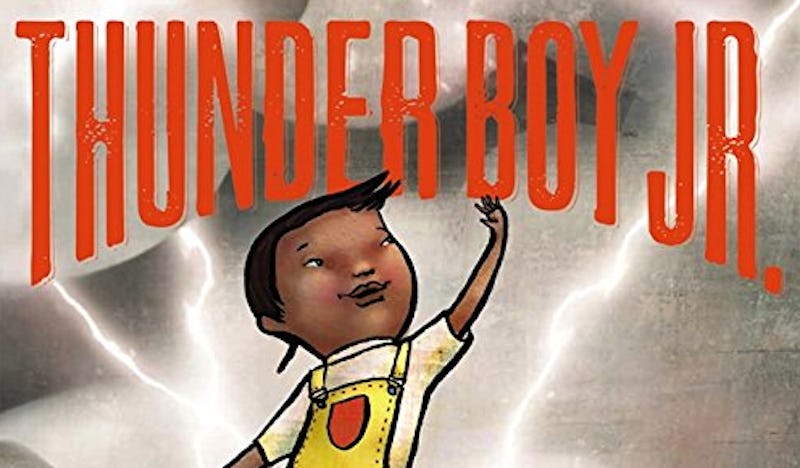 Tuesday marks the release of National Book Award-winning author Sherman Alexie's new children's book. Not only is Thunder Boy Jr. a vibrant story about family and identity, but it's also a personal story for Alexie in terms of his own experiences, his culture, and his determination not to disappoint young readers. Alexie and Pura Belpré-winning illustrator Yuyi Morales brought their respective styles to a wholesome and endearing picture book that shows, as Morales says, "a child doesn't have to do extraordinary things to know that he's taking extraordinary steps."
While Alexie has written in the short form before via poems and short fiction, he found the picture book genre tough to crack. "It's about 70 percent for the kid and about 30 percent for the adult that's going to be reading to the kid," he tells Bustle. Alexie also took special care to ensure his book fit the reality he has experienced as a father, as a writer, and as a Native American. While doing research for picture books, he says he found it incredibly difficult to find books that were diverse and inclusive.
"I tried to find [diverse] picture books and it's tough," he says. "I couldn't find any contemporary fiction on Native American kids that didn't rely on old tropes."
In February, the CCBC released 2015 statistics detailing multicultural representation in books and authors. Once again, Native Americans were the least represented ethnic group. The disparity of published Native American authors was also evident. "Everywhere I go in the world I'm almost always the only Indian in the room," Alexie says, "It can be very isolating." Those feelings of isolation were the impetuses for Thunder Boy Jr's creation.
Alexie focused primarily on portraying a "universal idea, but with a very specific cultural outlook" while also illustrating a truth of Native American culture where a name is earned and youth go through an adulthood ceremony. Thunder Boy Jr. follows the titular character — a boy who hopes to find a name that fits him and not one that aligns him as the smaller version of his father, Thunder Boy Sr. "I don't want to be Little Thunder," he proclaims. "I don't want to be small."
Sherman, a junior himself, says he felt like a bit of an enigma in his community growing up because his first name was considered peculiar. That struggle is reflected in Thunder Boy Jr.
When it came to partnering with Yuyi Morales, Alexie calls her "the perfect illustrator." Morales, too, has experienced isolation. She first arrived in the United States from Mexico almost 20 years ago with a two-month old son, a limited English vocabulary, and a desire to connect more with her new home. Illustrating and writing books helped ease her feelings of solitude and helped her connect with her son.
"My son was my engine. He was the reason why I wanted to do this. He was my inspiration," she says, "I [also] think the reader I was writing for was me."
Representing a marginalized family was also important to Morales, who says that her job was to bring her own voice to the narrative, which included incorporating a little sister and a mother who calls the boy Thunder Boy Jr. despite his contempt for the moniker. This resulted in a melding of Sherman Alexie's literal and succinct prose with Yuyi's illuminate world to portray a family rarely seen in kids literature: a family that is not struggling but imperfectly happy.
"My commitment has been strong with children, but especially those children who need something familiar to hold on to," Yuyi Morales says. Sherman Alexie echoes the importance of writing for young people — especially for young people who don't see themselves in literature. "I think as a kid your world is being formed and at that age a book can change your life," he says. "There's a great responsibility in that."
Thunder Boy Jr. provides a much-needed contemporary glimpse into the world of a Native American family who represent their culture but aren't solely defined by it. The imagery of a considerate and empathetic Native American father, a child coming to understand his own strengths, and a loving family make Thunder Boy Jr. a great diverse book and an absolutely necessary children's picture book.