The 'DICE' Cast Can Be Found On Other Series Too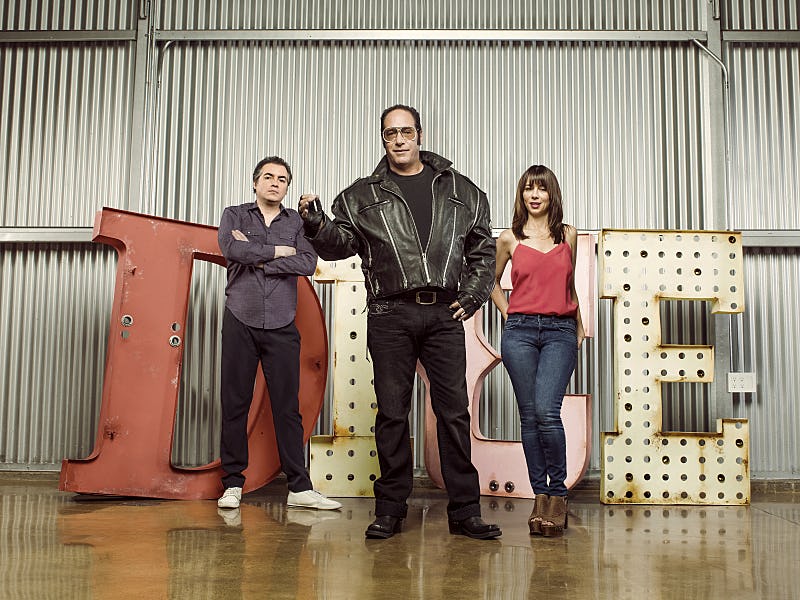 Showtime made a bold choice by giving controversial comedian Andrew Dice Clay his own show in the form of the semi-autobiographical series DICE. Then the series made another bold choice by releasing the first season's episodes online all at once and also airing the season on TV every Sunday night. So many bold choices are fitting of the show's star and protagonist, but will Showtime make yet another bold choice by bringing DICE back for Season 2?
The network has yet to announce whether or not DICE will be renewed for a second season and it could really go either way. Save for a slight uptick with the May 1 episode, the amount of viewers has declined every week since the series premiere, according to the Nielsen ratings reported by TVSeriesFinale. Showtime will have to decide whether the remaining audience is large enough to warrant bringing the series back.
Though its future is uncertain, fans of DICE won't have to worry about not being able to see the exceptional cast, as these talented actors are plenty busy without it. Dice Clay himself is taking on more ambitious roles — emulating the similar career revival that Mickey Rourke had in the late 2000s by starring in films like The Wrestler — and supporting actors Kevin Corrigan and Natasha Leggero have plenty of other projects. Here's where to look for your favorite DICE stars while you wait to see if the show will return to Showtime.
Andrew Dice Clay in Vinyl
Dice Clay is nearly unrecognizable in his role in HBO's Vinyl as radio DJ Frank "Buck" Rogers in a scene-stealing performance. He enters the show like a wrecking ball, immediately leaving an impression on the audience and having a powerful presence in the world of Vinyl, even though he doesn't stick around very long.
Kevin Corrigan in The Mentalist
Corrigan is a celebrated character actor, who has turned up on everything from NBC's cult classic comedy Community to Scorsese gangster flicks like The Departed and Goodfellas. He showcases his comedic chops as Dice's right-hand man Milkshake in DICE, but if you want to see Corrigan's dramatic chops, look no further than his multi-episode arc as Robert Kirkman in The Mentalist. Kirkman is a villainous murderer who has no time for the kind of laughter and degenerate behavior that Milkshake revels in.
Natasha Leggero in Another Period
Leggero is best known to DICE fans as Carmen, Dice Clay's fictional girlfriend, but she is an accomplished comedian in her own right. She's appeared on various comedy programs and released acclaimed stand-up albums, but her masterpiece may be Comedy Central's Another Period . A Downton Abbey parody disguised as a reality show parody that Leggero co-created and co-wrote with comedienne Riki Lindhome, Another Period is a perfect example of Leggero's twisted but wholly human sense of humor.
No matter what happens next for DICE, you'll surely be able to catch the three main cast members in numerous other projects that show off their comedic and dramatic skills.
Images: Brian Bowen Smith/SHOWTIME; Niko Tavernise/HBO; Giphy (2)