'One Tree Hill' Cast - Where Are They Now?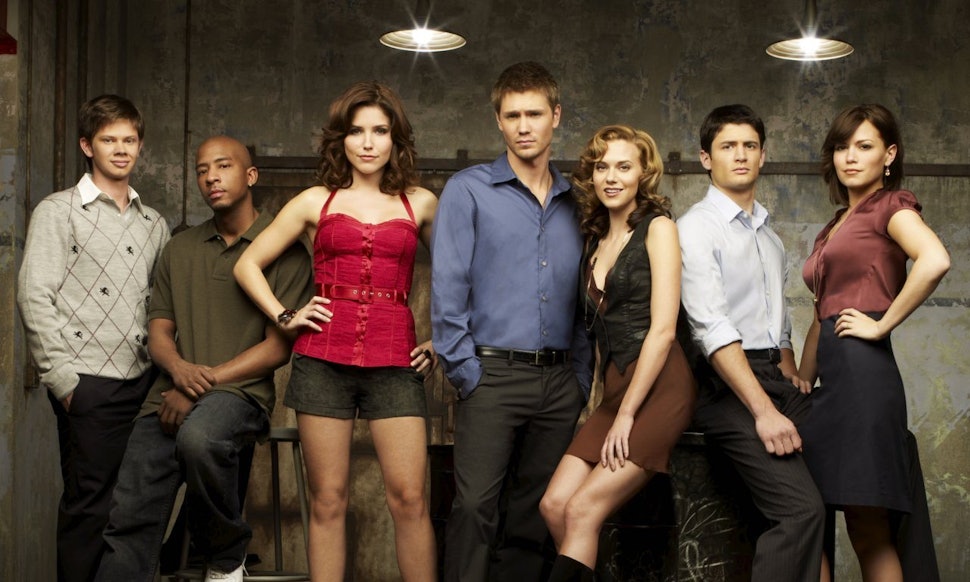 It's only been a year since One Tree Hill ended after nine (!) seasons on air, but we already miss it like crazy. Have its cast members found success post-Hill? Read on to find out. Image: The CW
Where are the Stars of 'One Tree Hill' Now?
It's only been a year since One Tree Hill ended after nine (!) seasons on air, but we already miss it like crazy. Have its cast members found success post-Hill? Read on to find out. Image: The CW
Chad Michael Murray (Lucas Scott)
The show's biggest star has always had a hard time finding non-Hill success, with very few hits to his name other than the series that made him famous. Yet things are looking up for Murray in 2013, as he's currently co-starring in the indie hit Fruitvale Station and has a recurring role on TNT's Southland. Next up is Left Behind, a post-Rapture film starring Nicolas Cage. Eek.
Sophia Bush (Brooke Davis)
Since leaving One Tree Hill, Bush won the lead in a series based off the acclaimed historical miniseries Hatfields & McCoys, but unfortunately, the pilot was never picked up. She also starred in Partners, a short-lived CBS series cancelled after less than half a season. Hopefully, whatever Bush chooses to do next will have better luck.
James Lafferty (Nathan Scott)
The man behind Nathan Scott starred in Lost on Purpose, an April 2013 film about a dairy farm. He has several films in the works, including Oculus, a supernatural horror flick, and Citizen Soldiers, a World War II drama. The project with the most potential, though, is Crisis, an NBC series set to debut later this year, co-starring Lafferty, Dermot Mulroney, and Gillian Anderson.
Hilarie Burton (Peyton Sawyer)
Burton only appeared on One Tree Hill for six seasons, but her character is one of the show's most loved. After leaving the show, she acted alongside Val Kilmer in Bloodworth, a little-seen 2010 drama and starred in Naughty of Nice, a 2012 Hallmark Original Movie. Her TV roles, however, have been of higher quality - she's a star of White Collar, had a role on Castle, and has a recurring part on "Grey's Anatomy."
Bethany Joy Lenz (Haley Scott)
Lenz has kept a low profile since leaving the show, appearing in an episode of Men at Work and starring in a recurring role on Dexter. She's kept her music career alive, performing in concert with other former "Hill" stars and recording a new album.
Paul Johansson (Dan Scott)
Johannsson starred in an episode of CSI and led a TV movie. He has three movies in the works, none of which look particularly promising. It seems his career culminated with getting his heart-to-be eaten by a dog.
Craig Sheffer (Keith Scott)
Sheffer left Hill early in its run, and completed a string of little-seen, low-quality films and TV movies. In 2012, he starred with Eric Roberts in The Mark, a sci-fi action movie, as well as its 2013 sequel, The Mark: Redemption. [Image: The CW]
Moira Kelly (Karen Roe)
Kelly has had trouble finding success after the show, appearing in an episode of Numb3rs and starring in two made-for-TV movies.
Barbara Alyn Woods (Deb Scott)
Woods' only post-Hill role was in last year's Taste It: A Comedy About the Recession. Never heard of it? Neither have we.
Lee Norris (Marvin "Mouth" McFadden)
Mouth has also had a tough career since leaving the show, appearing only in Paulilu Mixtape, a sketch TV series.
Antwon Tanner (Antwon "Skills" Taylor)
Tanner has several movies in the works, and is currently filming Black Jesus, a a comedy TV series about... black Jesus.
Jackson Brundage (Jamie Scott)
Nathan and Haley's son currently co-stars with Scott Baio on See Dad Run, which just entered its second season on Nick at Nite.
Austin Nichols (Julian Baker)
Nichols appeared in the now-cancelled FOX series The Mob Doctor, and is now starring in the acclaimed Ray Donovan on Showtime.
Stephen Colletti (Chase Adams)
Colletti acted alongside Haylie Duff in a 2012 TV movie, All About Christmas Eve, and has a role in Hit the Floor, a new drama series.