'2 Broke Girls' Season 6 Could Be Pushed Back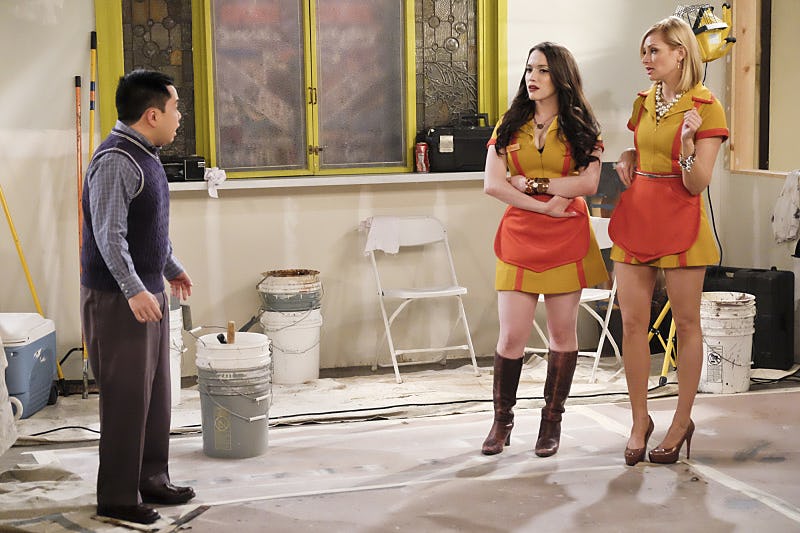 The benefit of loving a popular show like 2 Broke Girls is that you usually don't have to worry about the show being unceremoniously cancelled at the end of the season. And according to Zap 2 It, after the May 12 finale, 2 Broke Girl s will return for Season 6 — it's already been renewed by CBS. But when will 2 Broke Girls Season 6 premiere is a much tougher question. I have to say, I'm not sure. Typically, network shows like this one premiere in the early fall, sometime in September. But, as Deadline reported, 2 Broke Girls Season 5 was moved from its original spot on Monday nights to Thursdays, and since CBS plays football games that night in the fall, 2 Broke Girls' premiere was delayed until November.
While CBS might choose to make another change to the schedule, if they don't, it might take until November 2016 to see another episode of the series. That seems long, right? It's pretty long for a network hiatus, but at least the show's fate has already been confirmed — plenty of series have yet to be renewed or cancelled. And, speaking of cancellations, if CBS decides to cancel some of their Monday night dramas, 2 Broke Girls could resume its place on Monday or shift to another day of the week, possibly premiering in September. Either way, the summertime is going to be 2 Broke Girls-less. So, if you're looking for more women-driven comedies to tide you over in the meantime, here's a few suggestions of some series that you may have missed and a few new ones that will premiere during its hiatus.
Mom
If you like 2 Broke Girls, than checking out Mom should be a no-brainer. Seriously, it's also a CBS three-camera sitcom, and it's also about the relationship between two women — though in this case, they're mother and daughter and played by double comedy geniuses Anna Faris and Allison Janney.
Unbreakable Kimmy Schmidt
The second season of this joke-packed comedy premiered in early April, and with so many weekly series, maybe you haven't gotten the opportunity to marathon it yet. Just like 2 Broke Girls, Kimmy Schmidt is all about being young, broke, and struggling through life in New York City.
Inside Amy Schumer
The fifth season of Schumer's eponymous sketch series is currently airing, and every season of this show has salient feminist and, occasionally, political commentary that's also incredibly hilarious.
Orange Is The New Black
Maybe I'm just hyped on the recently released Season 4 trailer, but even though OITNB is more of a dramedy than a straight comedy, I still think it's worth checking out. The cast is sprawling, so you might as well refresh yourself on Seasons 1-3 before the premiere on June 17.
Playing House
Is your favorite part of 2 Broke Girls watching a brunette and a blonde become best friends? Playing House Season 3 was okay'd by USA in January 2016, but no premiere date has been announced yet. But, Season 2 premiered in August, so maybe Playing House will be the perfect end-of-summer series.
Lady Dynamite
Maria Bamford has been a stand-up comedian for years, and she's finally making her own scripted series for Netflix. It's going to be weird, frank about mental illness, and, if it's anything like her other comedy, very, very funny.
Even though 2 Broke Girls might be off the air for six months, while you wait for it to return there's plenty of other options for female-driven comedy to keep you laughing in the meantime.
Image: Darren Michaels/Warner Bros. Entertainment Inc.