'OUAT' Will Introduce New Characters In Season 6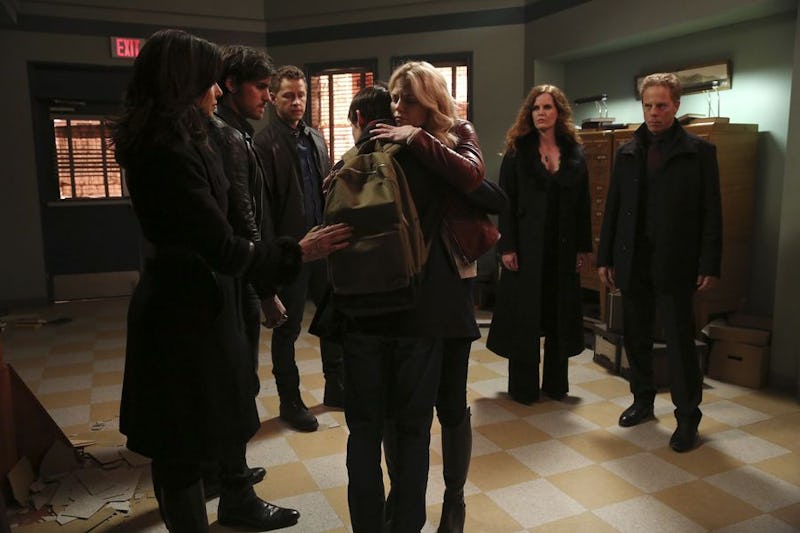 Season 5 of Once Upon A Time has been one crazy ride. Between the trip to Camelot, then the dive into the Underworld, plus all the twists and turns having to do with the Dark One, Once Upon A Time has managed to get through a lot of story — and introduce plenty of fairytale characters — in a single season. But, now that Season 5 is drawing to a close, it's time to look to the future. So, when is Season 6 of Once Upon A Time ? It's a good bet the sixth season of ABC's fairytale drama will premiere sometime in Fall 2016.
Of course, Once Upon A Time has already been renewed by ABC for Season 6, so it's just a matter of when the network sets the premiere date. If we look back at past seasons, most have premiered late in September, generally the last Sunday of the month (with the exception of the first season). If I had to guess when Once Upon A Time will return to our TV screens with Season 6, I'd say it will be on September 25 — but that's just my educated guess. We'll have to wait for an official date from ABC before we know for sure.
But, if Once Upon A Time does premiere late in September, that gives us plenty of time to theorize about what to expect when Season 6 arrives. Already, showrunners Edward Kitsis and Adam Horowitz have offered us a tease of a major storyline in Season 6, and it will arrive in the form of two new characters introduced during the Season 5 finale. Before we get to that, though, let's look back at the casting news: Deadline reported Once Upon A Time had cast Sam Witwer and Hank Harris as two new characters. Witwer will play Jacob an "evil and overbearing warden" at a mental institution who takes pleasure in tormenting the patients, while Harris' Nathaniel is trapped under Jacob's thumb.
Prior to this casting announcement, it was thought that the two new characters on Once Upon A Time would be brothers, as reported by TV Line, which led many to speculate they would be the Brothers Grimm. (TV Line, for their part, theorized the brothers could be Mufasa and Scar from The Lion King.) However, Kitsis and Horowitz shot down rumors of the Brothers Grimm joining the fairytale drama in an interview with Entertainment Weekly. Instead, Kitsis offered this tease:
What's fun about those two characters is very similar to season 1, when we didn't know who Graham was, and we were guessing sometimes what character they are. The finale will work much like that, in that the question of who these two are will be part of what the story is.
Now, the mention of Graham is interesting. As you'll remember, Graham was the Huntsman from the story of Snow White and the Seven Dwarves, so he was more of a secondary player than a lead character. Does that mean these new characters played by Witwer and Harris are secondary rather than the protagonists from whatever stories they come from? I would say that's probably true, which means they might usher in a new theme similar to Camelot and the Underworld.
As for who these characters may be, my theory is that they could be Frollo and Quasimodo from The Hunchback of Notre Dame, since that hasn't been done yet on Once Upon A Time and the dynamic seems to fit. But, I could be completely off the mark. Unfortunately, we'll have to wait until the Season 5 finale to know more about these new characters, and we may need to wait for Season 6 to learn more about how they'll fit into the show. Until then, I'll be here theorizing.
Images: Jack Rowand/ABC; Giphy (2)