Yes, You Can Go To Summer Camp As An Adult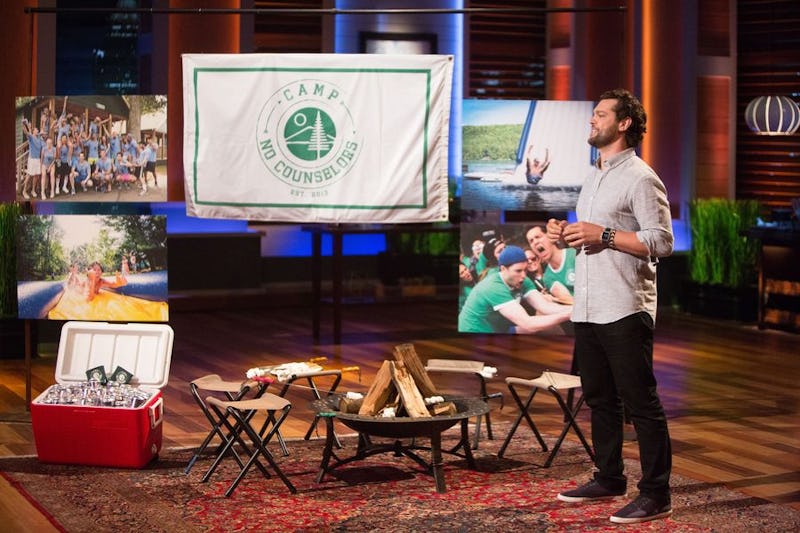 Pretty soon, kids across America will be heading out to spend their summers having epic adventures at camp. Ah, yes, those days of hanging out by the lake, making s'mores by the campfire, and swapping scary stories after lights out in your cabin have been glamorized in many a tween and teen comedy. But who says all of that fun is just reserved for youngsters? That's why you need to go to Camp No Counselors from Shark Tank .
You can do all those things and more at Camp No Counselors, a camp designed for adults. And yes, it does look as awesome as it sounds.
However, the Sharks seem to either love or hate experiential companies, so I really don't know how successful Camp No Counselors will be in the Tank. Robert Herjavec, Shark Tank's resident adrenaline junkie will be on the show during Friday night's new episode, so that could work in Camp No Counselors' favor. Otherwise, the company is going to have to appeal to the Sharks' nostalgia for their camp days of yore, but that could be risky since I don't even know if any of the Sharks went to camp as a kid or if they would even get sentimental about it if they did.
But I'm confident that Camp No Counselors' founder has an entertaining pitch in store for us for Friday night's episode of Shark Tank. With a company as fun as Camp No Counselors, how could he not?
Prepare To Live Out Your Wet Hot American Summer Fantasies
Camp No Counselors is a sleepaway camp for grown-ups, which includes everything you loved about camp as a kid (sleeping in a cabin, unleashing your inner Katniss Everdeen at archery practice, showing off your skills at the talent show) but with an adult twist (chowing down on gourmet meals, partaking in the open bar), the company's website describes. Get ready to fall in love with camp all over again.
There Are Lots Of Upcoming Retreats
If you're in the market for a rocking camp vacation, all you have to do is sign up for one through Camp No Counselors' website. There are camps taking place in the Los Angeles, New York, Boston, Chicago, and Toronto area for the rest of May and June so far. There are also more camps planned for Austin, Miami, Michigan, Nashville, and San Francisco later in the year.
Each camp lasts for about four days (either Thursday evening to Sunday afternoon or Friday evening to Monday afternoon for Memorial Day weekend). There's a rate for one to three people ($550 per person) or four and above ($525 per person), according to the camps' registration pages on Eventbrite. But some might say reliving your childhood is priceless.
The Company Is Doing Quite Well
If you were hoping to hit up Camp No Counselors this weekend, I'm sorry to say that you can't. The company has sold out of spots for its L.A. camp from May 12 to May 15, its calendar shows. The fact that Camp No Counselors has had a ton of media coverage the past couple of years might have something to do with that. All of that has got to win the company some points in the Sharks' eyes, too.
The Founder Embodies The Camp No Counselors Spirit
Camp No Counselors got its start as just a fun thing to do for founder Adam Tichauer and his friends. Tichauer rented out a summer camp one weekend in in the fall of 2013 in order to get his friends, who had been struggling to get together due to their busy adult lives, to hang out, the company's website details. Sound familiar?
Word spread, and 90 people eventually participated in the fun weekend, so Tichauer knew he was onto something. As subsequent reunions were planned and executed, Tichauer eventually left his job as the CEO of the customizable music player company Playbutton in early 2014, according Camp No Counselors' website and the founder's LinkedIn profile. And now he's basically away at summer camp 24/7.
They've Got Competition
One reason why Camp No Counselors has gotten so much media attention is the fact that these adult-targeted camps have been a bit of a trend over the past few years, especially as advancements in technology have made it so we need outlets to escape our constantly-connected lives. In addition to Camp No Counselors, there's also Camp Grounded, there's Camp Bonfire, and there's Soul Camp, just to name a few. But not many of them can say they've been on Shark Tank, so that's something.
They Made A "Shocking" New Move
We'll have to wait until Friday night's episode of Shark Tank to see if Camp No Counselors scored a deal or not, but the future looks bright for the company either way. It just partnered with Shock Top to launch the beer company's own summer camp for adults, AdWeek recently reported. If you want to be one of 1,000 people chosen to experience a Camp Shock Top getaway located just outside New York, L.A., Miami, and Austin, you can enter over at the contest's website or by texting "CAMP" to 55999.
Those who don't win will just have to sign up for camp the old-fashioned way.
Images: Michael Desmond/ABC; Giphy (2)