Kesha Can Totally Pull Off Country Music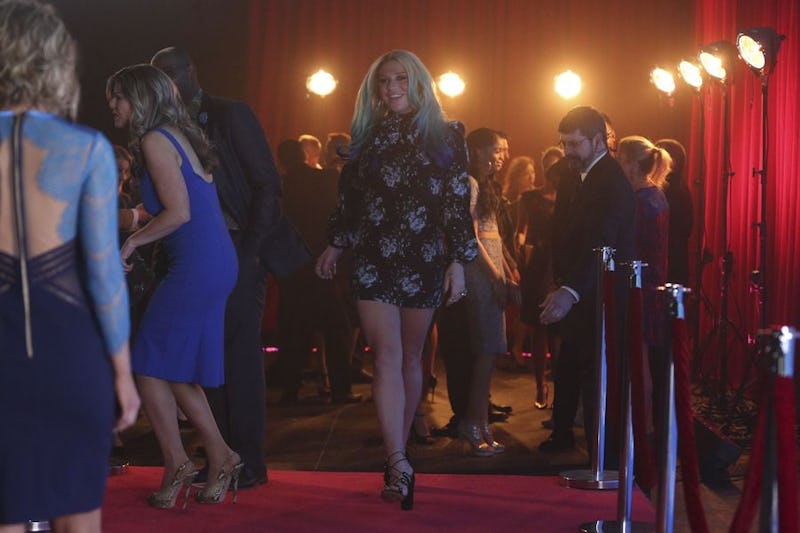 Nashville has had every country singer under the sun visit its set — Brad Paisley, Kellie Pickler, Florida Georgia Line, Vince Gill, and Kip Moore have all appeared on the show. But, beyond that, the series tried to expand the mind of non-country listeners by adding more pop acts to the hour-long drama. Remember when Christina Aguilera popped in for three or so episodes as Jade St. John, a former lover of Jeff Fordham and a new hookup of Luke Wheeler? Aguilera isn't winning an Emmy anytime soon, but it was fun to watch her embrace that country sound. Now, Nashville is bringing Kesha into the mix. Yes, that Kesha, and surprisingly, Kesha can totally perform country music.
Kesha may be best known for rising in the morning in the manner of a late-1990s rap star, but she's much more than her dance-pop sound would suggest. In fact, Kesha was raised in Nashville. Kesha watched her mom, Pebe Sebert, pen country hits like "Old Flames Can't Hold A Candle To You" for Joe Sun and Dolly Parton, so she was essentially brought up within arm's reach of the Grand Ole Opry. Kesha may be a pop singer now, but she definitely cut her teeth in the wide world of country music.
And since the singer is guest starring as herself on Nashville, and you know she's going to sing, if only just a little bit. To help her out, I've chosen a few Nashville songs I think Kesha would be great on.
"Don't Put Dirt On My Grave Just Yet" — Juliette Barnes
Kesha's legal battle with producer Dr. Luke has been well documented, and I think that people are counting her out of the music business now, just like the characters on Nashville did to Juliette. Everyone should know that you can't keep a good woman down, and Kesha singing this song would be a real statement piece to all the haters and naysayers.
"Black Roses" — Scarlett O'Connor
I always thought that this song was a little too harsh for Scarlett — her demeanor is just so quiet and sweet — and I think Kesha would do a great job on this song. She has a nice raspy quality to her voice that I think could add a lot to the song
"Trouble Is" — Juliette Barnes
Kesha got her start playing party music, and this is party music, country-style. It's just a fun song, and who doesn't want to sing a fun song every once in awhile. Maybe a nice duet with Juliette could be in order?
"If Your Heart Can Handle It" — Will Lexington & Layla Grant
Has Kesha ever sung a duet like this one? I don't think so. Will and Layla were in a weird place when they sang this song together, but I think Kesha should replace Layla here for a look at what a real pop star looks like when she sings a love song.
Seems to me that if Kesha wants to make a crossover change into country music, the Ryman Auditorium seems ready for her to make a clean break from pop music — I can't wait to see what she does on Nashville.
Images: Mark Levine/ABC