10 Instagram Quote Makers You'll Love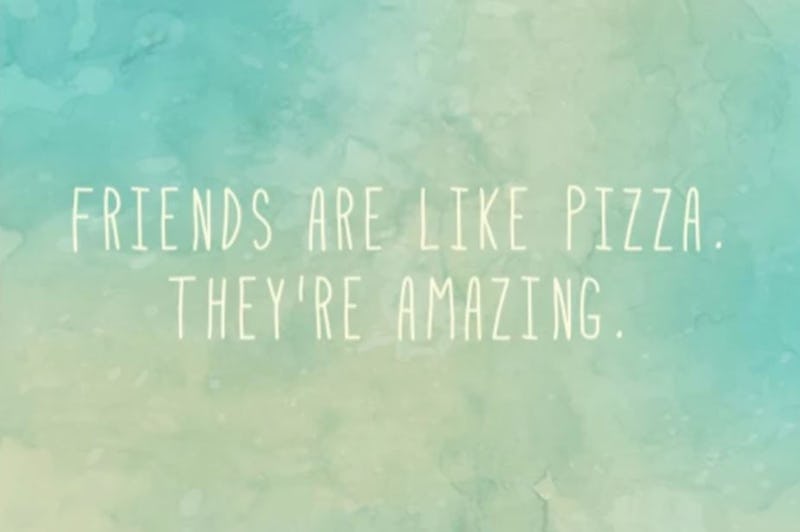 Instagram is dangerous: If you're not careful, you could get sucked in. I love logging on not only to see what my friends are up to, but to drool over food porn (because I love to punish myself, apparently), check out travel pics, and read motivational quotes. That last one is a biggie for me, and I recently discovered that there are Instagram quote makers that let you create and post your own inspirational words. I always wondered where people got these gorgeous images from — and now we have the answer: They're either reposting them from someone else (likely), or they're using one of these apps.
Sometimes you can tell that someone has created the image themselves, because they'll put their Instagram handle directly in the image. (P.S. One of my favorite motivational accounts to follow is @cwillylife. I love his enthusiasm and his quotes make me feel all warm and fuzzy inside.) So, since I'm so fond inspirational words (even when they're cheesy), I decided to try out a bunch of these Instagram quote makers myself and see what they're all about. The app store is pretty crowded with all kinds of Instagram apps; so skip through the clutter and check these ones out first.
1. Face Garage
A browser-based tool you can actually access from your desktop, Face Garage makes creating Instagram quote pictures super quick and easy. Select a background, type a quote, pick a font and some other specifics, choose a photo effect, and you're about done. I created this masterpiece in less than a minute. Amazing, I know.
2. Behappy.me
This one was also very quick (less than a minute on my computer); admittedly it had fewer features than Face Garage, but that also made it even simpler to use. It may not allow for quite as much creativity, but I give it an A+ regardless. You can also download the quote as a Facebook cover photo and even purchase it printed on a shirt, pillow, or mug.
3. Inspirably
This one isn't quite as intuitive to use; the quote doesn't appear exactly as you type it, the quotation marks get in the way depending on the font you use, I'm not too hot about that timestamp, and the website is very slow while moving from Step #2 to Step #3. I'd recommend the first two over this one, but it'll get the job done, too. Maybe timestamps are your jam.
4. InstaQuote
Dude, I made this beauty — no joke — in maybe 10 seconds. InstaQuote is the bomb. It's got lots of cool fonts and looks to choose from, too.
5. Text2Pic
I made this while I was peeing. (Turned out OK, yeah?) Text2Pic is easy to use and offers lots of sweet options; however, from what I could tell, if you want to download the image to your phone, you have to do it by downloading Google Apps. That made me go all, "Wtf," so I screenshotted it and moved on. (But they get bonus points because you can add music and voice to your image.)
6. QuotesTag
QuotesTag is the lazy person's quote maker. Why? You don't have to make anything. You can flip through their catalogue of quotes, download one, and post it on social media. It's a cool timesaver, except when they misspell important words. (I don't really know what a "bestfirend" is, but I assume it's something like a best friend.)
7. Quotes Creator
This one works similarly to InstaQuote. Admittedly, my creative genius had left me by this point; even so, though, I still barfed up this bad boy in less than a minute. I'm pretty happy with myself. All in all, this app is cool beans.
8. Quote Maker
This app was glitchy as heck for me. I had to try three times before I was able to throw this thing together. It also wasn't quite as obvious where to click or what to push, but the results are pleasantly splashy.
9. Text On Photo Square
Love, love, love this. I was able to take this adorable picture of my dog and I, and in just a few seconds, I was able to add this hilariously witty caption. This is great not just for inspirational quotes, but to add a personal touch to any image.
10. VanillaPen
I totally love the look and feel of VanillaPen. It's very artsy fartsy. I had to do a wee bit of guessing to get it going, but it wasn't bad. And, I mean, look how good my photo came out.
Images: Megan Grant/Bustle (10)