9 Genius Ways To Clean Smarter With Less Effort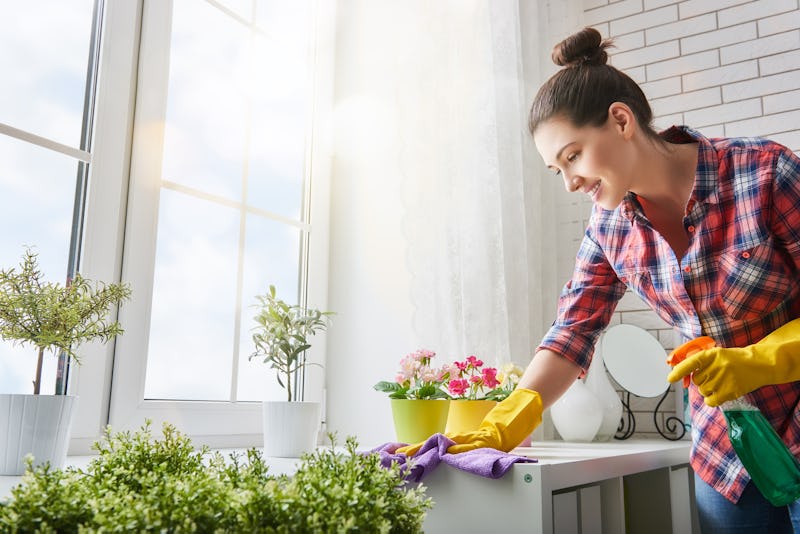 I remember when my biggest responsibility was making sure that my Tamagotchi stayed alive. Now that I'm an adult with a job and not much free time, I spend most of my days off figuring out how to make sure my house is super clean. I'm catching up on laundry, washing dishes, and wishing I had genius cleaning hacks to get the hair off the floor I neglected to address during the work week.
But what if I told you that there were ingenious and effortless cleaning hacks specifically designed to make your life so much easier? Well, they are out there, and while you're sitting at work during the day, you could be inactively fighting dust, odor, and allergens in your home. You can also save a whole lot of time on chores if you had the smartest, most efficient tools.
If you're desperate to know what these hacks are, no worries — I was too. That's why I compiled a list of the coolest easiest ways to clean your house of odors, germs, moisture, and dust, using a minimal amount of effort. With all the extra time you save, you can spend your next day off mourning the '90s with Clueless on Netflix.
Soak Up Moisture And Allergens With A Bamboo Bag
Bamboo Clear Charcoal Air Purifying Bag , $19, Amazon
Charcoal is especially popular in skin and dental care right now, as it has ultra-absorbent qualities that effectively pull out impurities from polluted materials. However, did you know it does the same thing for the air in your home? This Bamboo Clear charcoal air purifying bag is the equivalent of a spraying, dusting, and purifying routine all in a chic-looking pillow. It's especially good for basements, bathrooms, and kitchens because it works to absorb all the extra moisture in the room to stop mold and mildew from growing, and keep the space looking great by filtering allergens, smoke, unwanted smells, and pet dander.
No to mention, it's entirely natural, hypoallergenic, and eco-friendly. (And all you need to do to clean it is stick it out in the sunlight for an hour, and let it release all the impurities it's collected over the month.) It comes in three lovely colors, the bag is made from durable bamboo fibers, and reviewers love that it works without harsh chemicals or any effort whatsoever.
Effortlessly Clean Your Air, Too, Just By Turning On the Light
Hand Carved Natural Crystal Himalayan Salt Lamp, $31, Amazon
The first time I saw a lamp like this, I was in my favorite yoga studio, and the second I figured out what it did, it became a must-have obsession for me. This hand carved natural crystal Himalayan salt lamp is made with real Himalayan salt, which contains natural air-purifying abilities. When the lamp is heated, it releases negative ions into the air, which clear the air of dust, pollen, mold, and dander. But instead of a clunky, robot-looking purifier shoved into the corner of your room, you've got a beautiful, glowing statement piece that lights any room with a nice, calming amber hue. It's hand-carved, easy to clean, all natural, and comes with a lightbulb included, so you can choose a table for it, plug it in, and start cleansing your house with little to no effort.
Save Space And Time With An Over-The-Sink Drying Rack
UpGood Dish Drying Rack, $24, Amazon
A famous quote from my father, who dries all his dishes by hand: "Dish racks are stupid. I need that space to cook." Well, no more, Mr. Cassano. The UpGood dish drying rack is one of the most ingenious kitchen tools because it's made from premium-grade stainless steel, has a large surface area that fits over any sink to drain excess water right into it, and (get this) rolls up and stores anywhere when you're not using it. You can also use it as a base for excess counter space if you're out of room for that cutting board — it's that strong — and while reviewers have listed tons of pros, like durability, great size, ability to hold a ton of weight, and easy storage, the cons list says "nothing yet."
Keep Dust And Hair Balls Out Of Your Broom
Broom Groomer Cleaning Dustpan, $20, Amazon
When I end up sweeping, there's more dust-bunnies stuck to the broom at the end of it than there are in the garbage, and I'm astounded no one thought of this gadget sooner. This brush-cleaning dustpan has a row of durable rubber teeth on it to ensure that all the bits of dust and dirt get stripped off your broom instead of scattered around your floor. It also comes with a foot-petal, to keep the tray stable while you're sweeping your pile right into it, and because the body of the pan is made with durable plastic, it won't bend, warp, or break. It's large enough to accommodate just about any broom size, and once you're spending more time sweeping and less time on your hands and knees cleaning the bristles, you'll find that your floor-cleaning duties will be done in half the time.
Avoid Airborne Odors Entirely With A Durable Compost Bin
Stainless Steel Compost Bin, $100, Amazon
If you find that you spend the vast majority of your life taking out the garbage to try and avoid a dirty-smelling kitchen, this one's for you. A good quality compost bin, like the stainless steel compost bin, produces significantly less odor than a regular garbage can, as food scraps are permitted to decompose naturally and with minimal bacteria-growth. It's made entirely from durable, rust-free, and high-quality stainless steel, has a built-in odor-control mechanism with charcoal filters, has a lightweight and space-saving design, is easy to clean with soap and water, and it makes useful and eco-friendly compost for plants and gardens.
Best of all, you'll no longer have to deal with unwanted odors and flies, and your kitchen will look and smell much cleaner, all by putting your perishable scraps in a separate bin. Reviewers say they've been looking for a compost bin that fits the clean, odor-free, and convenient criteria for quite a while, and that's why this one gets a five-star review.
Effortlessly Collect Dust With A Rolling Ball Of Fluff
Automatic Microfiber Rolling Ball Sweeper, $11, Amazon
My urge to place googly-eyes on an inanimate object has never been stronger. This adorable little puff, an automatic microfiber rolling ball sweeper, rolls around your house by itself, picking up excess dust, pet fur, hair, and dirt. The outside layer is made from a microfiber fabric that's great at trapping things, and it can be easily removed for quick and convenient cleaning. Then, put it back on, and let the cleaning continue. Reviewers say it's both cute and effective, and because it comes with four different ball covers with four different colored furs, you can keep the fun rolling for hours.
Prevent Germs From Spreading Further When You Go For The Soap
Eva Touchless Soap Dispenser, $25, Amazon
When you've got raw chicken all over your hands or you're in the middle of cleaning the toilet, the last thing you want to do is touch anything. This Eva Touchless soap dispenser takes the convenience of one of those public hands-free soap machines and brings it right into the comfort of your own home. You can fill it with any soap or hand sanitizer you prefer, and its innovative motion-sensor releases soap right into the palm of your hand, no touching required. It's made with brushed stainless steel, so it looks sleek, prevents smudges, and cleans easily. Plus, because it has a contemporary, space-saving design, it'll look great on any bathroom or kitchen counter. It's also battery-powered, so there's no cord to get in the way, and reviewers love that you can adjust the amount of soap it dispenses
Keep Your Bathroom As Sanitary As Possible With An Antibacterial Plunger
Kleen Freak Antibacterial Toilet Plunger and Holder, $23, Amazon
Cleaning the bathroom probably has the highest ratings for "least favorite chore" across the board, but if it's your week to do it, the Kleen Freak antibacterial toilet plunger and holder will make it way easier. The plunger itself is sturdy, durable, and powerful, but that's not the revolutionary part — the holder is. It's created with anti-bacterial germ protection, and when the plunger is placed in its holder, the runoff water collects in a small compartment in the bottom instead of pooling around your plunger or bathroom floor. Together, they create a set that stands up miraculously well to odors, mildew, and bacteria, and because they're made of high-grade materials, they'll last you a very long time, and they'll be especially easy to clean.
Clean Dishes Quickly, Effectively, And Without Mildew
Scrub Gator Utensil and Dish Scrubber, $9, Amazon
Not only are sponges masters at collecting germs, mold, and mildew, but they're not especially durable or efficient, either. If you're left without a dishwasher and you're at the sink during a dinner party, this Scrub Gator dish scrubber will immediately become your best friend. It has two layers of sturdy bristles to remove caked-on food and grease from both sides in one swift motion, and because you're holding the easy-grip plastic instead of the back of a sponge, you won't walk away with mildew-smelling hands. It hinges in the middle to clamp around any sized utensil, and reviewers say it's great for saving time, saving money, and keeping things germ-free in the kitchen.
Bustle may receive a portion of sales from products purchased from this article, which was created independently from Bustle's editorial and sales departments.
Images: Fotolia(1); Amazon (9)