This 'Shark Tank' Company May Change A Major Sport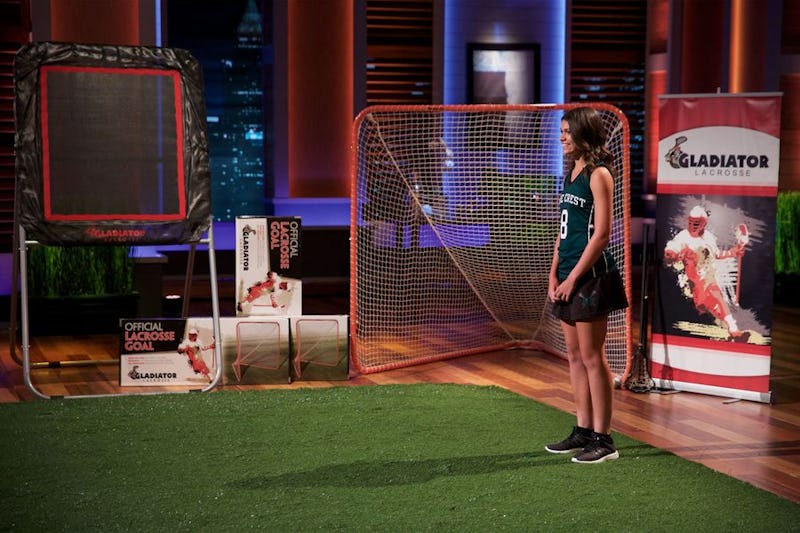 Entrepreneurs are always trying to pitch their ideas for athletic-minded companies, from apparel to vehicles to new sports entirely. But it looks like one athletic company is going to keep things simple when it steps into the Tank during Friday night's new episode and still have an incredible story behind it to boot. Take note of the fact that Gladiator Lacrosse from Shark Tank is available now because you might just be too excited about the company when the new episode airs.
Gladiator Lacrosse doesn't reinvent the wheel, but it does try to make lacrosse, a sport that Native Americans began to play around the time Europeans arrived on the continent, as described on US Lacrosse's website, even better and more affordable to play today.
Though lacrosse may not be the most popular sport in the United States, especially when you compare its professional leagues to those of other pro sports, it is catching on. In 2014, a record 772,772 people played on organized lacrosse teams, according to US Lacrosse's most recent Participation Survey, which was a 3.5 percent increase from 2013. With most of those players high school-aged or younger with parents that want them to succeed at the sport, Gladiator Lacrosse has the potential to do a lot of business.
Even if the Sharks don't bite at this company, they'll undoubtedly be impressed by its entrepreneur. Get to know more about Gladiator Lacrosse below, and you'll soon see why.
It's Got All Of Your Lacrosse Needs
Gladiator Lacrosse is a company that manufactures and sells everything you need to be a warrior in this sport, from rebounders to targets to goals. But what differentiates Gladiator Lacrosse from already-established athletic companies is that it hopes to deliver higher-quality products at lower prices, according to its website. That's definitely a tall order but one that might be easier to achieve with a Shark on board.
You Can Make It A Part Of Your Game Now
If lacrosse is the name of your game, you can get your hands on Gladiator Lacrosse's products through its official online store or through Amazon. Gladiator Lacrosse currently manufactures and sells walls/rebounders, targets, goals, nets, clothing, accessories, and parts. The company basically sells all of the equipment you need to dominate this sport.
It Already Has A Pro Endorsement
Gladiator Lacrosse partnered up with 2014 Major League Lacrosse MVP Casey Powell to create his own line of equipment. He also serves as brand ambassador. What's even cooler is that the company's 15-year-old founder Rachel Zietz got one of the sport's most famous players to work with her company simply by approaching him at a South Florida tournament, she recently told Boca Life Magazine. Now that's being a team captain.
Its Founder May Be Young, But She's No Rookie
Can we just go back to that part about Gladiator Lacrosse's founder being only 15 years old for a second? Yeah, she's young, but she knows what she's doing. Zietz launched the company in 2013 while in middle school (gulp) and she had a hard time finding lacrosse equipment that would withstand her intense practice, according to a March 2015 interview with Entrepreneur. Zietz pitched the idea to investors at the end of the Young Entrepreneurs Academy's 33-week program and received a $2,700 backing, the report said. Gladiator Lacrosse took off from there.
And yes, Zietz still plays lacrosse — big time. She's currently a part of three different teams on top of running the company and going to school, Boca Life Magazine described. Color me (and hopefully the Sharks, too) impressed.
Business Is In Her DNA
Zietz isn't the only entrepreneur in her family. Her parents run the Boca Raton, Florida-based financial technology company TouchSuite, according to Entrepreneur. Her younger brother Jordan Zietz founded GameReef, a video game console rental company, also after attending the Young Entrepreneurs Academy, Boca Life Magazine reported. It sounds like this clan could give the Sharks squad a run for their money.
It's Already Successful
The Sharks love to hear the numbers, and Gladiator Lacrosse has them — big ones! The company brought in more than $1 million in revenue last year and currently sells at least 500 units of product a month, according to Boca Life Magazine. That means Zietz has reached her goal of making Gladiator Lacrosse one of the few female-owned companies to reach the $1 million mark, she told the magazine. Zietz has also been recognized by Florida Governor Rick Scott with the Young Entrepreneur Award in September 2015, and she has also been honored by the Miami Chamber of Commerce and the Boca Raton Chamber of Commerce last year.
But why stop there? Scoring a deal with a Shark would surely be the pièce de resistance for this company.
Images: Tyler Golden/ABC (2)