It's Been 10 Years Since Jim & Pam's First Kiss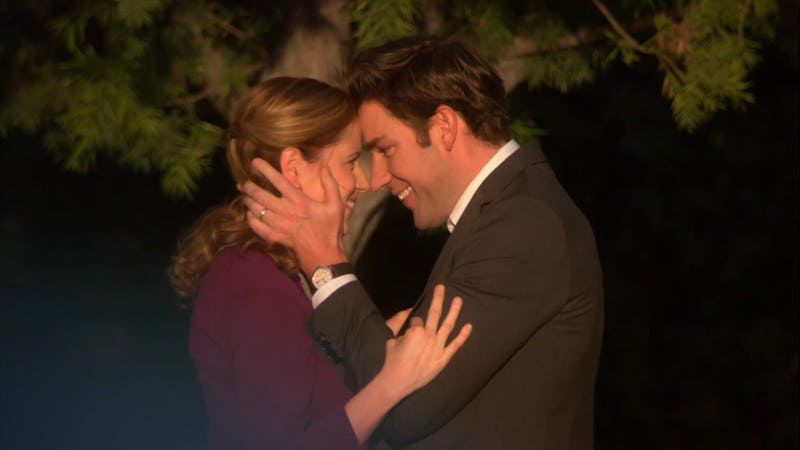 Ah, memories. Especially the kind filled with love and longing. I sort of can't believe it's been 10 years since the couple of the decade, Jim and Pam on The Office, first kissed. But it has. Ten years have passed since the will-they/won't-they love affair between these officemates finally came to fruition. After years of flirting and office shenanigans, when Jim and Pam finally kissed in "Casino Night," which first aired on May 11, 2006, it sent fans reeling with feelings of love and affection. But I'd guess that watching the below clip still gives you those old feelings, because every time I watch Jim and Pam's first kiss, I still get the chills as if it's happening for the first time all over again.
And it's really no wonder. After over a year of flirtatious looks, meaningful interview packages, and the two officemates teaming up and playing pranks of Dwight, when Jim and Pam finally kissed after Dunder Mifflin's casino night, it felt amazing to watch. But that kiss didn't entirely seal their fate. It would be another year before the two were officially a couple. Fiancé drama and a lot of angst later, Jim and Pam would go on to become one of television's most memorable couples.
But before all of that — before the engagement and the wedding in Niagara Falls, before the children and the decision to go back to art school — there was this kiss. It was the beginning of everything for these star-crossed lovers, and watching it now, 10 years later, gives me the same kinds of hopeful romantic feelings I felt watching it for the first time back then.
So take a step back in time — 10 years back, in fact — and enjoy this amazing clip of Jim and Pam's first kiss. For all that they would become over the course of the show, this moment really is the beginning of a lifetime for these two, and I totally still get the chills reliving it over and over again.
Image: NBC