These Quintuplets Are Too Cute For The Internet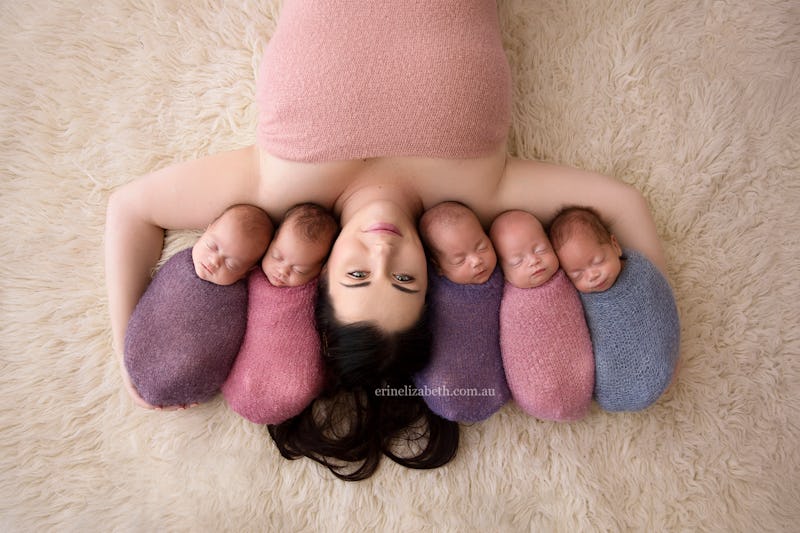 One young Australian couple got the surprise of their lives when they learned that they were expecting not just one adorable baby, not two precious twins, but five new additions. Now the Internet is going gaga over pictures of the quintuplets, and seriously, they are too cute.
The four healthy girls and one boy were born Jan. 28, and now parents Kim and Vaughn Tucci have their hands quite full. Having quintuplets is a one in 50 million chance, qualifying it as essentially a biological miracle. Kim has been detailing her rare experience on her Facebook blog, "Surprised by Five." Of the experience, she wrote on the page, "50 fingers 50 toes, 6 hearts beating at once. My body fought the toughest of battles to get five babies here safely. Everything I did I did for them."
When Kim, 26, learned she was pregnant with five babies, she and her husband decided to go forward despite possible health risks. Kim told the BBC that doctors said they could use the selection method to give two babies a higher chance of survival, but she says "It wasn't just something we could personally do ourselves. So we took on the risks, and it paid off today."
They celebrated the quints recently with a photoshoot by Erin Elizabeth Photography, and you are not prepared for how sweet the images are.
Tiffany, Penelope, Beatrix, Keith, and Allie were born in King Edward Memorial Hospital after nearly 30 weeks, five healthy bundles of joy. The couple is now tackling life of having eight children all under nine years of age. The community has rallied around the Perth family, pitching in to support them. Huggies Australia donated a year's worth of diapers (you can imagine how many they go through), and Kim's grandmother, Denise Waddell, has created a GoFundMe page to help offset some of the expenses.
Specifically, the couple wants to use the donations to buy a van large enough to transport the whole family. They currently have to take three separate cars, and a van would simplify travel and daily life. As Denise writes, it needs to be "big enough to carry their huge family to medical appointments, meetings, school runs, shopping, and everywhere else a young family needs to go."
"Kim is a wonderful mother and Vaughn a fantastic father, the pressures placed on this young couple go far beyond what many of us could ever imagine," writes Denise, and despite the hardships, the couple maintains a positive outlook. "Each day they strive to make their family as happy as they possibly can without passing on their worries and concerns to each other."
In an interview with the BBC, Kim revealed what it was like to care for five newborns at once: "It's like they are all in sync. When one cries the next one cries, and so on and so on. Our house is absolutely wild, but we're enjoying it." She mentions that the most difficult part is to split her time and attention between all the members of her big family, including her supportive husband.
But it is all worth it, Kim adds, "It was meant to be... I loved them from the moment I heard their hearts beating."
Images: Courtesy Erin_Elizabeth_Photography