These 'Bachelorette' Jobs Need Some Explanation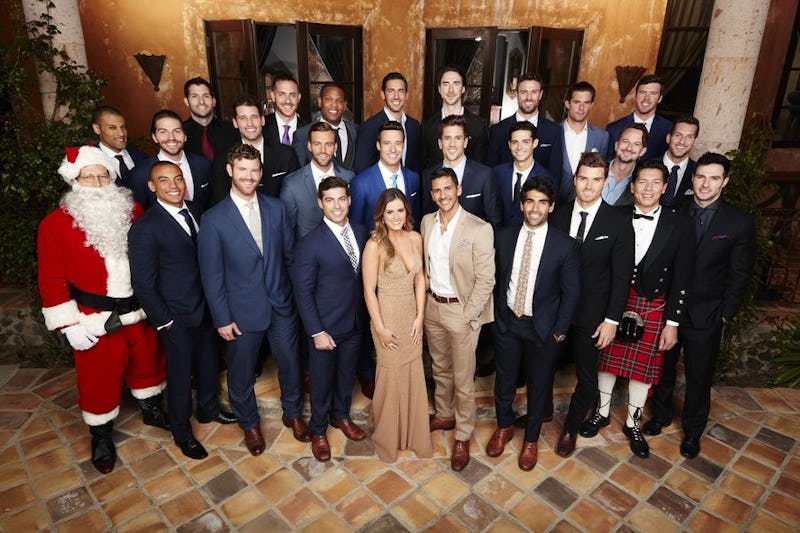 The latest season of The Bachelorette is on its way and Bachelor alum JoJo Fletcher is coming face-to-face with her own group of contestants eager to win her heart. However, as expected from past seasons of the Chris Harrison-hosted series, there are some Bachelorette Season 12 contestant jobs that seem very questionable. Whether they're trying to hide what they actually do, are basically unemployed but too embarrassed to say it, or they're just trying to make their job sound fancier than it actually is, some stand-out job descriptions from the new season include: hipster, erectile dysfunction expert, and Bachelor super-fan. Yep, you read those correctly. (And suddenly I'm wondering where I can sign up to be a professional hipster.)
But, not so fast. Like all good mysteries, there has to be some level of reality beneath the surface of these vague words. That's why I decided to dive in and take a closer look at each of these head-scratching new job titles. So that, hopefully, fans can go into the season premiere with just a little less judgement on their minds. Here's what we might be able to expect for the suitors based on these completely bizarre, and somewhat cool, job occupations.
Brandon — Hipster
OK, tons of people may identify themselves as hipsters. But job-wise, what exactly does this mean? Aside from wearing a bow-tie, listening to indie music, and going to obscure restaurants and coffee shops, I'm going to say that Brandon could be some kind of entrepreneur. Perhaps he's starting up his own organically friendly local business? Creating art that he tries to sell on the street? Or simply a barista? Either way, you can most likely find him reading Malcolm Gladwell's "David and Goliath" while sitting in the coolest place you've ever been to.
Evan — Erectile Dysfunction Expert
Well, at least JoJo knows that there won't be any trouble in that department. Assuming, that is, that this job description does not mean that he's an expert from his own personal experiences. This bizarre career could be alluding to some kind of job in sex education, pharmacy, or even a doctor who specializes in that field. However, if that was the case... wouldn't he just say that?
James S. — Bachelor Superfan
Upon hearing this occupation, the first thing that pops into my head is a guy who literally does nothing but sit on the couch with some popcorn and maybe a glass of wine, watching constant reruns of last season's The Bachelor and The Bachelorette. But, obviously, you can't exactly make a living off of watching reality television — because, if you could, we would all be rich. So, what could this actually mean? I'm wondering if he possibly works in the entertainment industry. Whether he's an entertainment writer or blogger who writes about the show, an actor or performer of some sort who has been trying to get on the show for years, or even just straight-up unemployed, those words have to secretly mean something other than the obvious.
So, will any of these three odd-jobbed guys end up being the one? You never know.
Images: Craig Sjodin/ABC (4)