These 'Bachelorette' Contestants Could Become BFFs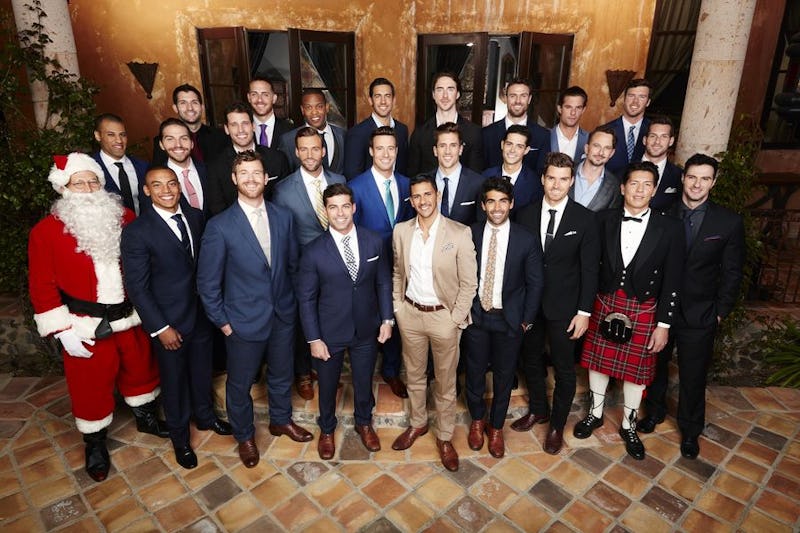 The latest cast for ABC's The Bachelorette has been announced, and it seems like Bachelorette JoJo Fletcher sure has one handsome bunch to choose from. However, perhaps helping JoJo find the love isn't the only matchmaking that host Chris Harrison will have on his hands. Based on the biography descriptions released for each of the contestants, I'm sensing that some bromances could be going on in this season as well. And it seems like Bachelorette contestants James Taylor and Jordan Rodgers sure have a lot of things in common.
Even though all of these guys are vying for the heart of the same girl — which, obviously, isn't expected to be a healthy competition — they are also living with one another, and they have to deal with each other on a day-to-day basis. When specific interests, including hobbies and personality, start to align for two of the contestants, it could actually be the start of a beautiful televised friendship. Which is why James and Jordan's matching interests in things like the NFL, favorite movies, and partying styles could end up being the perfect, bromantic match for this group of guys on the show. I mean, not everybody in the group is the "I'm Not Here To Make Friends" guy, you know?
You may actually already recognize contestant Jordan Rodgers. He's listed as a "Former Pro Quarterback" and has played for teams including the Jacksonville Jaguars, the Tampa Bay Buccaneers, and the Miami Dolphins. But, if that alone doesn't ring a bell, he also happens to be the younger brother of NFL player Aaron Rodgers. Coincidentally, James happens to be a huge NFL. When asked about his dream job, he stated, "Starting NFL QB. How much fun/pressure would that be? Hero one week and hated the next… Love that pressure." There could be a sports-bonding moment in our future come Season 12.
Their bromance possibilities stretch way beyond that obvious connection as well. When each of them were asked what their favorite movies were, both of them listed Gladiator and Wedding Crashers as two of their three choices. Then, when it comes to their three best attributes, both of them prided themselves on their humor, kindness, and ability to pump up a party. It's almost as if these two were meant to be friends.
However, the competition could end up turning this meant-to-be friendship into a tragedy. Not only are both of these men standing at 6'2" and good-looking, but they both have a deep respect for love coming from their grandparents or parents before them. In the eyes of JoJo, I'm guessing those details could certainly make it hard to choose between the two. And, if they do become friends, how are they going to feel about having to fight against each other for JoJo's heart?
But you never know. There may still be hope. We'll just have to wait and see for ourselves how this one ends up playing out. All I'm saying is that these two guys were meant to bond, and, if you can't get a wedding out of this season of the Bachelorette, why not get a best friend?
Images: Craig Sjodin/ABC; Giphy (2)