Amy Schumer & Lena Dunham Take On Body Shamers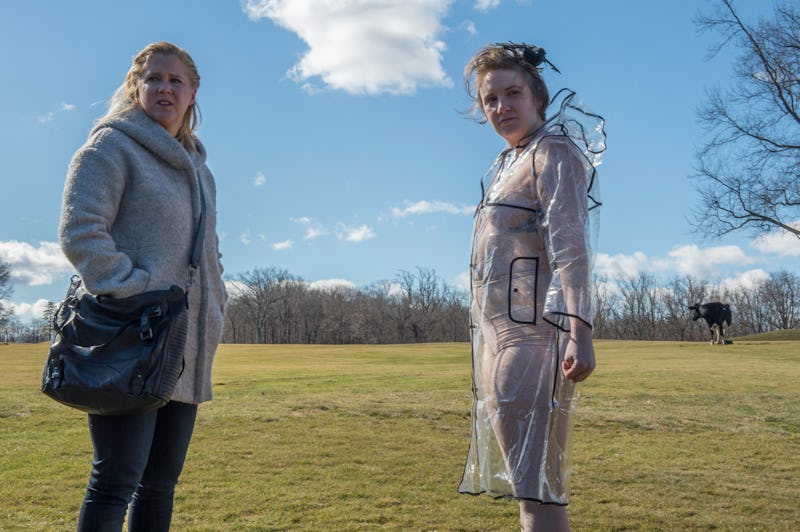 Remember when Amy Schumer was included on a Glamour list of plus-size women and we all collectively said, "what the heck?" Her response was on point — of course there's absolutely nothing wrong with being plus size, but including a woman who wears a size six or eight on the list sends a warped message to young women. And, on Thursday night, Lena Dunham's cameo on the Inside Amy Schumer body shaming sketch was perfect because it highlighted the ridiculous, damaging criticism women face if they're larger than a size two.
While out shopping, Amy asks for help finding a shirt in a larger size. She's met with a condescending glare from the saleswoman, who tells her to quiet down because she's "scaring the thin customers." But, the aforementioned saleswoman has a solution and assures Amy that the store has "a whole section for your situation." Amy is lead outside to a farm where she's reunited with Dunham, who was sent there three months ago after asking for a turtleneck. The saleswoman hands Amy a tarp to try on and enthusiastically tells her how great it looks. Although she looks a bit confused, Amy purchases the tarp and asks why there's a mall pretzel in the shopping bag. "We figured that's where you'd be going next," the saleswoman explains.
This sketch probably hit home for women of all sizes — whether your usual size is a two or a 14, many women are conditioned to feel as though asking for a bigger size represents some sort of failure. But, most importantly, the body shaming sketch drove home the point that women deemed "overweight" are often told that they shouldn't or can't wear certain types of clothes. This line of thinking is absolutely ridiculous and needs to become a thing of the past STAT.
Furthermore, the pretzel bit emphasized that people often look at a woman and assume they can assess her diet based on what size clothing she wears — yet another damaging habit that needs to become a thing of the past. And, the fact that Schumer and Dunham's characters seem pretty nonplussed by the whole situation illustrated that we often internalize the twisted messages society sends us about our weight.
So, let's take a lesson from Schumer and stop letting clothing sizes determine how we feel about ourselves and others.
Images: Macall Polay/Comedy Central; Giphy