One Direction Looks Amazing In Cartoon Form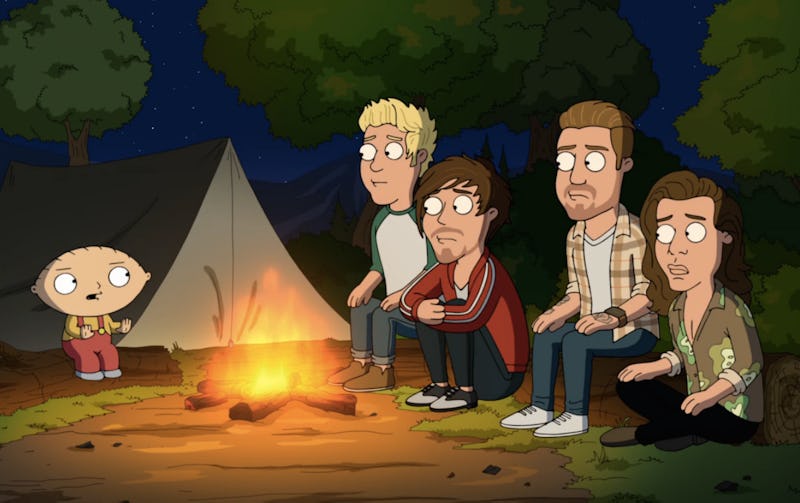 Ever feel like your own life experiences pale in comparison to the nineteen time Teen Choice Award winning boyband, One Direction? That'll no longer be a problem after you watch One Direction on Family Guy on Sunday May 15. Their cartoon appearance is a veritable oasis in an Irish-English boyband desert; the ragtag gang of musical scamps are currently on hiatus. All current band members are depicted in the scene, which shows villainous baby Stewie Griffin sitting with the band round a campfire, telling them scary stories. However, only band members Liam Payne and Louis Tomlinson recorded dialogue for the scene.
If you're hoping for an added helping of British celebrity with your serving of Family Guy, you're in luck. Musical mogul Simon Cowell will also be making his second appearance on the show. The band appear as part of a skit which proves that Stewie is "great at connecting with that generation" — the generation is never defined, but I'm going to take an educated guess and just assume he means millennials. Why? Because the scary story isn't about ghosts, vampires or werewolves, but about a lack of two things really, really important to our generation.
Nice try, Family Guy writers. While they've attempted to craft these references as straight out a flashy celeb lifestyle (minibars! stylists!), the whole terror at no sparkling water or skinny jeans being available is just painfully relatable. What are we meant to drink instead, still? Or worse, tap water? And as for non-skinny jeans. Well, I laugh. I laugh riotously. The whole boyfriend jeans thing has been being pitched to us time and again for over 10 years, and it still isn't happening. In the immortal words of Andy Biersack:
If you're wondering if Payne and Tomlinson were divas to work with, then you're a fool, because they were adorable, obviously. Family Guy co-executive producer, Cherry Chevapravatdumrong shamelessly gave us everything we wanted to hear, telling Entertainment Weekly: "Liam and Louis were very funny and an absolute pleasure to work with. Or, as the Directioner part of me would say, 'OMG LILO I'M SCREAMING!'"
Me too, Chevapravatdumrong. Me too.
Images: 20th Century Fox Television; Giphy