Ali & Catherine Will Make The Cutest Moms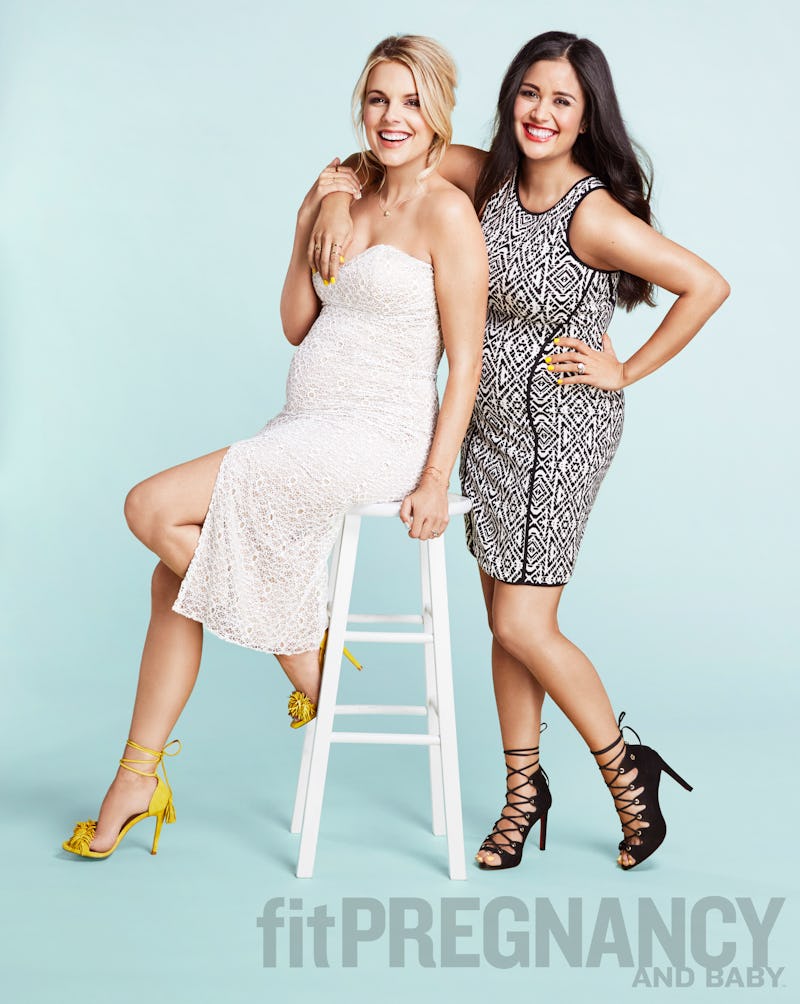 It's official: these two stars of Bachelor nation are going to make the cutest moms ever. Yeah, Ali Fedotowsky and Catherine Giudici talking about being pregnant together is the cutest, because, duh. In an interview with Fit Pregnancy and Baby, in which the former stars of The Bachelor and The Bachelorette are featured on the magazine's June cover, the soon-to-be moms open up about being pregnant and their future journeys when it comes to motherhood. What makes the conversation all the more better is that Catherine and Ali are good friends. I mean, their due dates are even one week apart come July. I know, the cuteness is too real.
When it comes to motherhood, both have some hesitation, especially since they will be both first-time moms. "I'm ready to have a baby, but I'm also aware that I have no idea what that entails," Ali said. "I know I'm going to cry: tears of joy and of frustration from sleeplessness. Whenever I have a holy-crap moment, Kevin [Manno, her fiancé] calms me down. He says, 'We're so ready. I want the baby here today.'"
As for Catherine, she admitted, "There's not one ounce of me that's ready. We [she and her husband/former Bachelor Sean Lowe] haven't done a single thing to prepare for the fact that we're bringing a new human into our house and lives." She added, "Instead, we're relishing our time together and doing whatever we want while we still can, like taking naps and bingeing on Netflix."
I don't blame them one bit. Pregnancy and motherhood, especially for new moms, has to be an emotional time. Plus, one that comes with a lot of responsibility and a lot of planning. For example, Ali has signed up for breastfeeding and infant care classes, but says they won't take a childbirth class, "because [she doesn't] want to know about it." Per Ali, "I don't want to see videos. Labor never happens the way you think it will anyway."
They both have also thought about whether not they want drugs during labor. Catherine said, "My plan is no drugs. But I'm not against it. If I need something, I'll have a safe word to tell Sean." However, Ali is definitely planning on a little extra help. "I'm scared of pushing a baby through my vagina, so yes, I want the epidural as soon as possible," she said.
For their fans, their will be lots of photos of the birth and their babies. Ali will have a birth photographer in the labor and delivery room, whereas Catherine just plans to use Sean's phone. As for if they both want more kids, Ali has no idea. "You never know how you'll feel or how you'll be as a parent," she said. "After this baby, maybe I'll be like, 'I can't wait to have another,' or maybe I'll love this baby so much that I'll only want to have this one." And, Catherine? Well, her household just might be filled with kids. "Well, if it goes this easily, I could have five!" she said. "My plan was always to have three and adopt two."
Whatever the case, here's hoping they share photos of their kids together, because who doesn't want to see that? If you need more proof of their adorableness, after being asked about their time interviewing and being photographed for the magazine, Ali said it was "super fun" and added, "Our due dates are so close, our pregnant tummies look exactly the same." Catherine disagreed about their baby bumps, and said that Ali is "so much cuter than me." To which Ali replied, "Catherine, you're nuts. You're the cutest pregnant person ever."
See? Cutest pregnant friends and soon-to-be moms ever. To read their full chat, head on over to Fit Pregnancy and Baby .
Images: Cheyenne Ellis/Fit Pregnancy and Baby (2)