Is The Burger King Spa The Future Of Fast Food?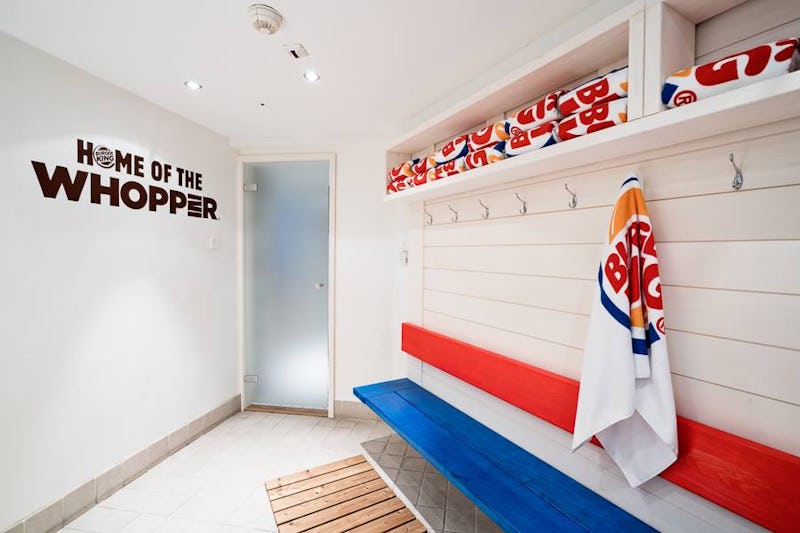 If you've ever wished you could enjoy your Burger King Whopper while sitting in a sauna, you might be in luck. The fast food chain recently unveiled the Burger King Spa — complete with steam rooms and media lounges — in one of its Helsinki, Finland locations.
According to the New York Post, the Finnish eatery has just received an award for installing a state-of-the-art sauna for customers. The specialty Burger King Spa is equipped with a laundry room, dressing room, and a 15-person sauna that can be used for group events, and comes decked out with a 48-inch TV. While they enjoy the steam room, guests can don BK robes and lie on the orange and blue benches.
There are also separate media lounges that include everything from 55-inch televisions with premium sound systems to a Playstation 4 area. As if that wasn't enough, there is also reportedly a bar stocked with both soft drinks and booze. And if you need something to pair with your soda or cocktail, don't worry: waiters bounce between the sauna and main dining area in order to take down your Whopper and fries order. Who knew fast food could be so luxurious?
While it might seem more than a little crazy to install a spa in a Burger King, it actually makes sense in that particular location. Spas are a huge part of Finnish culture. In fact, the country reportedly boasts around three million saunas total — so it should come as no surprise that it'd want to add one to one of its fast food locations.
If you want to see the Burger King Spa for yourself or are planning on heading to Helsinki in the near future, you can reserve three hours for €250 (about $284.50). During weekend nights, the rental fee apparently also includes entry to a nearby restaurant and nightclub — which means you can eat a Whopper, get a little steam, and then hit the dance floor. An entire Saturday night's plans, all courtesy of Burger King? It looks like the future of fast food is officially here.
Image: Restel/Facebook