12 Eye-Opening Books That Were Written In Prison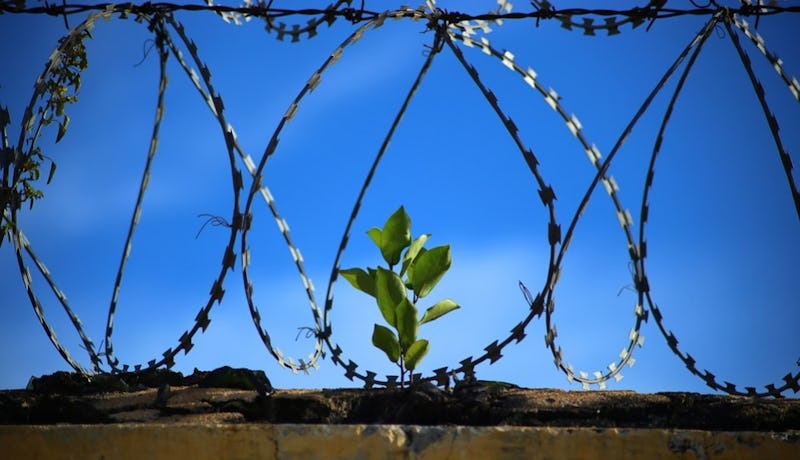 Memoir-turned-series Orange is the New Black might be the most recently buzzed-about title to come out of its author's time spent behind bars, but did you know that there are tons of other eye-opening books that were written in prison? From political prisoners and the wrongfully incarcerated, to soul-searching criminals and the guards who surround them, there have been a number of writers who used their time inside prison to pen the truths of their lives.
My own experience with the American prison system, while limited, has been life changing. (Heck, spend even just a few minutes with someone currently behind bars in this country, and you'll leave with an altered worldview.) I've volunteered in detention facilities, worked in ex-offender reentry and gang-intervention programs, and interviewed inmates in prisons in the United States and around the world. And sure, while plenty of those who are incarcerated have taken the predictable path from committer-of-crime to prison inmate, it's hardly so simple a journey for many of America's imprisoned. And the fact that approximately one in 110 adults are currently incarcerated in the United States means we need to be listening to these kinds of stories more. A lot more.
Here are 12 books that were written in prison. If you're moved by any of these stories, be sure to learn about how you can make a difference to America's incarcerated, by checking out this list of books to donate to prison libraries.
Technically not a book (hence "letter") Letter from Birmingham City Jail is nonetheless one of the — if not the — most famous document to ever come out of a prisoner's time behind bars. Yup, even more famous than OITNB. Written while Martin Luther King, Jr. was imprisoned for participating in the American civil rights demonstrations of the 1950s and '60s, the letter was written in response to another letter, published by King's fellow clergymen, encouraging him to remove himself from the national campaign for civil rights. Definitely one of the most iconic defenses of social justice and activism ever written.
Conversations With Myself is a comprehensive collection of much of Nelson Mandela's writing — including journal entries and letters he composed during the 27 years he was incarcerated for standing up against the South African apartheid government, and speaking out against the human rights violations being committed against black South Africans. Blending the personal with the political, Mandela's writing documents the intimate inner-workings of one of the most brilliant and justice-driven minds in history.
From nonprofit publisher Voice of Witness comes this collection of personal narratives written by current and former prison inmates, revealing what it's really like to live inside a women's prison. Filled with equal amounts of terror and compassion, destruction and dignity, Inside This Place, Not of It sheds light on what daily life looks like for the approximately 112,000 women behind bars in the U.S. today — through their own words.
In the summer of 1972, Malika Oufkir (along with her mother, and her five younger brothers and sisters) was imprisoned for a crime her father committed — attempted assassination of the King of Morocco, to whom General Oufkir had been an aide. After his arrest and execution, the remaining Oufkir family members were detained in a remote desert jail for over fifteen years, before prolonged solitary confinement drove them to risk escape. Stolen Lives offers a glimpse into the resilience it takes to survive any prison detention, no matter what country or circumstances.
Not for the faint of heart, Bad: The Autobiography of James Carr depicts just how impossible escaping the cycle of systemic violence really can become. Carr spent most of his life in prison; raised in Compton, beginning at the age of ten he was sent to a juvenile reformatory for burning down his own school. From there he spent the rest of his life in and out of prison, frequently committing brutal acts of violence. While in prison, Carr met Black Panther George Jackson, and both struggled to make the distinction between violence and survival in a setting where the two are often the same thing. A grueling read, this autobiography illustrates the ongoing need for prison reform in the United States.
Although Roman Catholic Sister Helen Prejean hasn't been incarcerated, she's dedicated her life to fighting against the death penalty, and spent much of it inside prison walls. Critical of America's criminal justice system, Prejean advocates for those who have been wrongfully convicted and unjustly sentenced, and defends the dignity of all persons no matter what crime they've been accused of. In The Death of Innocents, she recounts her experience with two men on death row — one severely mentally handicapped, and the other whose accuser recanted his testimony — but who were ultimately executed despite all evidence against their guilt.
A work of investigative reportage written from inside one of America's most notorious maximum-security facilities, Newjack takes readers behind bars from the perspective of a prison guard. Journalist Ted Conover took a job as a prison guard in Sing Sing, with the express purpose of writing this book. For a year Conover worked within the prison's walls, witnessing the physical, sexual, and emotional violence prisoners both inflict and endure there; and exploring how the lines between the oppressed and the oppressor, the criminal and the victim, are blurred nowhere as much as they are in America's criminal justice system.
In 1981 feminist author and activist Nawal El-Saadawi was imprisoned by the Egyptian government for what they termed "crimes against the State." Surrounded by other female political prisoners, writers, and activists, El-Saadawi and her community of fellow inmates continued to advocate for their rights from within the prison, and refused to submit to the silencing that their prison sentences intended. Perhaps even more relevant today than it was when El-Saadawi wrote it, Memoirs from the Women's Prison will make readers think more deeply about who is really being incarcerated today, and for what.
Often neglected by the annals of history, Lutheran theologian Dietrich Bonhoeffer was arrested, imprisoned, and later executed by the Nazis in 1945, due to his role in a plot to assassinate Adolf Hitler. Letters and Papers from Prison is a collection of Bonhoeffer's spiritual reflections and political resistance against tyranny and genocide, written during the two years between his arrest and his execution.
In November of 1984, radical political activist Susan Rosenberg assisted in the transport of 740 pounds of dynamite and other weapons, believing that an American government who ruled the world by violence and force needed to be stopped by much of the same. Arrested and sentenced to 58 years in prison, Rosenberg suddenly found herself transformed from an activist who once believed in peace and justice to an accessory to what could have become an act of domestic terrorism. While incarcerated she began to navigate that journey, and became an activist for the prisoner's rights movement.
A comprehensive collection of Mahatma Gandhi's writing — a good bit of which was written from prison, where he was incarcerated several times for his nonviolent resistance in support of India's independence from Britain — My Experiments with Truth is filled with his own personal reflections, along with his teachings of civil disobedience, nonviolent protest, and community organizing. This autobioraphy offers a fascinating portrait of a lifelong defender of justice.
Erwin James committed his first crime — breaking and entering — when he was only 10 years old. After a childhood of petty crime, Erwin's acts turned increasingly violent, and at 27 he was sentenced to life in prison for a double murder. Growing from youth to adulthood behind bars, James began working with a prison psychologist who helped him understand both the enormity of his crimes, and the cycle of violence that he had been swallowed up by. Redeemable: A Memoir of Darkness and Hope is a story that demonstrates the long — but not impossible — road from hopelessness to transformation.
Image: MarkoLovric/Pixabay