Get Your 'Castle' Fix With These Similar TV Shows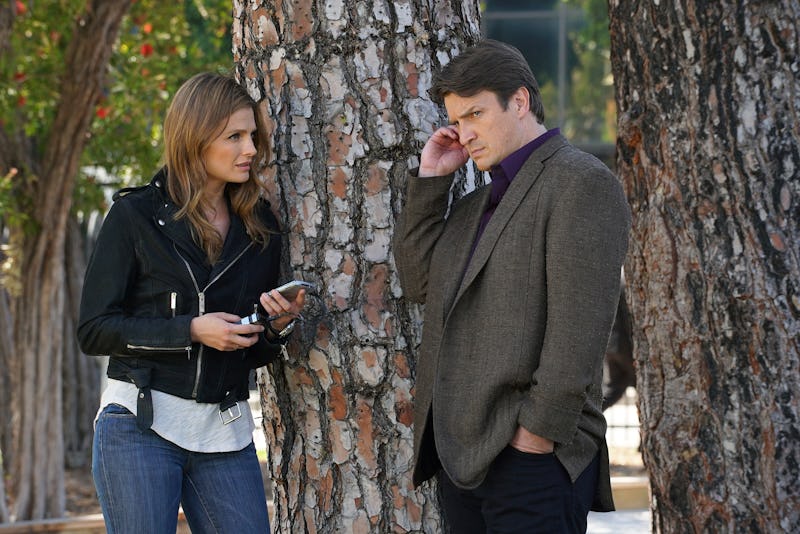 Last week, ABC announced its fall season roster — and, unfortunately for Castle fans, the stalwart crime drama series didn't make the cut. That means that after Monday night's finale, Castle won't return for Season 9. But there is a tiny glimmer of good news. After you say goodbye to Castle and Beckett, there are still other shows you can watch that are similar to Castle and can help you grieve its end. While there's no duplicating the long-running series, fans can certainly try to fill the Castle-shaped hole in their hearts (or "Writer" bullet-proof vest) once we say our final goodbyes to the series on May 16.
"All things must end," series star Nathan Fillion tweeted after the cancellation was announced last week. "It has been an honor working with the men and women of Castle. I am truly amazed at what we've done. Thank you all." He also jokingly tweeted a message to directors everywhere, saying, "It appears I have an opening in my schedule." Co-star Stana Katic penned a handwritten note to Castle's passionate fanbase and posted it on Twitter. "Your devotion to our show has carried us for these unforgettable 8 seasons," she wrote. "I'm lucky to have met & worked with & for the lot of you. I will always be grateful."
Once you've pulled yourself together after reading those heartfelt messages, check out one of these shows that just may help you recover from the loss of Castle.
Blindspot
Feeling like watching an outsider thrust into a world of crime and mystery? Add some tattoos and you have this hit NBC drama series.
The Blacklist
I've always loved Fillion's swagger and the only other actor who I've seen come close to those levels is James Spader on this NBC drama.
The Catch
The new Shonda Rhimes-produced ABC drama has a good ol' romantic cat-and-mouse game at its core. And it's been renewed for a second season, so you won't have to worry about losing the show for a year.
Jessica Jones
Netflix's hit Marvel show features the title character as a superpowered private investigator who won't rest until she solves the case — other peoples' and her own.
Hawaii Five-0
The long-running CBS crime drama has already been renewed and has several Hawaiian cops with swagger (Alex O'Loughlin, Scott Caan, Daniel Dae Kim), and non-cops who sometimes get in on the action too.
Elementary
This CBS update of Sherlock Holmes pairs a female Watson with the venerable detective, now working for the NYPD, and has Castle-levels of romantic tension.
While nothing could ever take the place of Castle, marathoning one of these shows should at least help dull the pain.
Image: Byron Cohen/ABC