Why Does 'Sherlock' Need A New Villain Anyway?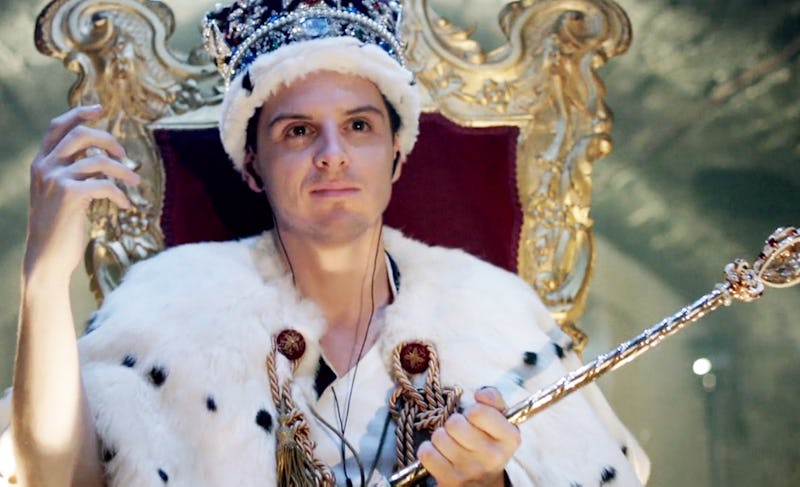 I'm of the opinion that there's no such thing as bad news about everyone's favorite BBC drama, but the news that Sherlock has cast its Season 4 villain is really on the bubble, and I'm pretty far up in my head about it. I want to say, first of all, that this has nothing to do with the person they cast; I'm real happy for you, Toby Jones, and I'ma let you finish, but first we need to talk about what this means for Professor James Moriarty. Call me crazy, but I was kind of holding out hope that Moriarty would be the villain in Season 4. I know he's dead and all, but I only want good things for my boy Andrew Scott, who plays him. Scott has completely inhabited the character in a really satisfying way, so I'd be heartbroken if we didn't get to see more of his unnerving portrayal.
We've been completely primed to believe that Moriarty comes back somehow in Sherlock's Season 4; the entire special was geared toward presenting a world where people could plausibly "come back from the dead," and Benedict Cumberbatch's Sherlock Holmes seemed to spend the full episode weighing whether or not Moriarty was still out there. I mean, he has to be, right? He's the only character who's ever actually given Sherlock a run for his money; he's a match for him in ways that not even Martin Freeman's character Dr. John Watson can achieve. Bottom line: WE NEED MORE MORIARTY.
The only possible silver lining that I'm holding out for is that somehow this new villain will be associated with Moriarty somehow. Like maybe he works for him or something like that? It's a possibility, because we don't have any specific details yet about what character Jones will be playing. Well, except for a deliberately vague and maddeningly cryptic quote from executive producer and writer Steven Moffatt, who said, "Delighted to have Toby Jones on board, bringing to life one of [Sir Arthur Conan] Doyle's finest villains."
It's not much, but it's enough to keep me optimistic that maybe we can have both? So everybody cross your fingers and your toes, and sleep in your deerstalker hats for good luck, and hopefully that will be enough to earn us More-iarty next season.
Images: BBC; scaredywolf/Tumblr