Why This Mom's Pregnancy Announcement Has Needles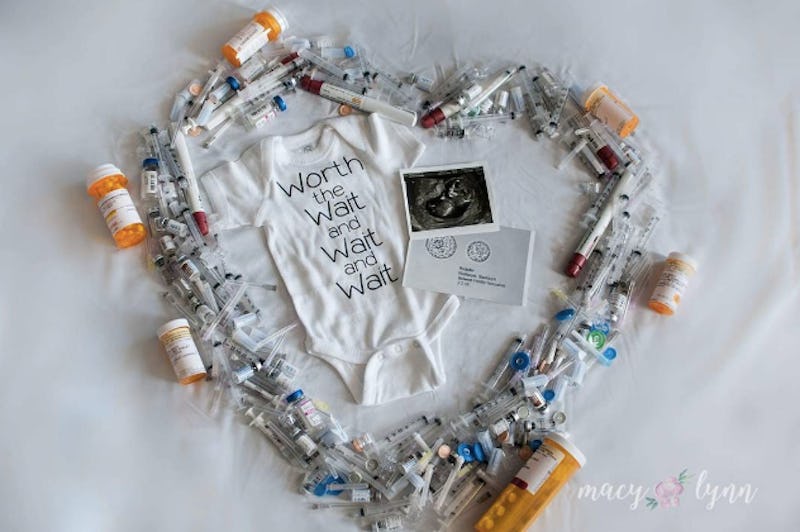 If you scan Facebook any given day, you will probably come across a pregnancy announcement or two. For those struggling with infertility, these can act as glaringly painful reminders, but in a brilliant twist one woman made a pregnancy announcement with IVF needles to reveal the struggle behind the joy.
Macy Rodeffer, a 23-year-old Illinois birth photographer, has spent years documenting her experience grappling with infertility. Macy and her husband Tyler, who married in 2012, went through two miscarriages before seeking help from a fertility specialist in December of 2013. They learned that due to a combination of issues including an ovarian cyst, severe male factor infertility, and stage four endometriosis, a pregnancy would be extremely difficult. Once the cyst was removed, Macy chose to begin in vitro fertilization (IVF) treatment.
According to a national survey by the CDC, one in eight couples struggle with getting pregnant and carrying to term. Many turn to assisted reproductive technology like IVF, which can by emotionally, physically, and monetarily demanding. With IVF, the eggs are monitored and collected and then manually fertilized with sperm in a lab. After, the viable embryos are transferred to the uterus. Medications to aid fertility are used to stimulate the production of eggs, and during an IVF cycle, many doctors appointments and multiple daily injections are required. The cost for a single IVF cycle can range from $12,000 to $17,000 and success depends on a variety of health factors and is not guaranteed.
After nearly four years of going through this taxing process, Macy learned in January that she was pregnant. She shared her news in the perfect post, incorporating her saved pill bottles and syringes.
"I know how much pregnancy announcements hurts for someone going through infertility. I was adamant that my announcement not only show my joy and thankfulness, but also the struggle that it took to get there," Macy told BuzzFeedNews. Macy's unique pregnancy announcement received an overwhelmingly positive response from the infertility community, and soon went viral, many women stepped forward to share their own stories of struggle. Macy added, "My goal isn't for this to be about me, but to be about the community of men and women struggling with this disease and offering support."
Macy also started a blog and Instagram account when she began her fertility treatment called Martinis and Medicine (with IVF you have to take quite a cocktail), where chronicled her experience in a honest and insightful way. Macy told The Huffington Post in an interview, "While I don't expect everyone to share their infertility struggle (as it's a deeply private thing), I felt passionate about being an advocate for women with infertility and pregnancy loss."
Talking to Bustle, Macy revealed that while her post has received an overwhelming amount of attention, she also is frequently asked about why she chose IVF over adoption. She explained that while looking adoption options, she found that the time commitment was prohibitive (the waiting list averaged three to seven years), and the costs were comparable to the IVF treatment. "We are lucky enough to live in a state that offers insurance assistance with fertility treatment, making IVF a realistic option for us when adoption was not. I hope to adopt someday, and always have, as my mother and cousin are adopted," Macy tells Bustle in an email.
Macy hopes to use her experience to educate not only about infertility but adoption as well. "The bottom line is that we don't know every detail of someone's story. You never know when someone tried to adopt and couldn't or has to save for years before it's even feasible."
Macy and Tyler are expecting a baby boy in October, and we can all look forward to the updates Macy's blog Martinis and Medicine and Instagram!
Images: MartinisandMedicine/Instagram