'Coupled' Host Terrence J. Knows Love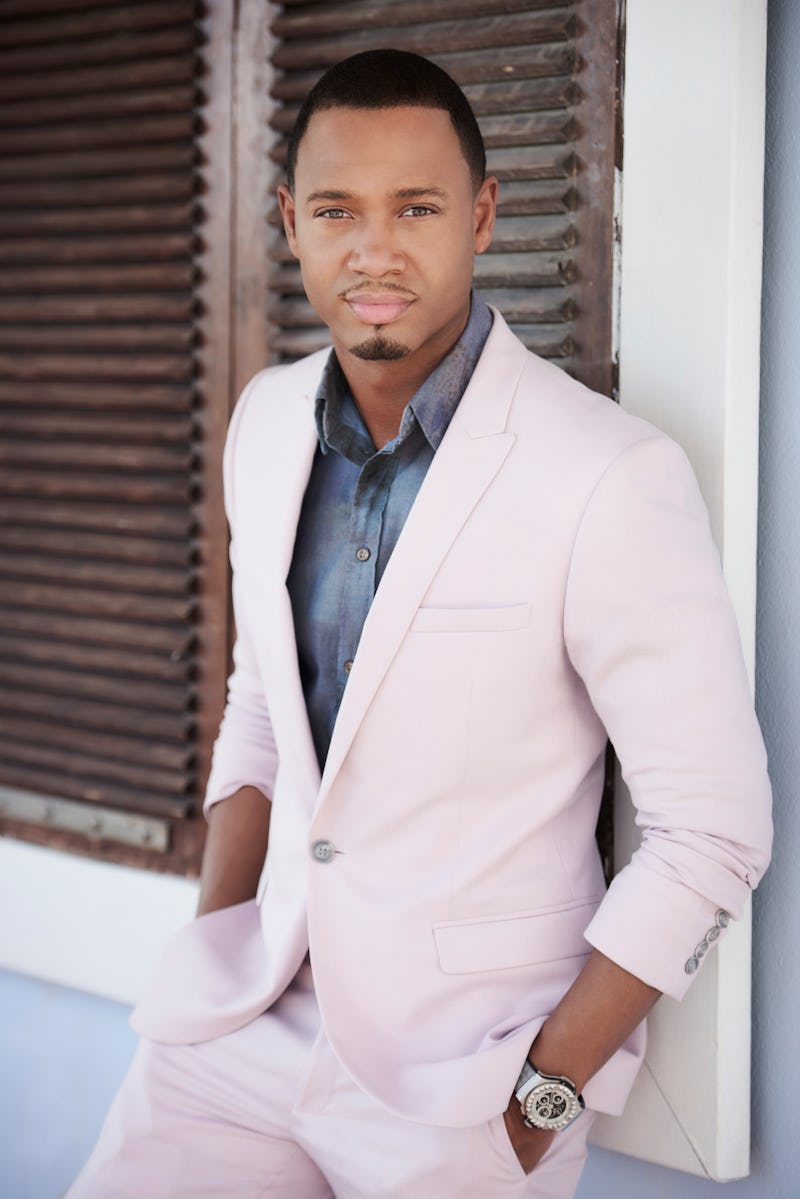 Ah yes, the old take-a-bunch-of-single-folks-and-maroon-them-on-an-island gambit. It never gets old. From FOX's 2001 show Temptation Island to ABC's Bachelor in Paradise, there's just something about the mix of sun, sand, heat, and desperation that makes it a classic formula for reality shows. FOX is hitting up that well again this summer, when its new, Mark Burnett-created dating show, Coupled , premieres on May 17. On it, 12 "single, smart and young professional women" are introduced to a parade of eligible bachelors, and they have to decide whether or not to couple off or pass and wait for the next guy. With all that chemistry in the air, someone has to keep the circus running. So, who is Coupled host Terrence "J" Jenkins?
One thing Terrence J isn't: Any kind of expert love expert, at least not professionally. He's not a Dr. Drew type, for instance. When asked by ILY magazine to define love he said, "You know I'm still trying to figure it out ... I still have no idea." So, like the contestants on the island, he's going to have to go off instinct to determine what love is. Let's take a look at where those love-inspired instincts have brought him in the past.
He's Been A TV Host Before
Jenkins made his mark on BET's music-video countdown show, 106 & Park, which he co-hosted from 2006 to 2012. Love was in the air there, too, as he once proposed to Janet Jackson with a ring pop. After 106 & Park, he became co-anchor of E! News, leaving in 2015 after three years. "I think in order for someone to grow it's important that you try new things and you create new challenges, create new dreams for yourself," he told E! News of his departure.
He's Also An Actor
Jenkins has a few credits to his name, but he landed his first feature film starring role earlier this year with The Perfect Match — fitting for a host of a dating show. "I really wanted to nail this character, so I worked with an acting coach," he told the Philadelphia Sun. "I was heavily inspired by Eddie Murphy in Boomerang and a lot of my favorite movies growing up. Charlie's a multi-layered character, and I devoted a lot of time to working on him so that I felt like I knew him by the time we shot."
He Wrote The Book
His 2013 book focuses on a different kind of love: Maternal love. In The Wealth of My Mother's Wisdom: The Lessons That Made My Life Rich, Jenkins talks about how his mom — a single, teen mom from Queens, New York — inspired him to live the life he has today. I wonder if his mom will get to visit him in the Caribbean — she definitely deserves a vacay.
And He's A Model
I mean, obviously, right? It would kind of be a waste if he weren't a model.
He Supports Philanthropic Causes
According to the same Philadelphia Sun interview, Jenkins is "a spokesperson for Ronald McDonald House Charities Future Achievers Scholarship campaign, a mentor with Steve Harvey's Disney Dreamers Academy, and an avid supporter of the Newark, New Jersey, Boys and Girls Club." It seems Jenkins has enough love for everybody, whether they make it to the Coupled island or not.
Image: Michael Becker/FOX