10 Expert Skin Staples For Reversing Sun Damage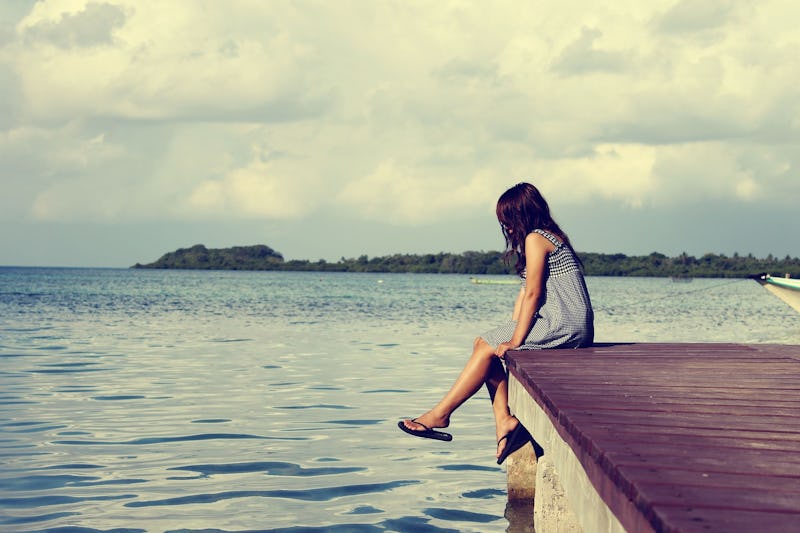 I'm a huge believer in the healing qualities of the great outdoors. Nothing rejuvenates your mood and vitamin D levels quite like a hike on a sunny summer day. But knowing how to reverse sun damage is critical for outdoor lovers, as mistakes can (and do) happen — like getting back from the pool or beach, only to find that the two tons of sunscreen you applied was about two tons too little.
UV skin damage is a real and worrisome problem, and while everyone should always do their best to avoid it altogether, it's also important to know how to repair sun damage once it's already been done. Health problems aside, sun damage is also really rough on the appearance and elasticity of your skin. Not only does sun damage create spots, uneven skin tone, and fine lines, but UV damage can alter the DNA of the skin itself, which has been linked to cancer and other health issues.
Now comes the good news: You can, to a certain extent, reverse the damage. The first step is protecting against any further sun damage with a mineral, chemical-free sunscreen. The second is nourishing your skin with the vitamins, moisture, and antioxidants it needs to rejuvenate new cells. Not sure where to start? Here are some of the best post-sun tips from dermatologists and popular aestheticians everywhere.
Use A Great Glycolic Peel To Promote New Growth
Skin Obsession Glycolic Acid Home Chemical Peel, $22, Amazon
Peels can be a great way to encourage skin regeneration, as you're removing the top layer to make room for the fresh, healthy layers underneath. This Skin Obsession glycolic acid home chemical peel contains nothing but water and glycolic acid (derived from sugar cane), making it one of the purest chemical peels out there. Surgeon Dr. Anthony Youn told Yahoo, "If you want a rapid change in your skin, a chemical peel can be a nice way to do it. The mildest option, glycolic acid, an alpha-hydroxy acid, is suitable for the treatment of fine wrinkles, uneven pigmentation, and acne." By penetrating the skin with ultra-small fruit acids, this particular formula helps with cell turnover to fix sun damage and the skin problems associated with it, like fine lines and spots, revealing the vibrant-looking skin underneath.
Apply Antioxidants Topically To Renew Skin
Pure Bliss Organic Antioxidant Facial Cleanser, $16, Amazon
Antioxidants are imperative for skin renewal, especially when dealing with sun damage. Dermatologist Dr. Ava Shamban told Yahoo this is because "the antioxidants will penetrate and repair the skin." This Pure Bliss organic antioxidant facial cleanser is wonderful because it uses only high-quality, organic, natural, and antioxidant-packed ingredients like green tea, red wine, blueberries, raspberry seed oil, aloe vera, coconut oil, and rose hip oil. Because it rejuvenates, hydrates, and cleanses all in one go, it can be used as a wash, exfoliator, or facial mask, all of which will encourage cell turnover and plump, hydrated skin. Reviewers love it because it smells amazing, and "just melts into the skin."
Fresh Damage? Stop It In Its Tracks With Loads Of Moisture
Valentia Royal Rose Hydrating Serum, $35, Amazon
Ever have that experience where your skin looks normal when you leave the beach, but two hours later, you realize you're somewhere around lobster status? "Moisturizing immediately after sun exposure stops inflammation in its tracks," said Miami dermatologist Leslie Baumann to InStyle. This Valentia rose hydrating serum delivers layers upon layers of hydration using high quality, pronounceable ingredients, like evening primrose oil, lavender, bearberry, rosehip, and vitamin B. It's crafted with essential rose oil from the petals of the fragrant pink Damask rose to soothe, freshen, and replenish damaged skin, all while providing it with the essential vitamins it needs to rejuvenate itself. Best of all, it has a gentle floral scent, combines effortlessly with your makeup or skincare regiment, and absorbs easily into skin without greasy residue for a healthy, beautiful glow.
Even Skin Tone With Retinol
Eva Naturals Retinol Serum, $17, Amazon
Dermatologist Dr. Tess Mauricio said in the San-Diego Union Tribune that, "Retinol is multi-tasking. It can help improve and even reverse some sun damage." Eva Naturals retinol serum teams up with aloe, witch hazel, jojoba oil, and green tea, and when combined, this list of natural ingredients is great at penetrating the top layer of skin to tighten, smooth, hydrate, and nourish the skin underneath. It's especially wonderful for discoloration and fine lines from the sun, as the potent retinol works to even skin tone and plump skin for a dewy, fresh finish.
Gently Exfoliate To Buff Away Dry, Tough Skin
Double Love Scrub Exfoliator, $24, Amazon
Barbara Close, herbalist and founder of Natropathica, says, "Exfoliating your face is key after a summer of sun and sunscreen. The upper layer of skin gets thicker, harder, and drier. Removing it gives a dewier look and helps produce more collagen." For a gentle, nourishing exfoliant filled with all-natural goodness, look no further than the Double Love Scrub exfoliator. Its two main ingredients are Himalayan salt and organic lavender essential oil, which re-mineralizes and moisturizes skin after an especially taxing summer. However, it's also got jojoba oil, aloe, and vitamin E to ease away spots and lines. One reviewer says, "My skin is very dry and sun damaged after many years of abuse. This makes my skin feel soft and looks great!"
Fight Free Radicals With Carrot Seed Oil
Leven Rose Organic Carrot Seed Oil, $13, Amazon
According to a very popular certified aesthetician who goes by her blogging name Jenni Raincloud, "Carrot seed essential oil is antioxidant rich to say the least... It can help and even repair damage from the sun, processed food, cigarette smoke and pollution!" People have been talking about the link between carrot seed oil and sun damage for years, and this Leven Rose organic carrot seed oil is just about as pure as you can get. It's organic and entirely natural, with no fillers or parabens, and because it's cold-pressed and minimally processed, its vitamin A, vitamin E, carotenoids, and antioxidants are all still intact. It comes in a glass bottle with an easy applicator, and reviewers use it on everything from hydrating tired eyes to encouraging skin elasticity.
Brighten And Tighten With Yogurt
FarmHouse Fresh Pajama Paste Yogurt Mask, $18, Amazon
Vera Kantor, owner of the Verabella facial spa, says, "Applying plain yogurt like a mask can really cool sunburned skin.The naturally occurring lactic acid found in yogurt brightens the skin and increases cell turnover. The sun-damaged skin cells will be lifted away before they have a chance to cause permanent discoloration." This FarmHouse Fresh yogurt mask is a new take on your DIY-at-home yogurt facial, as it contains things like active yogurt, cooling bentonite clay, wild honey, and oats to cleanse and shrink pores, as well as promote new growth. The smell alone is enough to make you fall in love with this mask, and all you need for tighter, brighter skin is a 20-minute spa-like session once a week. In the words of one fan, "I don't remember how I discovered this line of skin care, but I am an official addict."
Need A Full-Body Fix? Take A Milk Bath
Natural Coconut Milk Bath Soak, $35, Amazon
Aesthetician and author Scott-Vincent Borba says, "Dairy proteins are incredible skin soothers," and that's why he suggests taking a milk bath to rejuvenate sun-damaged skin. This coconut milk soak is one of the best bath mixes I've seen, as your skin is especially porous while in hot water, so anything with chemical additives is a bad idea. This contains absolutely no parabens, sulfates, additives, bases, or carriers — just freshly-mixed ingredients like ground oatmeal, nourishing bath salts, hydrating coconut milk, sweet almond oil, and milk powder. Every glass jar comes with a scoop to help you measure out your spa-like bath experience, and skin is left smoother and more nourished after each and every session.
For Ultimate Hydration, Try A Facial Steamer
Acevivi Nano Ionic Facial Steamer, $34, Amazon
Annie Tevelin, trained cosmetic chemist and founder of Skin Owl, said, "Facial steaming helps to boost hydration, which means it has a soothing, smoothing effect, and it also boosts radiance." Especially after a drying, damage-filled summer, hydration is essential, both inside and out. This Acevivi nano ionic facial steamer is one of the best on the market because (like its far more expensive competitors), it has ionizing technology to help water molecules penetrate deeper into skin. Its tank holds ten minutes' worth of water, which is just enough to open pores, remove dirt and build-up, purify skin, and leave it feeling hydrated, smooth, and healed. Reviewers love that it's durable and high-quality, and it works like a little personal sauna in the comfort of their own home.
Renew Collagen With Vitamin C
Organic Vitamin C Serum, $19, Amazon
Aesthetician Shalea Walker, who founded Walker's Apothecary, said, "Vitamin C protects skin from free radicals, which we develop because of exposure from the sun, environmental pollution, and smoking." Vitamin C also encourages collagen production, she said, which is essential for skin's firmness. This organic vitamin C serum is especially great for tired skin, when it comes to improving both tone and texture. It restores skin's moisture and collagen levels, and it leaves skin feeling and looking vibrant, smooth, and healthy.
Bustle may receive a portion of sales from products purchased from this article, which was created independently from Bustle's editorial and sales departments.
Images: Ayank/ Pixabay; Amazon (10)