This Is What Bubble Masks Actually Do To Your Skin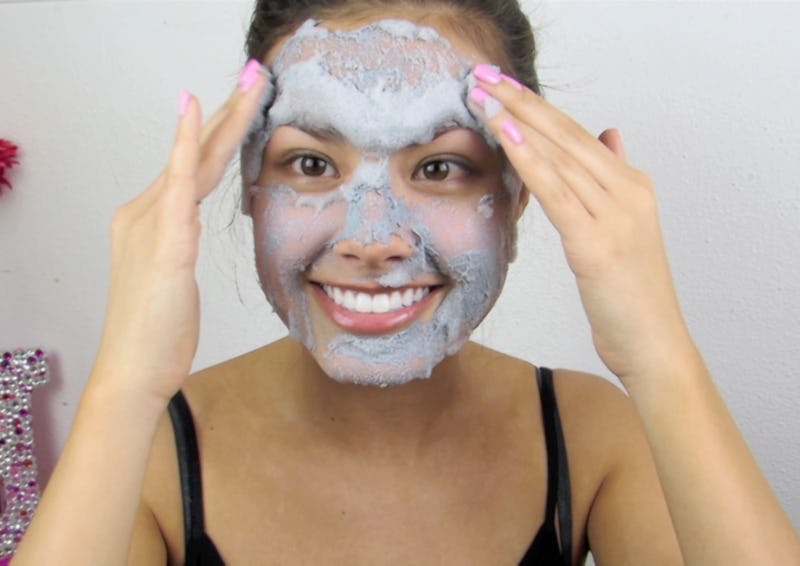 You've probably seen it on Instagram or Snapchat — foamy suds that turn into clay on your favorite beauty bloggers' faces. What is it? The bubble mask is the latest Asian beauty trend to sweep social media, and even some of your go-to mainstream brands, like Origins and e.l.f. Cosmetics, are creating their own formulas. However, besides creating fizzy suds, what do bubble masks actually do for the skin? Well, the answer is actually kind of surprising.
While bubble masks may seem like just another crazy beauty buy, these foaming masks can actually do a lot for your complexion. From cleaning out your pores to removing dirt and oil, bubble masks can definitely pack a skin-saving punch. According to StyleCaster.com, the way that these masks are formulated causes them to react with the oxygen in the air. This creates the tiny bubbles, which in turn help the key ingredients of the mask to dive deep into the skin. So, besides being perfect for your next selfie, those tiny fizzing bubbles actually do serve a purpose!
Like many of our favorite recent beauty trends, bubble masks gained their popularity in Korea. Since then, many US brands like Bliss have been incorporating oxygenated skincare into their lines. The thought process behind the masks is that the bubbles will not only help to clean out your pores, but they will also help to wake up the skin and nourish it with powerful free-radical fighting ingredients, according to Refinery29. So, you should definitely consider these fun masks if you're looking for a cool, new beauty buy.
Wondering which bubble mask you should be reaching for? Here are five you should definitely consider adding to your beauty arsenal:
e.l.f Hydrating Bubble Mask, $12, Amazon
If your skin is in need of some hydration, turn to the e.l.f. Hydrating Bubble Mask to perk up your complexion.
After a long week of work, stress, and the occasional workout (or two), give your face a good cleaning with this Origins foaming mask.
Blackheads will be a thing of the past, thanks to this hardworking bubble mask.
bliss Triple Oxygen Instant Energizing Mask, $56, Amazon
Give your complexion a boost with this brightening and tightening face mask.
Need your pores to shrink overnight? This is definitely the mask for you. Plus, the packaging is too cute to say no to.
See? Playing with bubbles isn't just for kids!
Images: Morgan's Beauty Breakdown/Youtube; Courtesy Of Brands