The 'Mariah Carey World' Teaser Is So Epic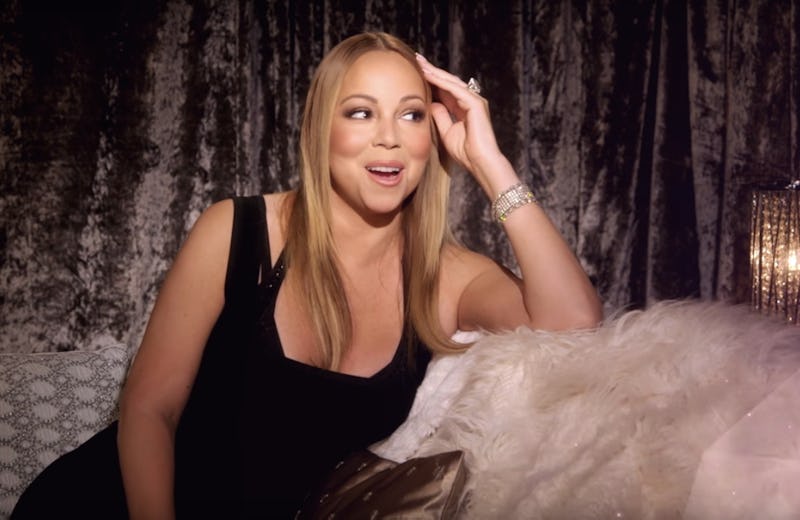 Excuse me while I go running through the streets, screaming, "It's here! It's here!" because the eight-part docu-series Mariah Carey's World teaser trailer was released on Monday, and I can't help but get excited about this inside look into Carey's life. I just can't. No matter how over-the-top my love for Carey may seem, that woman will always be the center of my pop music fantasies. So, when the teaser was released on Monday at a whopping 1:29 long — which, BTW, I'm pretty sure classifies it as a full-on trailer — I watched it 17 times on repeat and memorized every single word. I can say with a pretty large amount of authority that there was one big thing that you probably missed from the Mariah Carey's World trailer that I don't want you to live another minute without.
You may have missed this little tidbit because the sound is sort of muffled and the detail comes through a recorded phone call that Mariah Carey is having with, I assume, her wedding planner, but it's a detail that reveals a lot about her upcoming nuptials to Australian billionaire James Packer. The two were engaged in late January after meeting at the 2014 premiere of Hercules. A happy couple ever since, the docu-series will highlight this crazy time for Mariah Carey: The singer is a working mother who is on a worldwide tour and planning her wedding.
Which is why it comes as no surprise that her wedding is at the heart of so much of this new series. But just in case you thought that Mariah Carey was going to dial down her wedding details to Packer — you know, and have a modest affair — the Mariah Carey's World trailer makes it seem that she likely won't. In one scene, Carey is on the phone with someone who is planning her wedding. During the phone call, the other person says, "We're going to get Noah's Ark at your wedding," to which Carey responds, "Please. It's the most important event that's ever happened."
Now whether that comment was a joke or somehow taken out of context has yet to be revealed. But, from the sounds of this sound bite, Mariah Carey's wedding is going to be as big as that 35-carat diamond James Packer put on her finger when he proposed. Would you really expect anything less from Mimi?
Image: E!Entertainment/YouTube