11 Foreign Shows To Stream Based On Your TV Faves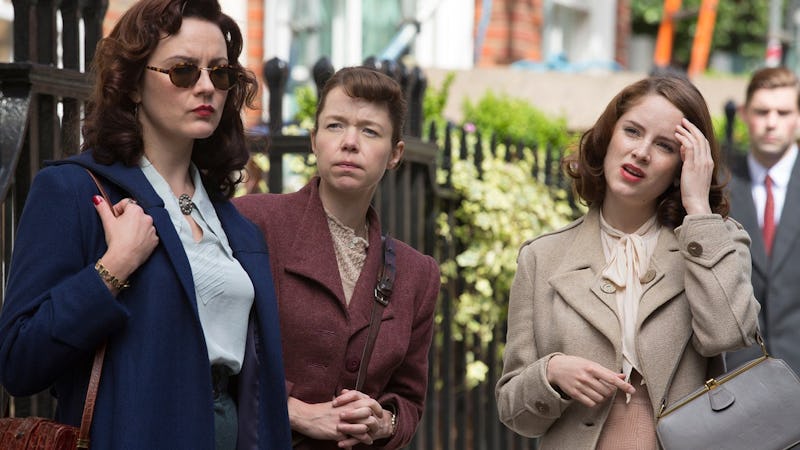 When you are mid-Season 3 on your fourth go-through of Gilmore Girls ' entire series on Netflix, it might be time to shake up your TV marathon. Don't get me wrong, Gilmore Girls will always be fantastic — especially mid-Season 3 when the Jess-Rory 'shipping really begins — but there are so many shows across the globe that could be your next big obsession. The next time you're in the mood to sit down and watch something for hours on end, try one of these 12 foreign TV shows streaming on Netflix instead.
As someone who spends more time browsing Netflix trying to make a decision that I do actually watching anything, I'm here to recommend which foreign TV show you should check out. Are you a huge crime and procedural fan, who was hooked on True Detective? There's a recommendation for you. Or could you spend all your days watching The Real World, The Hills, The Real Housewives, and other reality TV? Then why not try an option from somewhere across the world and see reality from a new lens? Are you still devastated over the loss of Downton Abbey? Just look at what Spain has for you, and your TV spirit might be revitalized.
No matter what kind of show you're looking for, at least one of these foreign series should be the perfect addition to your next Netflix marathon.
1. If You Love Orange Is the New Black, Watch Australia's Wentworth
This one is a no-brainer. Netflix's hit Orange Is the New Black follows the goings-on in the all-women Litchfield Penitentiary; Australia's Wentworth follows the goings-on in the all-women Wentworth Detention Center. OITNB starts with Piper Chapman at the bottom of the food chain in prison, there for smuggling drug money; Wentworth starts with Bea Smith at the bottom of the food chain in prison, there for attempted murder of her husband. Both shows broaden to discuss the interpersonal relationships of the diverse women in the prisons and the inner workings of the jail system. And both are totally marathon-worthy and available to watch on Netflix.
2. If You Love Homeland, Watch England's The Honourable Woman
Both shows are spy thrillers, and limited-series The Honourable Woman has the depth and thrills you remember from Homeland Season 1. In both shows, you're constantly wondering if every character is who they present themselves as, and whether you're getting the whole story as a viewer. And holler for incredible leading ladies: While Claire Danes gives a killer performance as bipolar CIA officer Carrie Mathison, Maggie Gyllenhaal slays in an understated performance as philanthropist, baroness, and global businesswoman Nessa Stein. Watch The Honourable Woman for nuanced depictions of Middle Eastern politics and intrigue, with the kind of twists that will leave your fingernails bitten down to the cuticles.
3. If You Love Gossip Girl, Watch South Korea's Boys Over Flowers
Prepare for more wealthy prep school politics with South Korea's positively charming Boys Over Flowers. There is only so many times you can watch and re-watch Serena and Blair go from rivals to BFFs and back again (and that many times for me is approximately 7,000), so if you want to switch up your Netflix breaks, check out scholarship student Geum Jan Di try to navigate the shark-infested waters of the ultra elite Shinhwa High School. Let's just say things go Gossip Girl-dramatic when our new girl attracts the attention four King Bees of the school, who go by F4. Also prepare yourself because Lee Min-ho = swoon.
4. If You Love Downton Abbey, Watch Spain's Gran Hotel
The strict British upstairs-downstairs relationships of Downton Abbey get even steamier in Spain's Gran Hotel. The series (sometimes referred to internationally as Grand Hotel) is set in the early 20th century, much like Downton Abbey, during the reign of Spain's King Alfonso XIII. Instead of a manor estate, it takes place in an aristocratic, countryside hotel, but the complicated dynamics between the servants and the wealthy, hotel-owning family are still at the forefront. Gran Hotel begins when young man Julio arrives to investigate his sister's disappearance and takes a job as a waiter at the hotel. Soon, against all strict rules, he begins an illicit affair with the hotel owner's daughter. Buckle up, because this one is full of hot romance, mysteries, and intrigue.
5. If You Love Mr. Robot, Watch the U.K.'s Black Mirror
Though at first glance, Black Mirror is more Twilight Zone than anything else, the way both Black Mirror and Mr. Robot chillingly meditate on new technologies and they way they influence every single aspect of our society, political systems, and culture makes them TV cousins. Black Mirror is an anthology series, so every episode is different, but each is incredible (and incredibly eerie) in its own way. No one can replace Mr. Robot's Rami Malek, but just watch the premiere episode of Black Mirror and try to stop going down the rabbit hole.
6. If You Love Witches Of East End, Watch Mexico's Las Aparicio
Think of this Mexican telenovela as a bit of the short-lived Witches of East End mixed with a heavy dose of Practical Magic minus the witchcraft. The result? A bit of the supernatural with serious woman power and LGBTQ representation. Las Aparicio focuses on a matriarchal family of women who only give birth to girls and whose husbands all die mysteriously, a lot like the curse in Practical Magic. And like Witches of East End, family history and legend are at the forefront. Things kick off when a man comes to report on the mysterious "Curse of Las Aparicio" and falls for one of the sisters. (Uh oh.) The show only lasted one year, but in that year it managed to release 120 episodes, so you'll be busy for awhile.
7. If You Love The Office, Watch Kenya's The Samaritans
Imagine Dunder Mifflin Paper Company, but instead it's an NGO in Kenya, and you have a bit of the flair of The Samaritans. Kenya's mockumentary-style show pulls no punches in gleefully snarking on the "white savior" mentality of organizations coming to "help" any non-Western country, even installing an incompetent Michael Scott-esque boss who has never been to Africa into the lead role. The NGO is Aid for Aid, which the shows creator says "does nothing." Prepare for giggle fits.
Though The Samaritans isn't currently available on Netflix, you can pledge as little as $5 to rent it online here.
8. If You Love Bunheads, Watch Australia's Dance Academy
Add Dance Academy to your list of obsessions if it already includes Bunheads, Step Up, Center Stage, Black Swan, and other dance shows and movies. The titular Dance Academy is the National Academy of Dance in Sydney, Australia's most elite dancing school. In Season 1, country girl Tara Webster is accepted into the academy and makes friends (and enemies) with her peers as she learns ballet, hip hop, and contemporary dancing, as well as tries to manage the grueling expectations of her chosen career path. It's super, super fun and you'll become hooked on following the daily dramas of the dancers, romantically, athletically, school-wise, and otherwise. The show is so universally beloved that last year a film sequel was funded.
9. If You Love True Detective, Watch the U.K.'s Happy Valley
If your hero was Rachel McAdams' Detective Ani Bezzerides in True Detective Season 2 then you're going to love the female-fueled power of Happy Valley. Police sergeant Catherine Cawood, like Bezzerides, has personal problems that are flooding into her job. Sergeant Cawood is raising her grandson after her daughter committed suicide, after Tommy Lee Royce raped and impregnated her. Now, she finds that Royce has been let out of prison after eight years, just as a kidnapping is busying the police department. Happy Valley is an at-times brutal show, but it has a big heart and so much compassion for its characters.
10. If You Love The Real World, Watch Japan's Terrace House
Calling all reality lovers! If you miss the early days of seven strangers picked to live in a house, you are going to be hooked on Japan's Terrace House. Following the same basic concept as The Real World — six strangers, three men and three women, live together under one roof in Tokyo for a summer — Terrace House hits all the notes we love from The Real World. The cast gets real about their different values and upbringings, and we witness the natural collision of diverse personalities and how they bond and break. Find out what happens when people stop being polite and start getting real, across the world.
11. If You Love The Americans, Watch The U.K.'s The Bletchley Circle
Feminists rejoice for The Bletchley Circle, an incredible historical semi-spy show that showcases smart women and gives them their due that the history books often don't. Like The Americans, The Bletchley Circle is a spy series set decades ago, that's really about something else entirely than spying. While Phillip and Elizabeth's family dynamics rule that show, the bond and friendship forged between several female codebreakers during World War II shine brightest in The Bletchley Circle. After the war, Susan, Millie, Lucy, Jean, and many others who worked to break German codes to help the British fighters have to return to their traditional roles as housewives, never telling their secret duties to anyone. But you can't keep smart, cunning, and ambitious women down, even in the 1950s. Soon, the ladies reunite and start working together to solve crimes.
So before you start watching your favorite American show for the umpteenth time, add one of these international series to your Netflix queue and get ready for an exciting new marathon.
Images: PBS (2); SoHo TV; Sundance TV; Korean Broadcasting System; Antena 3; Channel 4; Cadena Tres; Ben Blackall/Netflix; Netflix