Things Got A Bit Muddy For The 'Pump Rules' Cast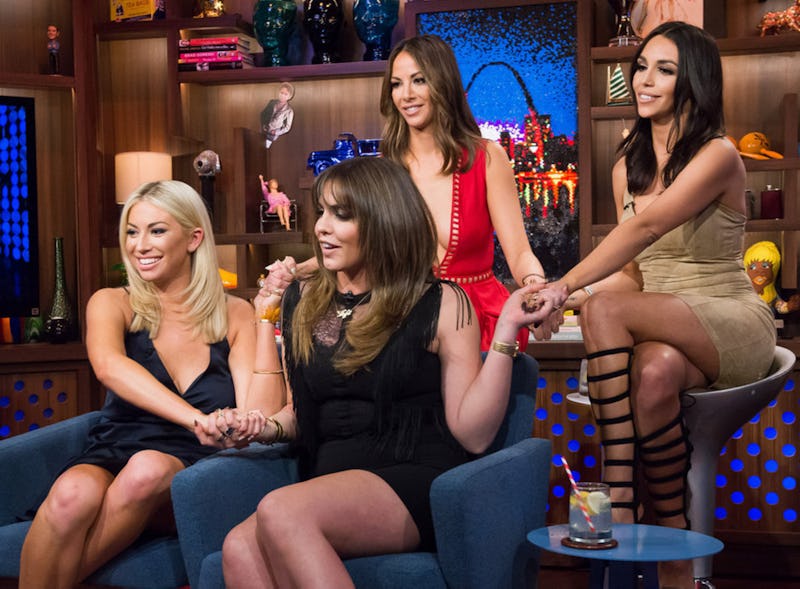 Looks like things might take a turn for the murky on Vanderpump Rules. Over the weekend, Bravolebrities Stassi Schroeder, Scheana Shay, Katie Maloney, Kristen Doute, Brittany Cartwright, and Rachael O'Brien trekked out to Glen Ivy Hot Springs in Corona, Calif. and hopped in a pool of therapeutic sludge. Let me get this straight: The Vanderpump Rules cast members spend the series offseason luxuriating at a mud spa, whereas I spend the series offseason scrolling through the Vanderpump Rules cast members' mud spa pics? Eh, that sounds about right.
Now that we know Season 5 will definitely happen, there is only one responsible course of action to take: treat every Pump Rules Instagram photo, tweet, and snap as if it might contain clues about the upcoming season. No Pump Rules social media post shall be left unturned, no burning question shall be left unasked. Especially when those burning questions are about photos of the Pump Rules cast at a mud bog.
Aaaaand let the question asking begin: Were the Bravo cameras at the mud bog, too? Will this Pump Rules mud bog adventure be on Season 5? Was there any drama at the mud bog? Or was the Pump Rules mud bog adventure relatively chill?
Wait, what is Kristen gasping at? What is Brittany gesturing at? Why aren't Stassi, Scheana, Katie, and Rachael gesturing and/or gasping at something? Do Stassi, Scheana, Katie, and Rachael not see what Kristen and Brittany are gesturing at and gasping at?
Uh oh. Do Kristen and Brittany see a mud ghost? Do we have a mud ghost situation on our hands? Did the Pump Rules stars conjure up a mud ghost? And if so, is the mud ghost a friendly mud ghost? Or is the mud ghost the new villain of the show? Will the mud ghost get a job at SUR? Will the mud ghost get its own spinoff called Vanderghost Rules?
Can't wait to meet the mud ghost of Pump Rules Season 5.
Image: Charles Sykes/Bravo