The 'Trainspotting 2' Teaser Trailer Is Here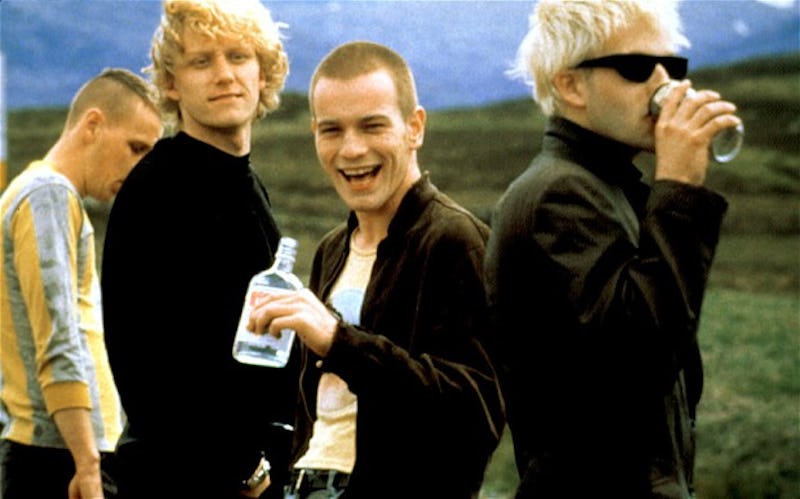 Just when you thought the '90s were a passing fashion phase that had come back to stifle us all with short skirts and choker necklaces, one of the most iconic films from the '90s is back for a sequel. On Monday, the teaser trailer for Trainspotting 2 was released, and it is a walk down memory lane. Not only does the trailer bring back all of the memories that the original movie created for fans around the world, it's a lovely little reminder of just where we left these four characters, all of whom will be returning for the sequel.
And, just in case you haven't seen it yet, the main reason why this teaser trailer is a nostalgic visit to the past is that it is literally a collection of clips from the original movie. (And you thought you were going to see new footage. Ha!) But the teaser does reveal a few important things. Dates, namely, including the date when Trainspotting 2 is set to start filming — May 16, 2016 — and the date when the movie is set to be released — January 27, 2016.
The other important thing that this teaser reveals is that all four of the original cast members are on board to revive their original roles. Ewan McGregor, Ewen Bremner, Johnny Lee Miller, and Robert Carlyle are all returning to play the parts that originally made them and this movie so famous.
The film, which is loosely based on the novel, Porno, by Irvine Welsh was given the go-ahead after years of talk and speculation about a sequel. And if the movie is anything like the novel, then it will be largely based on Renton's return to Scotland. After running a very successful nightclub in Amsterdam, Renton returns to start a pornography business with Sick Boy and Spud. All while staying out of Begbie's way, of course.
Sounds like a winning story line to me. Although anything that brings these boys back together again for a sequel would be enough to make me run to the theaters and buy opening night tickets, let's be real.
Image: Film4 Productions