15 Grad Gifts Under $10 Your Friends Will Love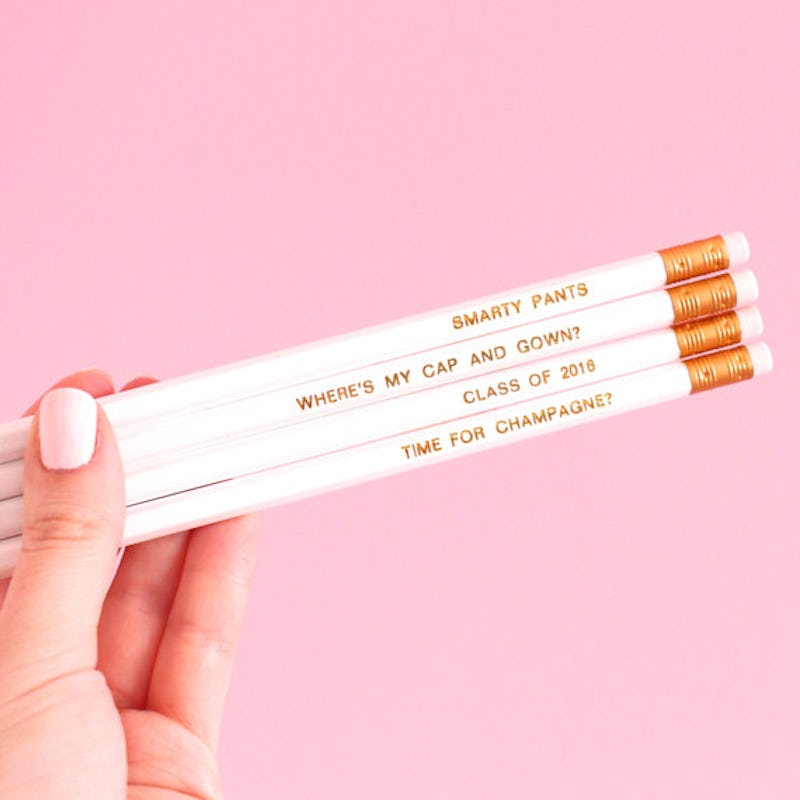 Graduating, whether at the high school or collegiate level, is a momentous achievement well worth celebrating, and when someone important in your life accomplishes it, you want to give them something special to show them how proud you are. If you're on a budget but still want to get a meaningful present for a graduating friend, partner, or relative, don't worry, there are plenty of thoughtful graduation gifts for under $10 that are just as special as the graduate in your life.
When I graduated from college a few years ago, many of my closest friends were walking across the stage with me. While I was thrilled to celebrate my own accomplishments, I also wanted to mark the occasion for my friends who had spent the last four years studying until the wee hours of the morning by my side. I loved each of them and couldn't have gotten through college without them, so I knew I wanted to get them gifts to say not only congratulations, but more importantly, thank you. The only problem was, there were half a dozen of them and my bank account was still that of a college kid.
That's where the cheap and thoughtful gift guide comes in handy. Whether you have a tight budget or just a lot of people to shop for, here are 15 cheap graduation presents for under $10 that your friends will actually love. Trust me, I know because I've been there.
Experience Passport, $10, Amazon
This small yet powerful pocket book is more than just a diary — it's an interactive journal made to make life more interesting and more enriching. Filled with creative prompts, facts, diagrams, and new challenges, the Experience Passport is a fun little book that promises to help a recent grad enter the "real world" at full speed.
Class of 2016 Lucky Penny, $7, Etsy
Who needs good luck more than a recent graduate, right? Perfect for a key chain, charm bracelet, or necklace, a lucky penny from a coin made in 2016 is a uniquely nostalgic gift, made all the more personal with a hand-stamped engraving.
3. Success Charm Set
Success Charm Set, $10, Papyrus
Sweet and sentimental, these five inspirational charms have the perfect messages for recent graduates. Featuring inscriptions like "Courage" and "Fly High" on shapes including a bird and a horse shoe, these small silver trinkets come complete with a green organza bag and a card explaining what each charm stands for.
Mini Instax Photo Album, $11, Amazon
Thanks to the power of social media, all of those pictures from high school or college are online for the world to see. But instead of making the recent grad in your life a digital photo slideshow to post on their Facebook wall, give them an actual physical album instead. Fill it with your favorite pictures from your time together, or leave it blank for the graduate to fill with their next great adventure. This is one album they won't want to hide from their feed.
Knock Knock Stuff Pack This! Pad, $5, Amazon
No matter where life takes the recent graduate in your life next — to a new school, a new city, or an entirely new country — make sure they get there with everything they need. Give them this handy packing chart, so whether your loved one is headed off to study ancient ruins in Egypt or take on the corporate world in NYC, they'll know exactly what to bring.
Vintage Typography Decorative Plate, $9, Etsy
Whether your recent grad is off to a new school or joining the work force, they're going to need some words of wisdom to help them make those next steps. Give the gift of inspiring decor, so no matter where life takes them, your grad will always have your kind words to guide them.
Knock Knock Stuff I'm Doing My Best Mini Inner-Truth Journal, $10, Amazon
The perfect size to fit in a pocket or a purse, don't let your graduate head into the "real world" without one of these journals. Lined with thought-provoking quotes, a personal outlook chart, and plenty of space to jot down personal thoughts, this is a great gift for grads who might benefit from some introspection before embarking on the next adventure.
Pizza Friendship Bracelet, $4, Etsy
If your girl gang is graduating this year, send them off with something they'll cherish forever: pizza BFF bracelets. A great gift for one friend or an entire group, this adorable necklace will remind your pals of how much you love them, no matter where life takes them.
Happy Jackson My Lunch! Lunch Box, $10, ASOS
If you're gifting a college grad, then consider this outside-the-box gift — a lunch box. Gone are the days of meals in the dining halls, replaced with sad desk lunches and meals at the office cafeteria, but with your gift, at least they can do it in style.
Thanks to the wildly popular Dr. Seuss book, Oh, the Places You'll Go! , giving graduates children's books has become a tradition. Switch up the title this year and instead give Leo Lionni's a Color of His Own, a sweet tale about a young chameleon trying to find his way in the world. Trust me, your special graduate will know exactly how he feels.
TONYMOLY Mask Sheet, $3, Urban Outfitters
The only thing graduates want to do when they're done with school is take some time off and relax. Get a gift that can help them reach that goal with some at-home face masks. Inexpensive and small enough to fit in a perfectly inscribed graduation card, a face mask is a simple yet thoughtful gift any grad looking to unwind will truly appreciate.
The Graduation — Class of 2016 Pencil Set, $8, Etsy
School may be over, but pencils always come in handy. A sentimental and sensible gift, a Class of 2016-themed pencil set will look great on display on the recent grad's new desk at work.
13. Hello World Pouch
Hello World Pouch, $8, Papyrus
There are few phrases that sum up those first steps into post-grad life than "Hello World." Cute and functional, make this adorable and bold pouch even more special by filling it with a congratulatory note or some words of wisdom for your graduate to find.
Coffee Lovers, $10, See's Candies
If the graduates in your life are anything like I was, they got their diploma thanks to hard work, sure, but also a lot of coffee and the occasional chocolate break. Now that they're done with school, send them off to the real world with an emergency box that combines those two things — caffeine and sugar.
15. Photo Stands
Geometric Wood Photo Stands, $8, Papyrus
Pictures are a classic graduation gift, and these inspirational wooden photo stands are the perfect holders for them. Inscribed with the words "Wander," "Stay True," and "Follow Your Dreams," they will look great holding pictures of you and your BFF in your friend's new dorm, apartment, or office.
Image: Etsy