16 Funny Father's Day Gifts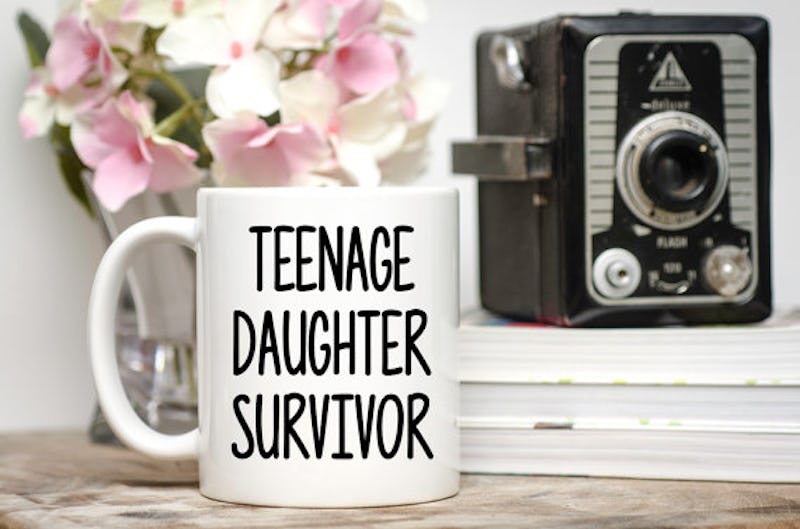 Share a laugh this Father's Day and celebrate one of the many things that makes Dad great — his sense of humor. Cards are nice, but funny Father's Day gifts that get him roaring with laughter are even better. While you seriously acknowledge all he's done and how much he means to you, show your love and appreciation with a fun gift that's right up his alley and plenty of lighthearted laughter.
No matter the dad in your life — your own dad, your granddad, your significant other's dad, or your significant other who just became a dad — bring about laughter while you celebrate the person you adore and respect. Relieve him from the duties of fatherhood for a few to tickle his funny bone and poke fun at all the hysterical parts of being a dad. Provide him with playful (and practical) new ways he can enjoy his favorite booze, and class things up with some ridiculous office wall art, single malt scotch toothpicks, and all-natural soap made of beer. Whether it's a hilarious read they can completely relate to or a snarky new t-shirt they'll parade around with pride, these small tokens of appreciation will go a long way to bring humor to their life long after Father's Day.
1. For new dads
The New Dad's Survival Guide: Man-to-Man Advice for First-Time Fathers, $1.99, Barnes and Nobles
This demystifying manual is a must for new dads just entering the world of fatherhood. The practical guide will guarantee new fathers approach every step of the way with confidence, thanks to advice from seasoned fathers who've survived it all.
2. For fearless fathers
I Have Daughters T-Shirt, $12.95, Etsy
For veteran dads who've put in their time, let them flaunt their experience with this no-nonsense tee.
3. For dads who know it's 5 o'clock somewhere
Stainless Steel Wristwatch, $25.21, Etsy
No matter the time of day, Dad will see it's happy hour every time he checks his watch.
4. For dads who like to run
RunBell, $25, Uncommon Goods
Keep pedestrians out of Dad's way with this ring that works just like a bike bell.
5. For weary dads
Funny Dad's Mug, $16.85, Zazzle
While he sips his morning coffee, Dad can trick onlookers until he's fully awake.
6. For dads who require a little extra caffeination
Minipresso, $59, Wacaco
Up your dad's espresso game with this sleek and compact on-the-go espresso machine.
7. For the dads who need to take the edge off
Priorities Beverage Flask, $20, Dot & Bo
Coffee works wonders in the morning, but make sure your old man is well-prepared to take on the end of the day with this cheeky flask.
8. For dads who double as golfers and grill masters
Golfers BBQ Set, $26, Uncommon Goods
Help Dad score a perfect round at the grill the next time he hosts a family barbecue.
9. For dads looking to expand their comedic repertoire
The Very Embarassing Book of Dad Jokes: Because Your Dad Thinks He's Hilarious by Ian Allen, $13.45, Barnes and Noble
If you haven't gotten your fix of dad jokes lately, hand this one over and let Dad freshen up with some new material before your next family dinner.
10. For office dads
Cubicle Dance Poster, $19, Dot & Bo
Liven up Dad's office space with graphics from the original British version of The Office. The iconic dance moves commemorated within an attractive frame will inspire him to keep a smile on his face even when he has to work overtime.
11. For the scotch-loving dads
Scotch-Infused Toothpick Gift Set, $35.95, Uncommon Goods
Give your dad a taste of his favorite whisky with this collection of single malt scotch-infused toothpicks that deliver the distinctive smoky barrel-aged flavor he loves.
12. For hygienic beer-loving dads
Handbrewed All Natural Beer Soap, $5.99, KegWorks
Now Dad can take an IPA into the bath with him for some extra hops. These all natural soap bars are "handbrewed" to perfection for some boozy bath time fun.
Handbrewed All Natural Beer Soap, $5.99, KegWorks
13. For handyman dads who reward themselves
Cast Iron Tool Bottle Openers, $19, Uncommon Goods
This cast iron wrench and hammer duo doubles as bottle openers for the ultimate addition to Dad's toolkit.
14. For bearded dads
Comb and Bottle Opener Combo Tool, $20, Dot & Bo
If your dad is all about Facial Hair, Don't Care, keep his visage looking tidy and groomed with this comb. It also pulls double duty as a bottle opener (of course), because the perfect beard deserves the perfect beer.
15. For the proud dads
Teenage Daughter Survivor Mug, $14, Etsy
Give your dad the perfect mug to commemorate his successfully raising you (and consequently refuel on some much-needed coffee).
16. For the dads who need a drink
Daddy Needs A Drink by Robert Wilder, $13.30, Barnes and Noble
Dads of all walks of fatherhood will enjoy this heartwarming and hilarious collection of tales of raising a family. From exploding diapers and beyond.
Images: Etsy (6), Barnes & Noble, Uncommon Goods (4), Zazzle, Wacaco, Dot & Bo (3), Amazon (2), KegWorks