'The Angry Birds Movie' Could Be The First Of Many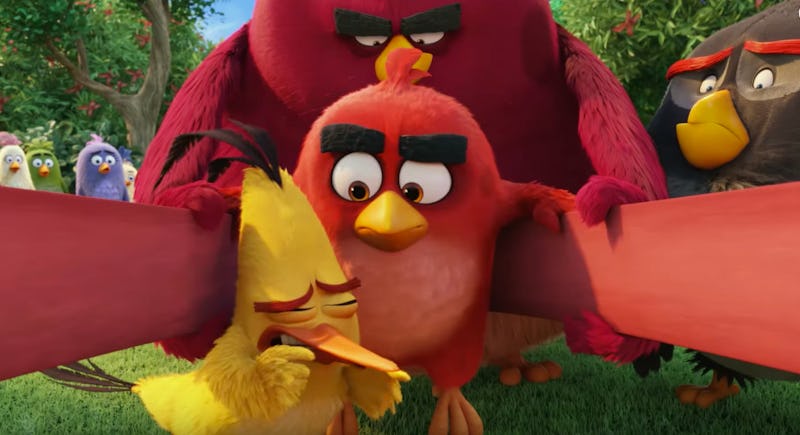 "Angry Birds" has officially transcended your phone screen — for now, at least. The Angry Birds Movie is hoping to become this summer's animated hit, with voices by comedians Jason Sudeikis, Josh Gad, Danny McBride, and Maya Rudolph, to name a few, all playing various kinds of big, fluffy birds, just like in the beloved smartphone game. With the movie hitting theaters on May 20, fans are wondering if, like the game, The Angry Birds Movie might be just the beginning much more – an Angry Birds sequel, perhaps? As with almost any popcorn movie being released nowadays, there's no doubt that Angry Birds was made with the idea of a potential franchise in mind. But will there be an Angry Birds 2 ? Well, it's not set in stone yet.
Sequels don't generally get the green light until after the original movie makes a nice amount of money at the box office, and it looks like The Angry Birds Movie is well on its way to box office domination. The movie, which opened in Europe, South America, Africa and the Middle East one week ahead of the US, made $43 million over the weekend. And Rovio Entertainment, the company behind the original "Angry Birds" game, boasted that ticket sales increased over the weekend thanks to positive fan reactions. "Strong critical reception and great word of mouth ignited the box office on Saturday as The Angry Birds Movie displayed huge increases from Friday," Rovio said in an online statement, according to IGN.
Should Angry Birds be as successful at the box office as the original game was at the app store, then Angry Birds 2 seems inevitable. In fact, Sudeikis, who plays the main character Red, has already casually mentioned sequels in interviews. "You have to take sequels into consideration," he told Collider in February when speaking about his character development. In that same interview, Gad even joked that the sequel would be "a full-on Angry Birds musical." So, at least we know the actors are ready and willing to appear in a hypothetical sequel.
It's unclear how, exactly, a potential Angry Birds movie franchise will build off the countless "Angry Birds" games. Despite there being countless "Angry Birds" games, each with different themes and gimmicks, Rovio has only released one official "Angry Birds" sequel, the newly launched game app called "Angry Birds 2." Considering the original "Angry Birds" was released in 2009, I think it's safe to say that should Angry Birds get a sequel, it will, happily, come much quicker than the game did.
Images: Columbia Pictures; Giphy (2)