'Call The Midwife' Deserves A Sisth Season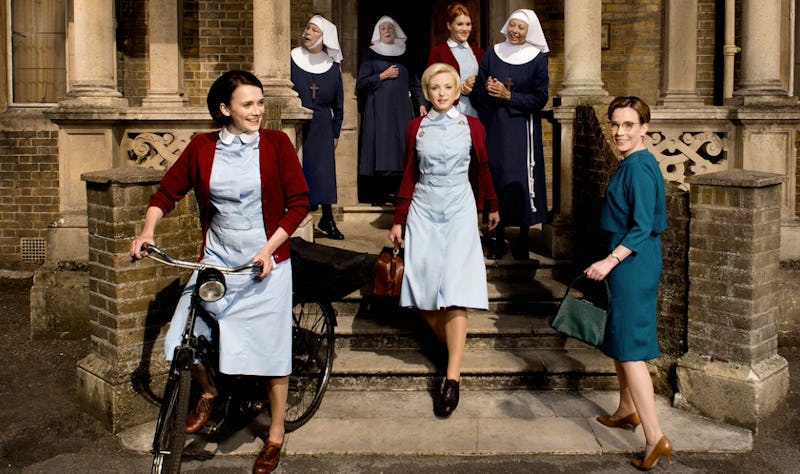 A period drama with a revolving cast of characters doesn't sound like it would be an international hit, but BBC and PBS Masterpiece Classic's series Call the Midwife is just that. While the Season 5 finale airs on Sunday, May 22 in the United States, the UK has already seen this episode — which is rumored to be a doozy with UK outlets headlines using words like "tragic." With such a big finale episode, US fans are already feeling panicked. It can't just end like that — can it? Viewers are anxious to know, is Call the Midwife renewed for Season 6? Update: On Feb. 14, PBS announced in a press release that Call The Midwife Season 6 will premiere on April 2, 2017.
Earlier: Breathe a sigh of relief, folks: According to the UK outlet RadioTimes, Call the Midwife has been renewed for a sixth season, with the Christmas Special, airing on Christmas Day 2016, as the premiere episode for the upcoming season — which is already much anticipated by UK fans. In the past, the US broadcast began in spring, just as the season came to a close in the UK. So, Americans are looking at a new season of Call the Midwife in spring 2017. Which, after what's looking to be a pretty heart-wrenching finale, is going to feel like forever. How will we quell our thirst for an intelligent, feminist, and socially conscious television? Here are seven shows to stream if you love Call the Midwife.
1. Downton Abbey
In case you've managed to resist or avoid Downton Abbey, the now complete BBC turned Masterpiece Classic series followed an Earl's family and their staff with themes about feminism, class, justice, and romance. You can watch the first five seasons now on Amazon Prime.
2. The Bletchley Circle
What if the WWII code-breaking women from Alan Turing's Bletchley Park went on to solve crimes against women? Find out with this amazing two-season series, available on Netflix.
3. The Fall
Imma let you finish … but The Fall is one of the most epically feminist shows of all time. OK, not to oversell it, but Gillian Anderson is a glass-ceiling shattering detective hunting down a serial rapist and murderer. The show tackles sexism at every strata, the way female victims are shamed by the legal system, harassment at work, and violent crimes against women. Oh yeah, Jamie Dornan is in it and he's terrifying. The only two seasons are on Netflix, but a third is expected to air later this year.
4. Land Girls
The three-season, BBC1 period series follows a small group of women who joined the Women's Land Army during WWII. So, strong British women making waves in a foregone era? Check. The series is available on Netflix.
5. Bomb Girls
While the men were at war during WWII, women were the answer to the labor shortage. This Canadian drama follows the female factory workers who stepped up and risked their lives working in a munitions factory. The show tackles themes about labor rights and feminism, and is available to stream in full on Netflix.
6. Orange Is The New Black
OK, I know you're thinking this is a big jump. But is it? Both feminist shows tackle issues about women's health, race, class, women living and working together, sexuality, morality, and social issues relevant for the setting. See, a Call the Midwife fan would totally be into this Netflix original series.
7. The Delivery Man
This UK series about modern midwives is a comedy, not a drama, and follows a male ex-cop who decides to change his life and become a midwife. The plot is pretty adorable, an so are the babies. The show premiered in 2015 and its sole season is on Netflix. The jury is still out about if there will be a second season.
Hopefully, these shows will keep your mind off Call the Midwife, and possibly help mend the wounds of the upcoming cliffhanger on Sunday, May 22.
Images: Laurence Cendrowicz/Neal Street Productions