9 Things We Loved at Prada Fall 2014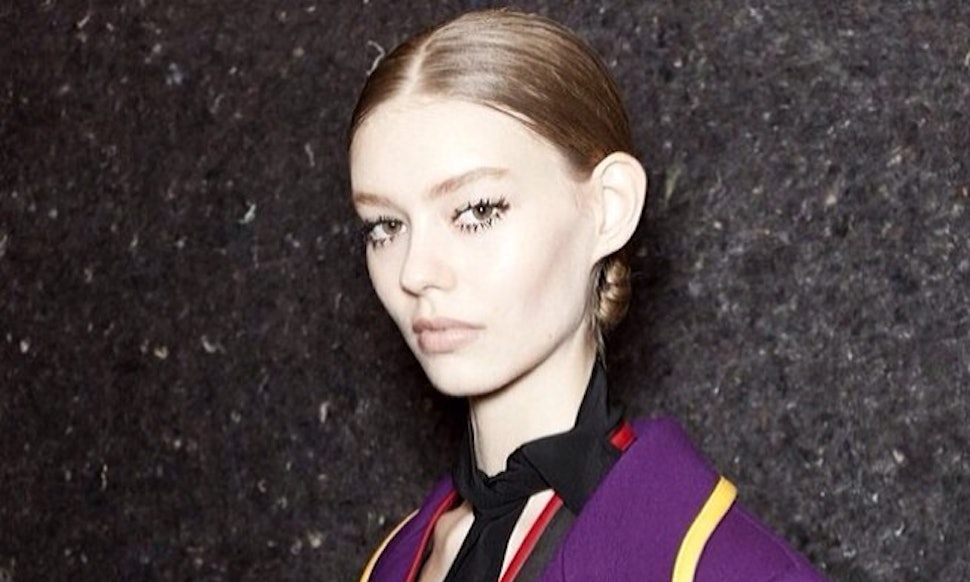 Good news for the fashionable future CEOs among us: the powerful Prada woman isn't going anywhere. Miuccia Prada's vision for Fall 2014 was just as colorful as last season's — and punctuated by just as much wild outerwear — though the punchy, pop art designs we saw last year have given way to texture: shearling-lined coats in gold, sheer dresses topped off by wispy furs. There was a little bit of the naughty schoolgirl going on, and a lot of the bold woman. Gape at the full Prada Fall 2014 collection here, but these were our 9 favorite moments.
Image: @patmcgrathreal/Instagram
This cheeky take on a men's tie
It may not be tied "correctly," but she's not going to a "business meeting," either.
Image: @mimi_haohao/Instagram
Those eyelashes
The red Yeti dress no one can stop Instagramming
Just think of the poses you could strike in this thing.
Image: @voguemagazine/Instagram
This, um, new take on sheer
The boyish underwear beneath is kind of cute. CONCEPTUALLY.
Image: @corneliuslafayette/Instagram
This hideous-chic coat
It would make us so happy on cold days and, bonus, would deflect all unwanted male attention.
Image: @absorb/Instagram
An amazing oversized schoolboy sweater
To wear with our fake ties, of course.
Image: @singapore_style/Instagram
The Gucci-esque straps
Gold + shearling + sheer + fur
So much to choose from, and the answer is yes.
Image: @agneset/Instagram
The patterns
Nouveau '70s upholstery at its finest.
Image: @thesartorialist/Instagram