PMS Won't Bite With These Treats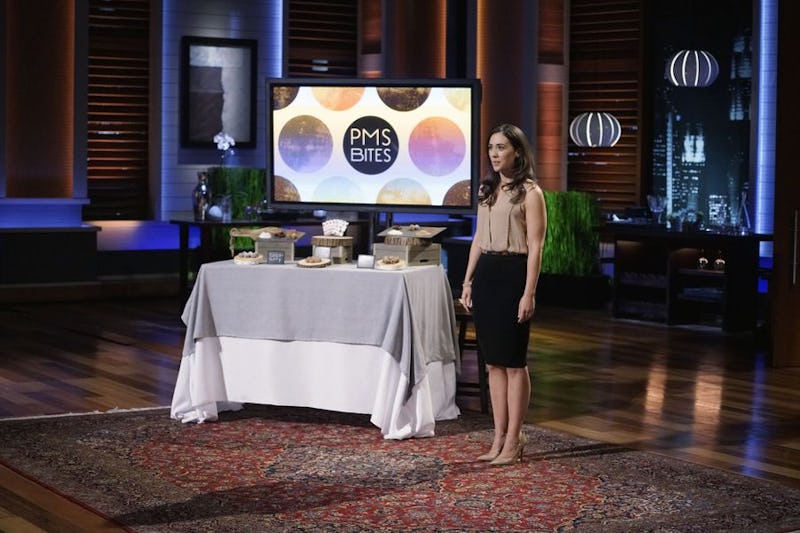 Ah, PMS, the second most wonderful time of the month behind actually having your period. I'm kidding, of course. PMS sucks, but what if there was something you could buy to make it suck a little less? Find out where to buy PMS Bites from Shark Tank , and this time of the month before that time of the month might just not be so bad.
I'm especially curious how the Sharks are going to react to this product when it arrives in the Tank during Friday night's Season 7 finale episode. That's because the majority of them are men, who stereotypically get a little freaked out about anything having to do with a woman's menstrual cycle. And since the Sharks always do a taste test of edible products that come into the Tank, will Mark Cuban, Kevin O'Leary, and Robert Herjavec be willing to bite these bites?
Even women have been made to feel like the very mention of something period-related is taboo, so I wonder what Barbara Corcoran and Lori Greiner will think about the product as well. There's always the risk that the Sharks will think the product is too niche, although I don't know how something that targets more than half of the country's population could really be too small of a market.
But as long as PMS Bites are raking in the dough, I imagine the Sharks will want to take a bite at it. Regardless of how PMS Bites fares in the Tank, it's an all-around fascinating company that could really do some good.
It's Kind Of An Oxymoron
PMS Bites confound me. That's because they're treats that are also sort of good for you. These chocolate bites also contain a blend of herbs that help alleviate PMS symptoms, the company's website describes. That means these confections will probably make you feel better even if you don't have PMS.
Here's Why It Helps With PMS
We may crave chocolate and sugary foods during PMS, but the company says that studies have shown a direct connection between PMS symptoms and blood sugar level imbalance. So PMS Bites contain the chocolate to help satisfy cravings, but they're packed with all-natural, vegan, and gluten-free ingredients that won't make you feel sluggish. They also contain Siberian ginseng, chamomile, and dandelion root that women commonly take to relieve PMS symptoms of bloating, cramping, and irritability, PMS Bites' website describes. All of this just sounds delish to me.
You Can Take A Bite Now
PMS Bites are currently available through the company's official online store. You can get six bites in either the Plain Crazy, CocoNutty, and All Kinds of Nuts flavors or a six-bite variety pack of all three flavors for $14.99 each. You can also subscribe and receive a delivery every 30 days for $13.49 a month since PMS isn't a one-and-done-type situation. PMS Bites are also sold at 15 retailers in Boston, according to Forbes. Perhaps PMS Bites will hit stores all over the country if the company scores an investment from a Shark.
PMS Bites Plain Crazy Pack, $11, Amazon; PMS Bites Coco Nutty, $9, PMS Bites; All Kinds Of Nuts, $9, PMS Bites
It's Had A Lot Of Success So Far
But even if PMS Bites doesn't strike a deal with a Shark, the company will be all right. It already has a high-profile investor in the form of Stacy's Pita Chips co-founder Mark Andrus, PMS Bites founder Tania Green recently told Boston.com.
Things have been going pretty well for PMS Bites in addition to that. The company was launched with a successful Kickstarter campaign in February 2015 and hit its fundraising goal of $5,000 less than 15 hours after it went live, according to the project's page. It was also accepted into the start-up accelerator MassChallenge. It seems like it was only a matter of time before PMS Bites appeared on Shark Tank.
The Founder Created It To Solve Her Own Problem
Green made a New Year's resolution to record how each of her days went for three years, she details on PMS Bites' website. In doing so, she discovered that most of her bad days were around when she had PMS. Though Green tried exercise, sleep more, and eat more healthily during PMS, she still craved sweets. That's when she went into her kitchen and started cooking up what would eventually become PMS Bites.
She Stumbled Into Her Shark Tank Casting
Green accidentally auditioned for Shark Tank in a way. While sitting in the Boston Common Coffee Shop, Green overheard a man interviewing a woman for a job, she said in a recent interview with Forbes. When the woman left, Green started talking to the guy and found out he was a producer for Dancing with the Stars, which, like Shark Tank, also airs on ABC. The two got to talking about PMS Bites, the man took Green's card, and two days later, she received an email from Shark Tank asking her to apply for the show.
Hopefully, PMS Bites' appearance in the Tank will be just as lucky for Green.
Images: Michael Desmond/ABC (2); Giphy