11 Fashion Tips For People Who Sweat A Lot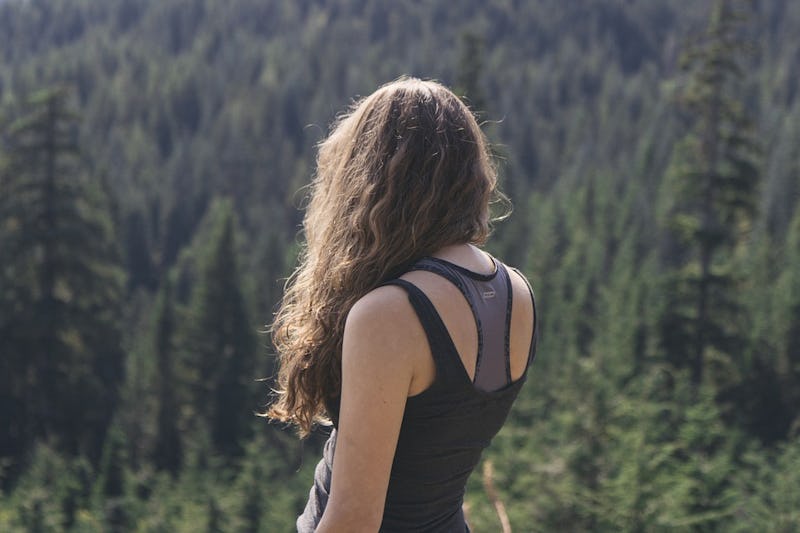 Stay sweat-free this summer by wearing clothing options that will keep you cool, calm, and collected. Whether it's a lightweight T-shirt or a breathable dress, there are plenty of fashionable ways to be sweat-free during the warmer months. It's all about keeping your own body in mind. Personally, I prefer to avoid tighter clothing in the summer as it tends to be more constricting and less breathable. To me, something about a body-con dress paired with the summer heat gives me the chills. Just imagine the sweat stains! However, you can definitely avoid uncomfortable situations like that by choosing clothing that will work for you.
If excessive sweating is becoming a daily problem in your life, be sure to look into performance enhanced clothing. While many of these options are made for working out, most of them can easily double as a day-to-day outfit choice. These fabrics are great, because they are designed with moisture-wicking technology to keep sweat at bay. This means no more sweating through your t-shirt. Wondering what else you can do to stay sweat-free this summer? Here are 11 fashion hacks for people who sweat a lot.
1. Choose The Right Color Palette
When it comes to concealing sweat, it's all about wearing the right colors. Brighter neutrals such as white and gray are notorious for showing off sweat stains. The Huffington Post suggested hiding any possible staining by choosing darker neutrals such as black, navy, or brown.
2. Invest In An Absorbant Undershirt
Thompson Hydro-Shield Tee Shirt, $25, Amazon
Yes, they do exist! If you're worried about sweating through your shirt (aren't we all), you can invest in a moisture wicking undershirt to keep sweat at bay.
3. Skip Hats
While hats are a cute way to hide a bad hair day, they're also responsible for keeping your head warm. In order to stay as cool as possible, ditch the hat.
4. Avoid Staining By Wearing Draped Tops
Draped Tank Top, $13.60, Missguided
Dresses and shirts with lower arm holes have been all the rage this season. Be trendy and stain-free by choosing clothing opens with looser sleeve holes.
5. Stick To Natural Fibers
According to Cosmopolitan, clothing made from natural fibers (think cotton) are much more breathable than clothing make out of polyester or other synthetic fibers. Keep yourself cool by choosing lightweight, all natural clothing.
6. Avoid Silks
While silk is absolutely luxurious fabric, it's also very heavy and warm. This means that you're more likely to sweat in it. Skip out on heavier fabrics in order to stay sweat-free this summer.
7. Utilize Cutouts
Cut Out Sleeveless Dress, $68, topshop.com
Cutouts are essentially ventilation for our clothes. If you're looking to stay cool, calm, and collected, then reach for clothing options with cutouts.
8. Avoid Excessive Jewelry
Chucky necklaces and bold bracelets may look cute, but they can definitely weigh you down and trap in heat. Let your skin breathe by leaving heavier accessories at home.
9. Choose The Right Bra
Cooling Bra, $44, avenue.com
Boob sweat is real, people. Keep it at bay by choosing bras with lightweight padding options or moisture wicking fabrics.
10. Ditch Your Backpack
David King Laptop Messenger Bag, $70, Amazon
Not only do they weigh you down, but backpacks also trap in loads of heat. Keep yourself cool, while toting around all of your stuff by choosing a messenger bag over a backpack.
11. Choose Your Shoes Wisely
Keep your feet feeling and smelling their best this summer by choosing the right shoes. Sandals are always easy option but so are lightweight sneakers with cotton socks. Be sure to avoid plastic, jelly, or canvas shoes in order to keep your feet feeling fresh.
See? You don't have to be a hot mess this summer.
Images: Pixabay (5); Courtesy Brands