Fred Armisen Brings 'SNL' Alums To The Finale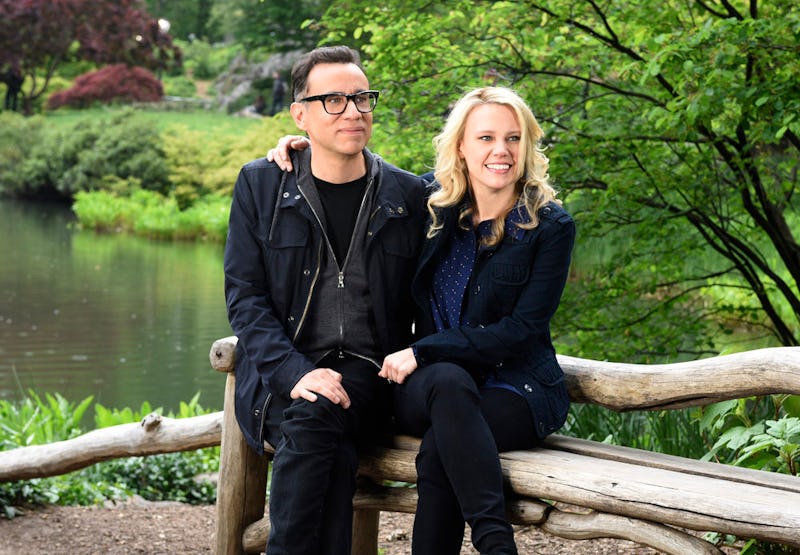 Fred Armisen may seem like an odd choice to host the season finale of Saturday Night Live, but the show has almost has a tradition of bringing an alum in towards the end of the year. Andy Samberg hosted the finale of Season 39, and Kristen Wiig did the penultimate episode the year before. Still, Samberg and Wiig had more high-profile gigs post-SNL; Armisen is the bandleader on Seth Meyer's late-night show — which is like barely leaving SNL — and he's on another sketch show. That makes him kind of an anticlimactic note to end on. That's why it's more excited that Armisen brought fellow SNL alums, Andy Samberg, Jason Sudeikis and Maya Rudolph to the season finale.
Understandably, Samberg's bit promoted the new Lonely Island movie, Popstar: Never Stop Never Stopping. (I actually really love that title.) In a pre-filmed bit, he appeared as Conner4Real, singing what I guess is supposed to be a sexy song? But in true Samberg fashion, he doesn't even seem to know if the subject matter of his song is really truly sexy. The song is about how a woman hit on him using the most un-PC of phrases — one that invoked Osama bin Laden. And, of course, Armisen appears in the video as bin Laden himself.
Sudeikis' appearance is much more SNL-y. It was actually a recurring bit. Sudeikis plays the straight man, a guy introducing his new girlfriend to his friends. Armisen plays Regine, the worst, most off-putting hipster girlfriend ever — the kind that wants to talk about "outsider art." I've never really found Regine all that funny. She's one of Armisen's many characters who are well observed, but tedious to watch. But someone in the cast must've thought she was funny, because they all started breaking during it.
Maya Rudolph, who's about to launch Maya & Marty on NBC, showed up during an update segment, so she didn't get to act with Armisen one-on-one. She did an impression of Brazil's Dilma Rousseff. I love Rudolph, but I'm not sure this was the best use of her. Does anyone know what Dilma Rousseff is actually like, and can they gauge whether or not her impression is funny? She did a funny voice, and told easy jokes about how Brazil isn't going to be ready for the Olympics, but I have a feeling she could've been in a funnier sketch.
Even in a mixed bag, it was good to see Samberg, Sudeikis and Rudolph on the show. It makes the season finale of Saturday Night Live feel like more of an event, and ends things on a good note.
Image: Dana Edelson/NBC; Giphy