'SNL' Takes Aim At Low-Rent Theater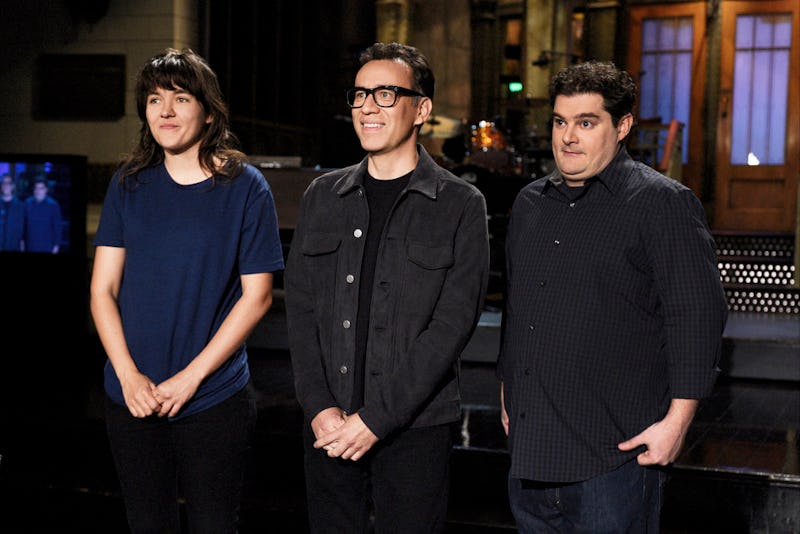 Whether it's improv troupes or community theater, it's a good bet that a lot of the Saturday Night Live cast has had experience with low-budget theater. That world seemed to be a particular focus of the season finale that Fred Armisen hosted on May 21. Throughout the night, there were a couple sketches that took on the very idea of performance in general.
It started from almost the very beginning, with Armisen's monlogue. In it, he performed a selection from his hypothetical new one-man show, Live From New York, I Did Saturdays Right. It was basically a send-up of every one-person show ever, down to silly voices for different characters "from the neighborhood" telling him that he's never going to achieve his dreams. Even the title of the show, which is the slightest of puns, kind of gets at the whole one-man show culture. And, in what I assume must be an nod to total authenticity, it went on really, really long. You get the feeling that Armisen really wanted to do this for his tenure as SNL, but was never really able to command enough time and space to do it until he returned as host.
The aim got even lower later in the night, when the show took on "edgy" high school theater. SNL has done Woodbridge High School theater sketches a couple times already. They all feature earnest, well-meaning kids performing what they believe is in-your-face, "rated R for reality" theater, but they're really clueless, much to the chagrin of their parents in the audience. I'm sure many theater kids (and even many more theater-kid parents) can relate.
There's definitely a lot of truth in both of these sketches, a truth I'm sure that the SNL cast has come by honestly by coming up through the performing-arts ranks. I hope one day in the future we'll get more glimpses of the cast's theater-arts past.
Image: Dana Edelson/NBC