Brienne's Jon Snow Comment Is The Best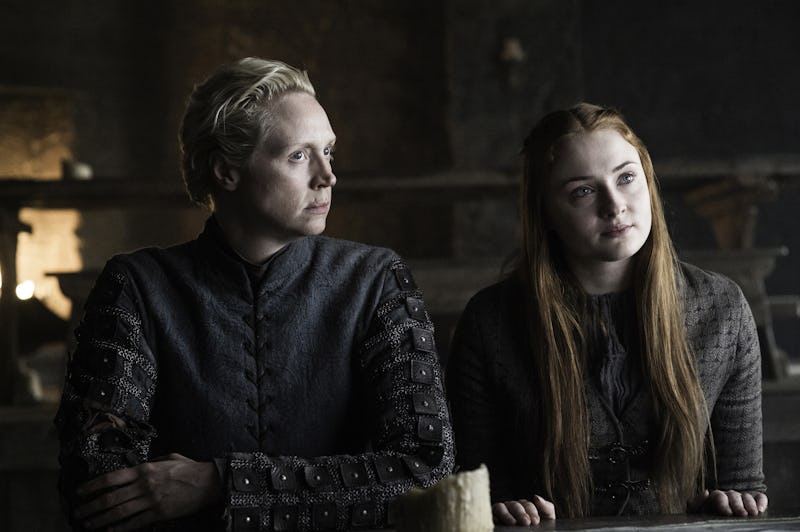 I never thought it was possible, but I'm actually upset that our heroes left the Wall this week on Game of Thrones. Don't get me wrong, I'm as over the Night's Watch as Jon Snow himself, but this location has somehow become the source of a lot of humor in Season 6. In fact, on Sunday, Brienne's description of the "brooding" Jon Snow Game of Thrones had me rolling.
Towards the end of the episode, Brienne expressed (understandable) doubts about leaving Sansa alone with Melisandre and the boys of Castle Black — especially after Sansa lied about going to see Petyr Baelish. Sansa asked Brienne if she thought Jon was untrustworthy. That's when Brienne told her that she found Jon to be honest if not a "bit brooding," but that she didn't necessarily blame him. Well woof, nobody tell Brienne what Jon was like before he died. The brooding was so much worse, then.
Brienne's concern is what we've all been thinking since Season 1, to be honest, which connected nicely to a storyline that involved the other Stark girl, Arya. Wasn't it neat how that pantomime that she witnessed played up all of the stereotypes from those early episodes of Game of Thrones? Of course Ned is played to be a fool, and Sansa is a classic damsel in distress. We know better, and we know that Jon is more than just a brooding hero. Still, as more characters cross paths on Game of Thrones, those preconceptions are going to come out in often hilarious ways.
Image: Helen Sloan/HBO