The Best City For Singles In The U.S. Is...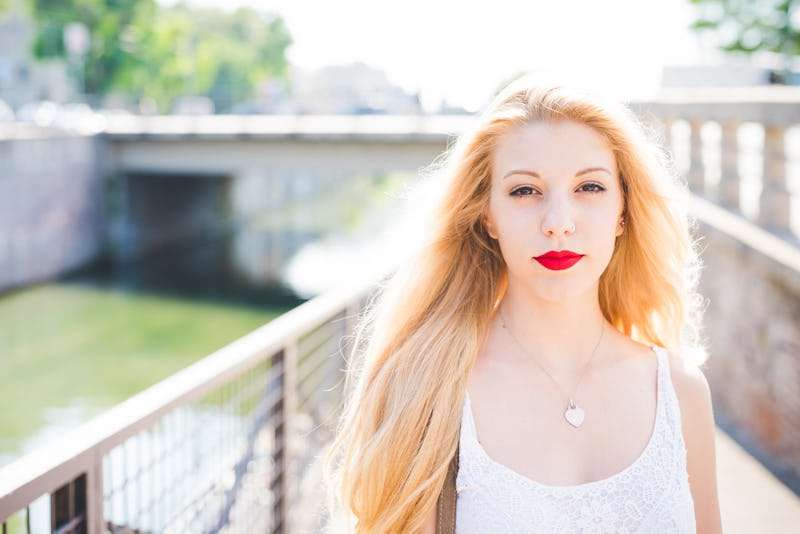 Where you live says a lot about you — most people take pride in being either a "city boy" or a "small town girl" or something in between. Whether you made your hometown your forevertown, decided to stay in your beloved college town post-grad, or picked a totally new city and called that home, it's likely that your place of residence is an integral part of your identity. But can where you live affect your dating life, too?
According to a new study by dating platform Badoo, your success (or lack thereof) in the romance department may have a lot to do with your zip code. The research looked at the geographical insights from users' location-based data, and found the concentration of singles in various cities across the U.S.
While you might naturally assume that more people = more potential dating partners, the study actually found the opposite to be true: living in a densely populated area (like NYC or LA) won't necessarily foster a love connection — because there are fewer single people. "These cities are usually met by more effort on daters to find a potential mate due to what they think is a harder shot at finding love," Amber Williams, Badoo's internal dating expert, tells Bustle. "This fear of sufficient opportunity results in people putting themselves out there more, which in turn determines greater success."
It's a self-fulfilling prophecy: We think it will be impossible to find the metaphorical needle-in-the-haystack partner, so we redouble our efforts. Then we wind up actually finding a partner, and the number of singles slowly dwindles.
But what about our rural friends? There's actually a higher concentration of singles in rural areas as opposed to metropolitan areas, which means there might be a greater chance to find love on a dirt road than in a concrete jungle. This is somewhat surprising, but then again, I've been single in Chicago and NYC for years so... is it time to move home to Kentucky and sign up for Farmers Only? Maybe not quite yet.
Bustle spoke to Joey Hadfield, another dating expert at Badoo, to figure out how to make the most of your dating life, regardless of your location.
"The benefits of living in a big city are two fold: daters have more options and diversity to choose from, which in turn can make dating in larger cities seem more adventurous or fun," he says. "The downside is that endless options can mean an overwhelming amount of unsuitable candidates."
No kidding. When you're in a huge city and spend even 10 minutes scrolling through a dating app, it's obvious that you could quickly get in way over your head. But Hadfield says the sheer volume, however scary, shouldn't deter you.
"This doesn't mean you shouldn't put yourself out there, you just have to be strategic in your selections," he says. "We should be more discerning and not lose sight of what qualities we want from a potential partner​. Sometimes less populated cities make you hone in on what it is that you're looking for, making you more likely to commit to finding that."
The number one piece of advice Hadfield had? Cut the BS.
"Always be honest in what it is you're looking for," he says. "Way too often online dating profiles aren't a true reflection of the user's personality. Success in dating is contingent upon being open and honest about what it is you want, and seeking a mate who aligns with that."
If you're looking for love, here are five fascinating findings from the study — you may want to get your suitcases ready. But first, check out the latest episode of Bustle's Sex and Relationships podcast, I Want It That Way:
1. Norfolk, VA Is The Best City To Find Love
Say what?! This city had the highest concentration of single people than any other U.S. city. The rest of the top five were: Chandler, AZ; Colorado Springs, CO; Glendale, AZ; and Akron, OH.
2. NYC Is (Predictably) A Horrible Place For Single Folks
...Unless you're in Brooklyn, which has more singles than other NYC neighborhoods. Other cities to avoid if you're trying to find a bae: Miami, Houston, San Francisco, and Laredo.
3. New York State Has The Lowest Percentage Of Singles
NYC might be skewing the data here; maybe places like Buffalo or Albany are safe? Better steer clear just to be safe. The rest of the top five states with the fewest singles are: Vermont, Washington, New Jersey, and Massachusetts.
4. Washington, D.C. Residents Are Chatty
According to the data, D.C. folks had the highest level of engagement on dating apps in the country. Other friendly states include Texas, Arizona, California and Illinois. On the flip side, people in North Dakota, Vermont, Iowa, South Carolina, and Alabama are least likely to engage in online dating.
5. Central And Western States Have Tons Of Singles
Ever been to South Dakota? Me neither, but apparently no one there is attached. Other places to go if you want a date: Alaska (go figure), Michigan, Wyoming, and Ohio.
Images: Fotolia; Giphy (7)