11 Midi Skirts To Fall In Love With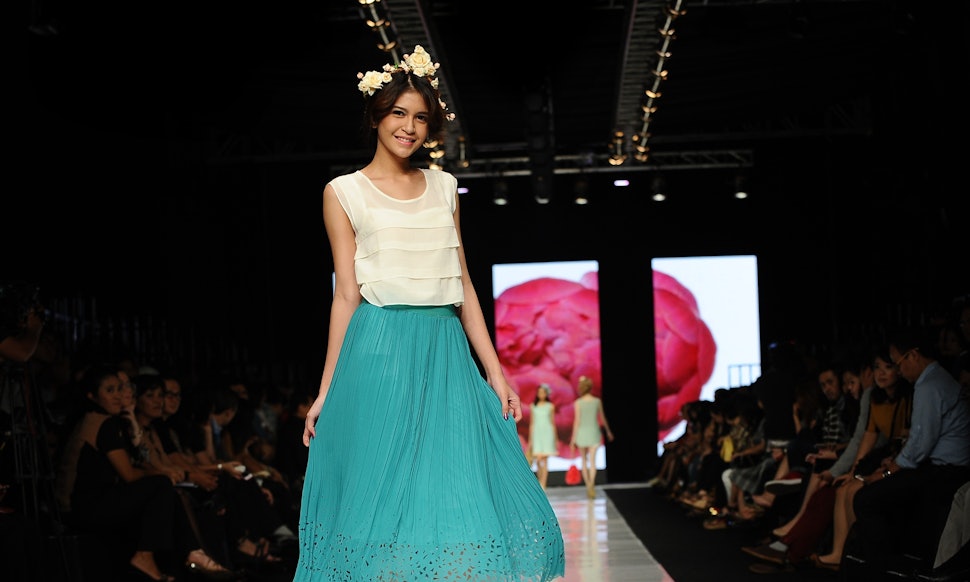 Robertus Pudyanto/Getty Images Entertainment/Getty Images
Comfortably sitting somewhere in between the maxi skirt and the mini skirt, the midi skirt has made a comeback this season, becoming a big trend for bloggers and street style enthusiasts alike. Don't feel like showing too much leg? Not feeling quite cool enough for the bohemian, floor-skimming maxi skirt? Not to worry, there's a midi skirt for your style that will transition perfectly into any wardrobe and flawlessly between seasons. Here are 11 midis to snag right now.
Simple Midi
A great basic piece, a simple midi skirt is a great way to avoid the "but I just don't know what to wear" pitfall that usually ends up in leggings or sweatpants.
Mango Ponti Midi Skirt, $88, ASOS
Patterned Midi
Because nothing says "I like to party in a really classy way" like some pattern and showing a little ankle.
Antique Jacquard Midi Skirt, $96, Topshop
Ballerina Midi
You know what they say, a little tulle goes a long way.
Whispering Secrets Midi Skirt, $21, Nasty Gal
Bright Midi
Elegant, bold, vibrant, and you get to look like a very expensive Christmas present.
Tibi Pleated Silk-Faille Skirt, $525, Net-a-Porter
Striped Midi
A little bit classic, a little bit nautical, a little bit unexpected, and a big chic-factor to match.
BDG Striped Fitted Midi Skirt, $20, Urban Outfitters
Sequined Midi
I mean, it's sparkly. Need I say more?
Leith Sequin Midi Skirt, $39, Nordstrom
Geometric Midi
For the casual, geometric-pattern-loving gal in all of us.
Vintage Geometric Mid-Length Silk Skirt, $62, American Apparel
Pleated Midi
Pleats may seem a little old school, but in a midi skirt they are wildly flattering, not to mention chic.
Pleated Midi Skirt, $70, Zara
Lace Midi
A whole lot of lace, a whole lot of gorgeousness.
YMC Lace Skirt, $90, ASOS
Textured Midi
Jacquard just makes everyone automatically look expensive and interesting. Trust me.
Bubble Jacquard Midi Skirt, $96, Topshop
Comfy Midi
A cozy, snug midi in a soft fabric is a great way to stay chic, comfortable, and casually cool. I imagine this skirt is what Jennifer Anniston wears to go buy fancy juices. Or something.
Ashes to Ashes Skirt, $42, Nasty Gal