Where Is 'Matilda's Miss Trunchbull Now?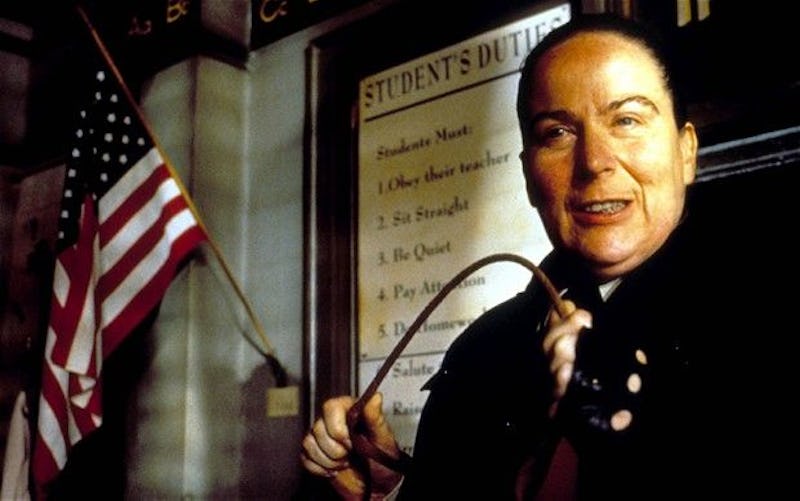 Hello and welcome back to this episode of Alexis Tries To Hold Onto Her Childhood by seeking out the actors who were important to her in her youth. Today we'll be focusing on one of the more prominent villains of that time — where is Matilda 's Miss Trunchbull now? I know, I'm as surprised as you are that I'm going looking for this sadistic piece of work after how cruel she was to everyone from Miss Honey to the Crunchem Hill Primary School student body to Matilda herself. To be honest, I still haven't forgiven her for trying to ruin chocolate for me by forcing Bruce Bogtrotter to eat an entire cake in one sitting in front of the student body. (Nice try though, Agatha. It'll take more than that to turn this gal off of a tasty dessert like cake.)
Anyway, I guess at some point in my life I realized that Miss Trunchbull was a literary character created by Roald Dahl, and decided to forgive the actress for the sins of the character. I guess I'm getting more mature in my adulthood. The name of said actress is Pam Ferris, so let's check in with her, shall we? Since Matilda's release in 1996, the now-68-year old actress has worked steadily, including highly-visible film projects like Death To Smoochy in 2002, Children of Men in 2006, and Harry Potter and the Prisoner of Azkaban in 2004, in which she played Aunt Marge. (I never put this together, but it makes perfect sense in retrospect, because Aunt Marge is such a similarly unpleasant character to Miss Trunchbull.)
But, for the most part, where Ferris has really had success is in television. She's done 20-plus episodes on multiple shows, from Where The Heart Is to Rosemary & Thyme, a show about two gardeners who solve crimes (!!), to Call The Midwife, which has already been renewed for its seventh season (they call it Series 7, in the UK), to air in 2017. She also has a project called Ethel & Ernest in post-production, an animated feature due out this year for which she voices a character alongside Jim Broadbent. So Ferris has the next couple years pretty well planned out for herself, and it's great to see such a talented actor gaining momentum at this stage in her career.
Ferris has also done some stage acting, although none recently — I'd imagine the filming schedule for Call The Midwife makes cramming in rehearsals for a theater project tough — and has been married to her husband Roger Frost since 1986, so she sounds like a well-rounded, grounded individual, and I'm so sorry for all the negative thoughts I had toward her when she was the shot-putting headmistress throwing all my pals in the Chokey. Can you ever forgive me?
Images: TriStar Pictures; Giphy