Big Changes Are Ahead For 'Supernatural' Season 12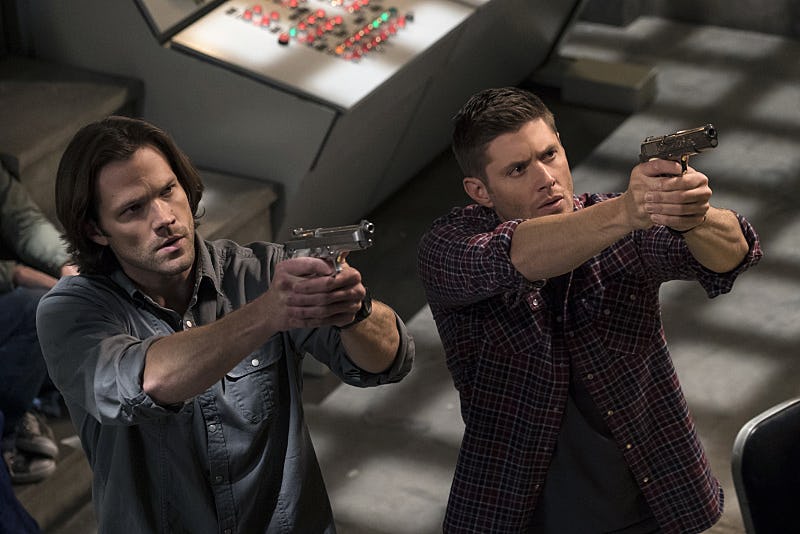 The Winchester brothers aren't finished ridding the world of evil spirits just yet. That's right. Supernatural will return for Season 12, making it the longest-running series in the history of The CW, Entertainment Weekly reported in March. So when will this historic occasion occur, and when will Supernatural Season 12 premiere?
We don't know exactly when Supernatural will return for Season 12 following the Season 11 finale on Wednesday night since The CW hasn't announced a specific premiere date yet. However, we do know that Supernatural will be back sometime in Fall 2016, which was revealed when The CW announced its upcoming primetime schedule during the Upfronts in New York last week, as reported by Deadline.
But there are changes afoot for the long-running series. It will be moving from its current Wednesdays at 9 p.m. ET time slot to Thursdays at 9 p.m. ET following DC's Legends of Tomorrow , the schedule says. Set your DVRs accordingly.
That's not the only change coming to Supernatural in Season 12. The series is getting a bit of a makeover in a few other ways next season, which actually might not be such a bad thing. Whoever said you can't teach an old dog new tricks clearly never watched this CW series.
It's Getting New Showrunners
Season 12 of Supernatural may look, sound, and feel a little different next season since showrunner Jeremy Carver has stepped down to focus on his drama pilot Frequency, which was picked up by The CW, TVLine first reported earlier this month. Supernatural executive producers Robert Singer and Andrew Dabb will then be taking over as showrunners next season. Of course, this isn't the first time Supernatural has faced a shake-up like this. Series creator Eric Kripke served as showrunner from Seasons 1 to 5, followed by Sera Gamble, and then Carver. Since both Singer and Dabb have been with the series since Season 1 and Season 4, respectively, according to TVLine, it sounds like it will still be in good hands.
Its Story Could Continue In Another Form
The CW is a network that's definitely not afraid of spinoffs, and there's always the possibility that we could see one for Supernatural in the future. CW president Mark Pedowitz said nothing of the sort is planned, but he told reporters during a conference call ahead of the network's upfront presentation last week that "we're open to listening." If you're a Supernatural fan that wants to see something like that happen in the near future, it's time to make your voice heard loud and clear.
Is This How It Could End?
Sure, Supernatural is going on 12 seasons on the air, but that doesn't mean it's going to last forever. This series has to come to an end at some point, right? Well, when that day comes, Jared Padalecki and Jensen Ackles, who play main protagonists Sam and Dean Winchester, respectively, already have an idea of how they want the show to end, they revealed during an interview with Entertainment Weekly published in March.
Both of them acknowledged that their idea for the Supernatural ending has changed over time. However, Padalecki said it should be ambiguous whether or not the Winchester brothers die. Either way, they can't ever stop fighting.
As for Ackles, he said, "It's either going to end tragic or it's going to end not tragic." He's also not so sure that both Sam and Dean will suffer the same fate. "I always thought Dean would make the ultimate sacrifice for his brother," he told EW. "I guess if I had to choose something, that's probably what I would choose."
Well, we're not at the end of Supernatural just yet, as far as official announcements go, at least. But I'm sure whatever comes our way in Season 12 and beyond will be some gripping TV.
Images: Katie Yu/The CW; Giphy (3)